Celebrate Jennifer Lopez's Birthday With Her Five Best Movies
Just go watch them all now.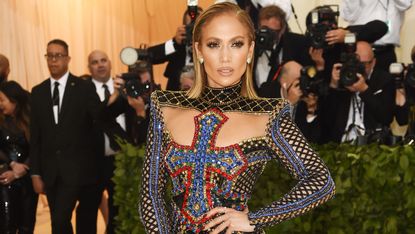 (Image credit: Getty Images, Jamie McCarthy)
Jennifer Lopez is a goddess. Since she hit our screens on In Living Color we've been mesmerized. After over 30 years in the industry and one hundred acting credits under her belt, I wanted to take a look at my favorite Jennifer Lopez movies to watch literally any time of day. I'm guaranteed to laugh, cry, and get seriously motivated to get my ass to the gym.
1. Jack (1996)
Ugh, the heartbreak! This movie was beautiful in so many ways. Jennifer wasn't the star of this film—hello, Robin Williams obviously stole the show—but she was such a sweet teacher as Miss Marquez, and her performance was so genuine.
I will also use any excuse to watch a Robin Williams film. Only turn this on if you need a good cry and also love gummy bears.
2. Monster-in-Law (2005)
Two words: Jane Fonda. This is the only movie on this list that has nothing at all to do with Jennifer's performance in it. The movie follows Charlie and Kevin's engagement as Viola (Fonda) tries everything she can to tear them apart. Not that I had any issues with Lopez's performance—it's totally fine, and I loved Charlie's free-spirited attitude—but this is Jane Fonda we're talking about. Respect where respect is due.
The clip you see here is the culmination of that squabble. Like any good rom-com, everything ends well and it's amazing. But, again she worked with icon Jane Fonda. 'Nuff said.
3. Enough (2002)
Damn. Badass J. Lo came out to play in Enough. This is the ultimate woman-fighting-back film, and probably increased the national interest in self-defense classes.
This movie isn't a fun rom-com romp—it's a rollercoaster of emotions, many of them sad and painful. You watch Lopez's character's husband torment her as she struggles to escape an abusive relationship. She made you feel every training moment with her and, in the end, when her character Slim totally takes the slime-ball Mitch down, you consider it a personal victory.
4. The Wedding Planner (2001)
You know those movies that are so bad they're actually kind of great? This movie might have invented that trope.
Our girl Jenny plays Mary, a workaholic wedding planner who refuses to open up to love, but then falls in love anyway with a man who saves her life. (And it is here that we're supposed to believe that a woman would rather suffer death by dumpster than briefly abandon a Jimmy Choo pump. Hollywood, am I right?)
Anyway, turns out Mary is planning her savior-man's wedding to someone else. The rest of the movie is spent trying to get Steve (Matthew McConaughey, at peak hotness) to realize they are in love.

It's a silly film, but watching those two gorgeous early-aught babes onscreen is like emotional dessert. Also, J. Lo branched out and played a Greek character which is cool. What range.
5. Selena (1997)
This will—hands-down—forever be Jennifer's best role. She played Mexican-American icon Selena Quintanilla in a biopic celebrating the young singer's life, and even twenty-one years later she hasn't had a better role.
Okay, I admit that being a diehard Selena fan could make me a little bias. But just watch this clip! How could you not love Jennifer-as-Selena? She nailed the performances, the demeanor, the struggle of being Mexican-American in both México and the US—all of it. I get the chills multiple times throughout this film, no matter how many times I've seen it.
Even though it was a little controversial to have a Puerto Rican playing a Mexican, it was the love Lopez felt from the Latin community after this role that took her mainstream and has continued to support her career, way before butts were "trendy."
Celebrity news, beauty, fashion advice, and fascinating features, delivered straight to your inbox!
Krystyna was the former Social Media Editor of Marie Claire where she oversaw all things social media and connected with MarieClaire.com readers. She came to Marie Claire from Racked.com, where she was the Community Manager. Before that, Krystyna was at Latina Mag and Cosmo for Latinas. She graduated with a Marketing major from Fordham University.