16 Inspiring Memoirs by Women That Are More Addictive Than Fiction
Make room on the nightstand.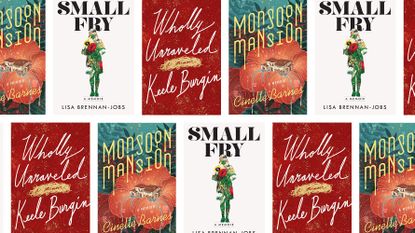 (Image credit: Amazon)
Whoever may have told you that non-fiction is boring was either a) reading the wrong books, or b) just plain wrong. We're here to set the record straight with these captivating true stories about and by women that will remind you that the memoir genre is addictive-to-read, and extremely vital. They'll also remind you that women are undeniably resilient.
These stories are motivating, funny, powerful, sad, and evocative. From famous female role-models, like Michelle Obama and Sally Field, to the women you never realized you needed to know, like Lisa Brennan-Jobs, here are the memoirs to add to your reading list, beside table, and tote bag immediately.
1. 'From the Corner of the Oval' by Beck Dorey-Stein
Why You Should Read It: Everyone knows a likable plot depends on perspective. Who's telling the story? Well, how about this point of view: A 20-something stenographer for the Obama White House details her personal life and career at 30,000 feet in the air, aboard Air Force One. If that sounds interesting, you'll want to check out Beck Dorey Stein's, From the Corner of the Oval, detailing her spur of the moment decision to quit her five part-time jobs, buy a microphone, and become Barack Obama's shadow.
2. 'Small Fry' by Lisa Brennan-Jobs
Why You Should Read It: Black turtleneck and glasses. You could describe Steve Jobs by just those four words and everyone would know who you were talking about. But for Lisa Brennan-Jobs, her father was never that simple. Small Fry details the complicated relationship between the tech mogul and his eldest daughter, and how Silicon Valley shaped her life.
3. 'The Girl Who Smiled Beads' by Clemantine Wamariya
Why You Should Read It: Clemantine Wamariya is a survivor. Following the Rwandan genocide, she and her sister spent six years as refugees migrating through seven different African countries, never knowing if their parents in Rwanda were even alive.
Eventually, she and her sister were granted refuge in the United States, where Clemantine stumbled into a life of privilege. Taken in by a family, she attended private school and eventually Yale University. Even so, she struggled to rationalize the life she'd been given with the life she'd run away from. This is the story of that struggle.
4. 'Becoming' by Michelle Obama
Why You Should Read It: True tales from the White House never get old—especially when they're told by someone as remarkable as Michelle Obama. Her memoir, Becoming, is a candid reflection of her journey to the White House, from a little girl on the South Side of Chicago to an accomplished lawyer, mother, and First Lady.
5. 'Educated' by Tara Westover
Why You Should Read It: You know those fundamental childhood classroom experiences: Raising baby chicks, being named line leader, scooting over to your best friend's desk when the teacher tells you to "find a partner" for a project? Yeah, Tara Westover never had those. She was raised a survivalist, spending most of her childhood preparing for the end of the world. But at 17, when she first stepped into a classroom at Brigham Young University, everything changed. Her testament to that time is moving and beautiful.
6. 'Tomorrow Will Be Different' by Sarah McBride
Why You Should Read It: Government policies can seem so abstract, especially if you don't think they affect you personally. Tomorrow Will be Different gives readers the dose of empathy they need to understand them. Sarah McBride was first transgender person to speak at a National Convention in 2016. Through heartbreaking personal stories, McBride sheds light on the constant struggle for LGBTQ+ rights and inclusion. Bonus: Her forward was written by (future presidential candidate?) Joe Biden.
7. 'Unbowed' by Wangari Maathai
Why You Should Read It: A photo of Wanagari Maathai should be next to the definition of "persistence" in dictionaries around the world. Here, the Nobel Prize winner, who passed away in 2011, recounts her life's story: Raised in rural Kenya, Maathai developed the transformative Green Belt Movement in 1977, empowering women and combatting food instability in the country. Despite being jailed, beaten, and bruised, Maathai remained unbowed—making it a fitting title for her memoir.
8. 'Wholly Unraveled' by Keele Burgin
Why You Should Read It: Kathleen (the author's birth name) lived a life of fear: Of her father, of her religion, even of how she dressed. Wholly Unraveled is her memoir detailing one Catholic cult escapee's journey to a life of normalcy, self-worth, and belonging.
9. 'Monsoon Mansion' by Cinelle Barnes
Why You Should Read It: Natural disasters can do serious damage, but so can disasters caused by human error. Cinelle Barnes has experience with both. Her memoir, Monsoon Mansion, takes place in the Philippines and details her lavish lifestyle in the Mansion Royale. But when a Monsoon hits, her beloved home deteriorates, her wealthy father bails, and she's left to be raised by an abusive step-father and a mother in denial. Somehow, Cinelle survives.
10. 'In Pieces' by Sally Field
Why You Should Read It: She's the actress that brought you Gidget and Not Without My Daughter, but Sally Field's memoir really bears it all. She discusses her personal struggle with self-esteem, the controlling relationship she had with Burt Reynolds, and even her own childhood experience of sexual assault. The memoir, which was seven years in the making, is an honest, occasionally chilling look at the life of one of Hollywood's most timeless actors.
11. 'Never Enough' by Judith Grisel
Why You Should Read It: This is not your mother's autobiography. Author and neuroscientist Judith Grisel takes a no-holds-barred approach to the topic of addiction, tackling the subject through a mix of science, her own experiences, and a little bit of humor. Grisel is determined to help readers better understand the way addicts think and, in turn, to hopefully find a solution to the epidemic of drug abuse.
12. 'The Last Black Unicorn' by Tiffany Haddish
Why You Should Read It: If the saying "laugh to keep from crying" is true, then it's no wonder that Tiffany Haddish became a comedian. Her biography recounts plenty of opportunities for a reasonable person to break down in tears, from Haddish's experience in foster care to her encounter with sexual abuse. But instead, the comedian finds a reason to smile and to make others laugh with her. It's a painful story, but told with pure hilarity. Haddish truly is a unicorn.
13. 'All the Lives We Ever Saved' by Katharine Smyth
Why You Should Read It: Calling all English majors: This is the memoir for you. Katharine Smyth manages to entangle her personal experience of grief with—wait for it—Virginia Woolf's To the Lighthouse. Smyth's memoir is an ode to both her father and her favorite writer, whose words brought her comfort and clarity in a time of loss.
14. 'Under the Red Skies' by Karoline Kan
Why You Should Read It: Former New York Times reporter Karoline Kan tells the story of three generations of women in Beijing who are willing and ready to defy the odds. Kan's grandmother survived the Great Famine, and her mother knowingly ignored the One-Child Policy rule when she gave birth to Karoline. Now it's up to Kan herself to reach for the dreams society told her she could never achieve.
15. 'The Mother of Black Hollywood' by Jenifer Lewis
Why You Should Read It: No matter what role she plays, Jenifer Lewis exudes confidence. You don't go from Kinloch, Missouri, to Hollywood without that. But her telling memoir, The Mother of Black Hollywood, reveals how life for the Black-ish actress is more complicated than it looks. She opens up about her battle with bipolar disorder and her recovery from sexual addiction—proving that even some of the greatest divas have to overcome a lot.
16. 'Inheritance' by Dani Shapiro
Why You Should Read It: Inheritance tells the story of Dani Shapiro who, upon taking a genealogy test, discovers that the man she's called Dad for the past 50 years isn't her biological father. And the family secrets just keep on coming from there. Shapiro's novel is a poignant examination of identity and what happens when one's wholeness and understanding of who they are is completely uprooted.
Alexis Jones is an assistant editor at Women's Health where she writes across several verticals on WomensHealthmag.com, including life, health, sex and love, relationships and fitness, while also contributing to the print magazine. She has a master's degree in journalism from Syracuse University, lives in Brooklyn, and proudly detests avocados.