Editors handpick every product that we feature. We may earn commission from the links on this page.
22 Books By LGBTQ+ Authors You Need to Add to Your Reading List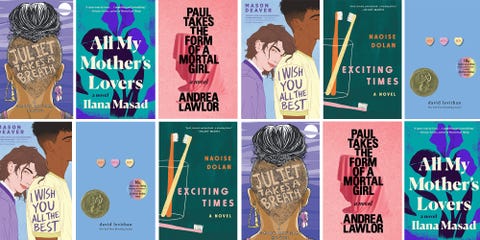 Design by Susanna Hayward
My "to read" list on Goodreads is never-ending, it seems. I'm always on the hunt for the next new book that I can snag, read, and rave about before anyone else gets their hands on it. This may be in part of my obsession with aesthetically-pleasing covers or a plot that sounds so intriguing I have to stop whatever I'm doing to read it. Lucky for you, these books by LGBTQ+ authors hold all of these qualities.
If I asked you to take a look at your bookshelf to see how many spots were filled with a book not written by a straight white dude, most people wouldn't be counting for long. So, yes, we have a long way to go toward diversifying the publishing industry, but thankfully more stories featuring diverse authors like these ones are getting the space to be told. Ahead, here are 22 (mostly new-ish!) books by LGBTQ+ authors spanning genres from romance, mystery, science fiction, and more.
This content is created and maintained by a third party, and imported onto this page to help users provide their email addresses. You may be able to find more information about this and similar content at piano.io