22 Books By LGBTQ+ Authors You Need to Add to Your Reading List
These will hold a special place in your heart and on your bookshelf.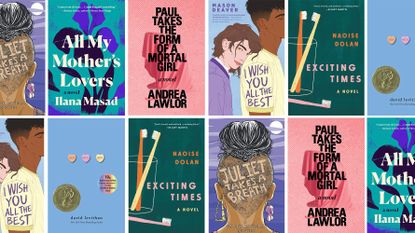 (Image credit: Design by Susanna Hayward)
My "to read" list on Goodreads is never-ending, it seems. I'm always on the hunt for the next new book that I can snag, read, and rave about before anyone else gets their hands on it. This may be in part of my obsession with aesthetically-pleasing covers or a plot that sounds so intriguing I have to stop whatever I'm doing to read it. Lucky for you, these books by LGBTQ+ authors hold all of these qualities.
If I asked you to take a look at your bookshelf to see how many spots were filled with a book not written by a straight white dude, most people wouldn't be counting for long. So, yes, we have a long way to go toward diversifying the publishing industry, but thankfully more stories featuring diverse authors like these ones are getting the space to be told. Ahead, here are 22 (mostly new-ish!) books by LGBTQ+ authors spanning genres from romance, mystery, science fiction, and more.
1/22
'Detransition, Baby' by Torrey Peters
If you haven't read Torrey Peters's Detransition, Baby yet, do yourself a favor and order it stat. The book centers on three people—Reese, Ames, and Katrina—whose lives become intertwined when Ames decides to detransition and his boss-slash-lover becomes pregnant.
2/22
'Leave the World Behind' by Rumaan Alam
Rumaan Alam's Leave the World Behind has topped the New York Times bestseller list for good reason. In the novel, Alam writes about a white family's trip that's interrupted late one night by an older Black couple who owns the home they are renting. What follows is a story about race, class, and family that will leave you analyzing the world we live in.
3/22
'With Teeth' by Kristen Arnett
Kristen Arnett brings her signature wit to With Teeth—a story about one queer woman's desperation to keep her family together while her son becomes increasingly hostile. A quintessential Florida book if I ever did read one!
4/22
'Fairest' by Meredith Talusan
In this moving memoir, Meredith Talusan shares her journey as a white-passing Filipino immigrant who grows up to become a woman in America.
5/22
'Here for It' by R. Eric Thomas
R. Eric Thomas has become one of the most hilarious people on the internet, which seamlessly translates to his book, Here for It: Or, How to Save Your Soul in America, which features essays on reclaiming his identity and ultimately finding self-acceptance.
6/22
'The Purpose of Power' by Alicia Garza
In The Purpose of Power, Alicia Garza, cofounder of Black Lives Matter, provides readers with informative lessons on how to start a movement and the lessons she's learned to create meaningful change.
7/22
'The Prophets' by Robert Jones, Jr.
Robert Jones, Jr.'s debut novel, The Prophets, is a story centered on two enslaved men, Isaiah and Samuel, who live together on a plantation in the Deep South. Together, they're forced to confront their own oppression, loyalty, and love when one of their own turns on them.
8/22
'Red, White & Royal Blue' by Casey McQuiston
On one side of the Atlantic, you have Alex Claremont-Diaz, son to the president of the United States, and on the other, Prince Henry of the British royal family. Shockingly, they don't like each other. So when they're photographed fighting at a royal wedding, both parties are forced into a fake friendship to keep the tabloids at bay. Soon the friendship blossoms into something more that could put both of their countries at risk. Casey McQuiston's debut is like a warm hug you never want to break away from.
9/22
'If I Was Your Girl' by Meredith Russ
This is a love story you'll be passionately rooting for. Amanda's the new girl in town with a big secret she wants to take to the grave. She soon finds refuge in an easygoing guy named Grant and finds herself wanting to put down her guard for him, but that means her secret will have to come out in the open, and if that happens, she's worried it could change everything.
10/22
'Boy Meets Boy' by David Levithan
I read Boy Meets Boy in middle school, and it changed the way I saw young adult romance books forever. The tale of a high school sophomore trying to win back the guy of his dreams, against the 12-to-1 odds predicted by the school's bookie, will forever hold a spot in my heart.
11/22
'Stray City' by Chelsey Johnson
In Portland, artist Andrea Morales is thriving in her local lesbian community, until she has a one-night stand with a man and gets pregnant. Despite her friends' thoughts, she has the baby. Now, 10 years later, her daughter Lucia is desperate to know anything about her father, forcing Andrea to dive into the past she was happy to leave behind.
12/22
'Paul Takes the Form of a Mortal Girl' by Andrea Lawlor
Let's go back to 1993. Paul Polydoris is thriving in his university town, but he keeps one thing about himself hidden. He's a shapeshifter who's sometimes Paul, sometimes Polly, and only his best friend Jane knows. Polydoris takes these identities with him from Iowa City, Boystown, Provincetown, and San Francisco in search of self-discovery. You'll wish you knew him IRL.
13/22
'Juliet Takes a Breath' by Gabby Rivera
This coming-of-age story hits all the right marks. After finding out she gets to intern for the author of her favorite book, Juliet Milagros Palante sets her sights on her new community in Portland, Oregon. As she makes the move across the country, she can't stop thinking about how her family took her coming out as gay and wonders if this one summer will change everything for the better—or only make it worse.
14/22
'Exciting Times' by Naoise Dolan
Naoise Dolan's debut novel is about an Irish millennial named Ava who has moved to Hong Kong to teach children English. She soon finds herself in a love triangle with a British banker, Julian, and a Hong Kong-born lawyer named Edith. One side is filled with familiarity, and other tempts the path of the unknown, what will she choose? FYI, this book was our June 2020 #ReadWithMC pick, so you know it's good.
15/22
'I Wish You All the Best' by Mason Deaver
Ben De Backer has come out to their parents as nonbinary, and instead of accepting it, their parents kicked them out of the house. Now, living with their estranged older sister, Hannah, and her husband, Thomas, they're forced to go to a new school. Everything looks bleak until they form a friendship with Nathan Allan, which changes everything. You think you know this trope, but just you wait.
16/22
'An Unkindness of Ghosts' by Rivers Solomon
Aster lives in the slums of the HSS Matilda, a spaceship that has escaped a dying Earth centuries ago. She's stuck as a sharecropper on the vessel doing un-meaningful work. Things quickly change when an autopsy of the ships' sovereign reveals a surprising link between his death and her mother's suicide from the past. Aster, with the help of some friends, retraces her mother's footsteps and learn of a life beyond the ship.
17/22
'Under the Rainbow' by Celia Laskey
The small town of Big Burr, Kansas, has just been named "the most homophobic town in the U.S." by a national nonprofit. In order to help them out, a task force of queer volunteers decided to move and live in the Midwestern town for two years. The educational experiment doesn't exactly go as planned, but brings everyone together more than they ever would've thought.
18/22
'All My Mother's Lovers' by Ilana Masad
When Maggie Krause returns home after her mom's sudden death, she finds a detached dad and a grieving, enraged brother. She doesn't expect to find five sealed envelopes from her mother, each addressed to a mysterious man she's never heard of. In order to find some closure, Maggie embarks on a road trip to hand-deliver her mother's letters to learn more about the men of her past. It's like The Seven Husbands of Evelyn Hugo by Taylor Jenkins Reid, but better.
19/22
'Wilder Girls' by Rory Power
Holy mother of science fiction, this is the jackpot. Hetty's under quarantine at the Raxter School for Girls for 18 months due to a plague called the tox. It's taken everyone in its path except a handful of students. When Hetty's best friend Byatt goes missing, she'll do anything to find her, even if that means going beyond the school's grounds. Heads up: this isn't for the weak-stomached.
20/22
'Something to Talk About' by Meryl Wilsner
This sweet romantic comedy set in the entertainment world tells the tale of top-dog Jo and her assistant Emma. When the co-workers are photographed giggling on the red carpet together, the tabloids take it as a sign they got something going on. Flashing lights soon won't stop following them as they both try to keep dodging rumors, but what if the speculation is kind of correct?
21/22
'The Wonder' by Emma Donoghue
This work of historical fiction from the author of The Room is set in the Irish midlands in 1859. Lib Wright, a British nurse, is sent to a tiny village to observe the wonder of 11-year-old Anna O'Donnell, who has somehow survived without food for months. *Cue eyebrow raise.* Part mystery and romance, this book is the ultimate page-turner.
22/22
'The Importance of Being Earnest' by Oscar Wilde