The 12 Best Teen Movies on Netflix
For when you need to escape being a grown-up for a little while.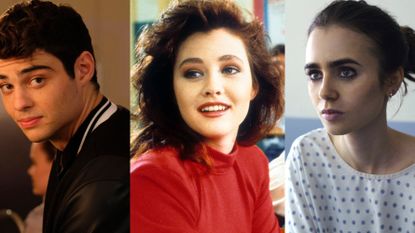 (Image credit: Getty Images)
When adult life is getting to be too much (taxes! bills! rent!), it's time to turn on the TV and dive into a high school movie that reminds you of the good old days. Well, except that instead of taxes, you had to worry about the SATs, pre-calc, and an obscene amount of high school drama—but these films will paint those days in a halcyon light. Whether you need a good laugh or a good cry, add these Netflix movies to your list and don't stop watching until Netflix asks you if you're still there for the 12th time.
1. 'Alex, Strangelove'
A funny sexual innuendo-filled high school movie about Alex Strangelove as he finishes up his high school career. Alex is high school class president, a straight A student and has a beautiful girlfriend, but everything changes when he meets local boy Elliot, who forces Alex to come to terms with his sexuality.
2. 'The Spectacular Now'
A relatable story of family and inner dysfunction during teenage years, complete with struggles of alcoholism, teenage sex, parental problems and Shailene Woodley. You'll fall in love with Woodley's character as she deals with lead character Sutter Keely, takes care of her sick mother, and struggles with her aspirations of going to college.
3. 'The Perfect Date'
Noah Centineo is dreamy as always as Brooks Rattigan, who has dreams of going to Yale, but is short on college money. To save up, he starts hiring himself out as a stand-in boyfriend to local girls in need of one-night-only dates—but when Brooks starts to catch real feelings for the angsty Cielia Lieberman, his scheme becomes even more complicated.
4. 'To The Bone'
Lily Collins gives a dark but sassy performance as Ellen, a 20-year-old who struggles with anorexia. Ellen is placed in a quirky group home for young adults with eating disorders, where she soon learns that she's far more than her diagnosis.
5. 'Dumplin''
A feel-good, body-positive anthem. Willowdean "Dumplin" Dickson proves that beauty standards are meaningless when she enters a pageant run by her former beauty queen mother.
6. 'Heathers'
The original Mean Girls before Mean Girls were a thing—but turned up to the max. Heathers is full of popular girls, clique drama, and boy problems...also, suicide notes.
7. 'Bring It On: In It to Win It'
If petty cheerleaders don't make you nostalgic for high school, what will? For the biggest competition of the year, rival cheer teams are forced to come together as one team after an incident injures a number of cheerleaders on each team, leaving neither with enough people to compete.
8. 'Handsome Devil'
This Irish LGBTQ movie focuses on Ned, an outsider at an elite boarding school where everyone is obsessed with rugby. Ned forms an unlikely friendship (and more) with star rugby player, Conor, who becomes Ned's roommate.
9. 'Tall Girl'
An ode to anyone who has ever felt uncomfortable in their body, Tall Girl follows 6 foot 1 teen Jodi, who struggles to accept herself after facing harassment for her height.
10. 'Scott Pilgrim vs. the World'
Scott Pilgrim falls in love with manic pixie dream girl, Ramona, but learns that she has a lot of baggage and a lot of ex boyfriends. So, obviously, Scott must fight and beat all of Ramona's exes in martial arts duels before he can win her over.
11. 'Seoul Searching'
Set in 1986, Korean students from all over the world travel to Seoul for summer camp, where they make friends and foes, learn about their heritage, and find out more about themselves.
12. 'You Get Me'
You Get Me will make clear that you never really know a person, and will also make you paranoid about making new friends. Bella Thorne is obsessive and wild in this high school thriller.
Jae Thomas is a contributor at Marie Claire Magazine. You can find her avoiding single-use plastic at all costs, cooking a new recipe every week and trying to visit all 61 National Parks.