The Best Celebrity Guest Stars in Friends' History
Could this list BE any more iconic?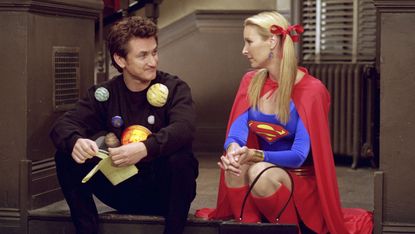 (Image credit: NBC)
Marie Claire newsletter
Celebrity news, beauty, fashion advice, and fascinating features, delivered straight to your inbox!
Thank you for signing up to . You will receive a verification email shortly.
There was a problem. Please refresh the page and try again.
The cast of Friends packed some serious star power. But some even bigger names made guest appearances on the show (looking at you, George Clooney). Throughout the show's 10 seasons, everyone from A-listers to up-and-coming actors stopped by Central Perk. There are the celebrities you totally forgot made a cameo on the series.
1/40
George Clooney and Noah Wyle (Season 1)
In between shifts on ER, George Clooney and Noah Wyle appeared on Friends for two episodes. They served as dates for Rachel Green and Monica Geller, naturally.
2/40
Jon Lovitz (Season 1 and 9)
The comedian guest-starred twice throughout the series—first as a stoned dinner guest in season 1 and later as a horrible blind date for Rachel in season 9.
3/40
Helen Hunt (Season 1)
The sitcom world collided when Mad About You star Helen Hunt appeared as Jamie Buchman in a scene at Central Perk. What most fans don't know, though, is that Lisa Kudrow used to have a reoccurring guest role on Helen's show as the ditzy waitress, Ursula (who was then written into several storylines on Friends as Phoebe Buffay's identical twin sister).
4/40
Julia Roberts (Season 2)
Julia Roberts was one of Hollywood's biggest rising stars when she guest-starred as Susie Moss, a childhood friend of Chandler Bing who decides to ask him out in order to get even with him for embarrassing her when they were younger.
5/40
Steve Zahn (Season 2)
Following his debut film, Reality Bites, Steve Zahn appeared on season 2 as Phoebe's Canadian husband, whom she married so he could get his green card. "I still have people, and this was four days work in my life, around the world that come up and go 'Ah, Friends,'" Steve said on Entertainment Weekly's Couchsurfing.
6/40
Brooke Shields (Season 2)
The actress and model appeared on the episode "The One After the Superbowl" as a superfan stalker of the show Days of our Lives, who has a hard time deciphering Joey Tribbiani from his character, Dr. Drake Ramoray.
7/40
Adam Goldberg (Season 2)
Adam Goldberg was just beginning his career when he landed the reoccurring guest role of Eddie Menuek, Chandler's replacement roommate after Joey moves out. Goldberg went on to appear in films like Saving Private Ryan and A Beautiful Mind, as well as appear on TV shows like Entourage and Matt LeBlanc's Friends spinoff Joey.
8/40
Jean-Claude Van Damme (Season 2)
Appearing as himself in season 2, Jean-Claude Van Damme's part involves him being recognized by Monica while filming a movie nearby, resulting in the two going on a date, as you might expect.
9/40
Charlie Sheen (Season 2)
When Phoebe contracts the chicken pox right when her old flame, Ryan, is about to dock from the Navy, an adorably cute episode of Friends with Charlie Sheen ensues.
10/40
Christine Taylor (Season 3)
Throughout the saga which was Ross and Rachel, Christine Taylor made an interference as Ross's girlfriend, Bonnie.
11/40
Ben Stiller (Season 3)
Coincidentally, Ben Stiller appeared on the show during the same season as his future wife, Christine Taylor. The actor and comedian appeared as Tommy, Rachel's date who has anger management issues.
12/40
Isabella Rossellini (Season 3)
The Italian actress and filmmaker, Isabella Rossellini, visited Central Perk as herself right after Ross decides she is "too international" to remain on his celebrity hall pass list. The hilarious cameo begins with him asking Isabella out, only to end with her finding out he bumped her off of his list for Winona Ryder.
13/40
Billy Crystal and Robin Williams (Season 3)
It was by chance that Billy Crystal and Robin Williams happened to be on the same lot as Friends when the cast was filming "The One with the Ultimate Fighting Champion" in season 3. The comedians decided to stop by for a cup of coffee, during which an improvised conversation unfolds, leaving both the cast and audience in stitches.
14/40
Jon Favreau (Season 3)
Jon Favreau appeared throughout season 3 as a reoccurring guest star and Monica's love interest, Pete. The actor went on to produce and star in films such as Chef, Iron Man, and The Avengers.
15/40
Paget Brewster (Season 4)
When Paget Brewster joined Friends for a multi-episode story arch as Joey (and Chandler's) girlfrienxd Kathy, she was fairly new in Hollywood. Since then, the actress has had stints on TV shows like Criminal Minds, Community, Law and Order: Special Victims Unit, and Modern Family.
16/40
Charlton Heston (Season 4)
Charlton Heston got to flex his signature tough guy act when he appeared as himself in season 4 of the series alongside Matt LeBlanc.
17/40
Tate Donovan (Season 4)
Tate Donovan dated Jennifer Aniston in real life throughout the first few seasons of the hit show, but when the actor appeared in season 4 as a reoccurring guest star (and Rachel Green's crush) the couple had already called off their engagement and parted ways. "It was horrible...I remember just getting back to my dressing room and just weeping," Tate told HuffPost Live.
18/40
Michael Vartan (Season 4)
Before his breakout role in Never Been Kissed, Michael Vartan guest-starred on the show as Dr. Tim Burke, the son of Monica's ex-boyfriend, who she begins to date.
19/40
Sarah Ferguson (Season 4)
The show was a royal hit when the entire cast traveled to London for Ross and Emily's infamous nuptials—so much so that the Duchess of York, Sarah Ferguson, made a cameo in a scene with Matt LeBlanc.
20/40
Hugh Laurie (Season 4)
When Rachel decides to fly across the pond for Ross' wedding, she shares the row with British actor, Hugh Laurie, who is less than pleased to be seated next to her.
21/40
Reese Witherspoon (Season 6)
Rachel's spoiled little sister, Jill (played by Reese Witherspoon) visits her in season 6. The young actress, whose career was hot off of Cruel Intentions and American Psycho, appeared for two episodes, during which she went on a date with Ross.
22/40
Cole Sprouse (Seasons 6, 7, and 8)
As a child actor, Cole Sprouse had been playing the same roles as his identical twin Dylan since he was eight months old. But he landed his first solo role as Ross Gellar's son, Ben, on Friends. Sprouse played the role from season 6 to 8, during which he developed a big crushon costar Jennifer Aniston.
23/40
Elle Macpherson (Season 6)
One of Joey's more serious relationships involves him falling head over heels for his dancer roommate, Janine, who was played by Australian model Elle Macpherson.
24/40
Bruce Willis (Season 6)
Bruce Willis joined the show for a few episodes as Rachel's boyfriend Paul—who also happens to be the father of Ross' 20-year-old girlfriend.
25/40
Susan Sarandon (Season 7)
Susan Sarandon served up a dramatic performance as soap star Jessica Lockhart in season 7 of the show alongside Joey.
26/40
Winona Ryder (Season 7)
Winona Ryder was one of the biggest actresses in the late '90s and early '00s and appeared on the show for an episode as Rachel's sorority sister.
27/40
Jason Alexander (Season 7)
Seinfeld star Jason Alexander appears in season 7 in a scene with Lisa Kudrow as Earl, a suicidal office manager that Phoebe Buffay crosses paths with and tries to help.
28/40
Kristin Davis (Season 7)
Sex and the City was in its peak popularity when Kristin Davis guest-starred on the sitcom as Joey's love interest, but that didn't stop the actress from coming down with a case of nerves.
29/40
Brad Pitt (Season 8)
Jennifer Aniston acted alongside her then-husband for the first time when he appeared on the Thanksgiving episode of Friends in season 8. The actor played a former overweight classmate of Monica, Ross, and Rachel—and the founder of the "I Hate Rachel Club."
30/40
Alec Baldwin (Season 8)
Alec Baldwin appeared in two episodes of the series as Parker, Pheobe's overly enthusiastic boyfriend whose fascination with Massapequairritates everyone.
31/40
Sean Penn (Season 8)
Sean Penn guest-starred for multiple episodes as the sweet and gullible fiancée of Phoebe's twin sister, Ursula.
32/40
Aisha Tyler (Season 9)
Aisha Tyler started out on the show as Joey's smart paleontologist girlfriend, Charlie. But by the end of her season 9 stint on the show, she had moved on to the more compatible Ross.
33/40
Hank Azaria (Seasons 1, 7, and 9)
Hank Azaria first appeared in Friends as David, Phoebe's scientist boyfriend. On the show, he moves away to Minsk, Russia in season 1, but his character continues to pop up throughout the series.
34/40
Dermot Mulroney (Season 9)
Best known for his role in My Best Friend's Wedding, Dermot Mulroney played Rachel's coworker-turned-love-interest for three episodes in season 9. The star recently shared how he started getting recognized by younger fans after Netflix started streaming the show: "I was suddenly being shouted at on the street, 'Hey Gavin!' and I'm like, 'Who the f*** is Gavin?'" he told Wired (opens in new tab).
35/40
Christina Applegate (Season 9 and 10)
Christina Applegate appeared in two seasons of the series as another one of Rachel's sisters, Amy Green. The actress' performance was so great, it not only earned her fan-favorite status, but also an Emmy for Outstanding Guest Actress in a Comedy in 2003.
36/40
Paul Rudd (Seasons 9 and 10)
Paul Rudd first appeared on the show as Phoebe's pianist boyfriend, Mike Hannigan, in season 9. After a brief breakup, Paul returns in season 10 and the two get married in the final season.
37/40
Dakota Fanning (Season 10)
The child actress was popular for her roles in films like Cat in the Hat, Uptown Girls, and Sweet Home Alabama when she appeared on Friends in its final season as a child who befriends Joey at an open house.
38/40
Greg Kinnear (Season 10)
Greg Kinnear appeared on the show for one episode as Benjamin Hobart, the ex-boyfriend of reoccurring guest star, Aisha Tyler. In the episode "The One with Ross' Grant," the actor enters the scene and complicates things between Ross and Charlie.
39/40
Danny DeVito (Season 10)
No Friends fan will ever forget one of the finale episodes, called "The One Where the Stripper Cries." Danny DeVito guest-starred as an inadequate stripper for Phoebe's bridal shower, and let's just say it's very memorable.
40/40
Anna Faris (Season 10)
After making her comedic debut playing Cindy in Scary Movie, Anna Faris appeared throughout season 10 of Friends as the biological mother to Monica and Chandler's adopted twins.