The Best Crime Movies of All Time
Martin Scorsese, we bow down.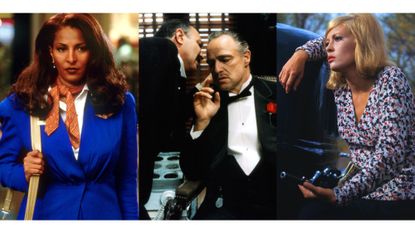 (Image credit: Future)
Marie Claire Newsletter
Celebrity news, beauty, fashion advice, and fascinating features, delivered straight to your inbox!
Thank you for signing up to Marie Claire. You will receive a verification email shortly.
There was a problem. Please refresh the page and try again.
When Martin Scorsese's The Irishman was released on Netflix in late 2019, crime junkies everywhere were reminded just how good the genre can be. We've rounded up the best crime movies out there, whether you're looking for a gritty watch that'll have you on the edge of your seat, a juicy watch about spring breakers on a rogue crime spree, or you're just desperate to watch Robert DeNiro at his best. Ahead, the 20 greatest crime movies ever made.
'The Godfather'
Starring: Marlon Brando, Al Pacino, Robert Duvall, and Diane Keaton
The plot: Let's begin with, arguably, the best crime movie of all time. The Godfather is about an aging father who needs to pass down the family business to his son. This is also one of the most emulated and quoted movies of all time. "I'm gonna make him an offer he can't refuse."
'The Godfather Part 2'
Starring: Al Pacino, Robert De Niro, Robert Duvall, and Diane Keaton
The plot: Part 2 details the early life of Vito Corleone and also chronicles Michael (Pacino) as the new patriarch. We're also introduced to Robert De Niro in this film.
'Goodfellas'
Starring: Robert De Niro, Joe Pesci, and Ray Liotta
The plot: From director Martin Scorsese, Goodfellas is about a mobster named Henry Hill (Liotta) and his relationship with his partners (De Niro and Pesci).
'Scarface'
Starring: Al Pacino, Michelle Pfeiffer, and Steven Bauer
The plot: Set in Miami, a Cuban immigrant (Pacino) starts running a drug cartel and bites off a little more than he can chew. The film also has one of the most iconic lines in cinema: "Say hello to my little friend!"
'Pulp Fiction'
Starring: Samuel L. Jackson, John Travolta, Uma Thurman, Bruce Willis
The plot: The lives of two mobsters (Jackson and Travolta) are interwoven with the lives of a boxer (Willis) and a gangster's wife (Thurman). It's one of Tarantino's best.
'Casino'
Starring: Robert De Niro, Sharon Stone, and Joe Pesci
The plot: Two friends compete with each other over a gambling empire. Chaos ensues in the casino, and a woman named Ginger finds herself becoming involved with their antics.
'City of God'
Starring: Alexandre Rodrigues, Leandro Firmino, and Douglas Silva
The plot: Set in Brazil, the film tells the story of a group of kids trying to survive in the slums of Rio. One sets out to be a photographer; the other, a kingpin.
'Panic Room'
Starring: Jodie Foster, Kristen Steward, Forest Whitaker, and Jared Leto
The plot: When three men break in, a newly divorced mother (Foster) and her daughter (Stewart) take refuge in their home's panic room, which contains the fortune that the robbers are after.
'American Hustle'
Starring: Jennifer Lawrence, Christian Bale, Amy Adams, and Bradley Cooper
The plot: A conman named Irving Rosenfeld (Bale) begins working for an FBI Agent (Cooper) who introduces him into the world of the Mafia and corruption.
'The Wolf of Wall Street'
Starring: Leonardo DiCaprio, Margot Robbie, Jonah Hill, and Matthew McConaughey
The plot: Based on a true story, Leonardo DiCaprio plays Jordan Belfort, the wealthy and drug-addicted stock broker.
'The Irishman'
Starring: Robert De Niro, Al Pacino, and Joe Pesci
The plot: In Martin Scorsese's latest film, the life of Jimmy Hoffa (Pacino) is chronicled by Frank Sheeran (De Niro).
'American Gangster'
Starring: Denzel Washington, Russell Crowe, Chiwetel Ejiofor, and Ruby Dee
The plot: In this semi-biographical film, Denzel Washington plays a notorious Harlem drug lord named Frank Lucas.
'Spring Breakers'
Starring: Vanessa Hudgens, Selena Gomez, Ashley Benson, James Franco, and Gucci Mane (lol)
The plot: Four college girls rob a local restaurant in order to pay for their spring break vacation in Florida. When they get arrested, they get bailed out by a drug dealer. Sounds fun, right?
'Good Time'
Starring: Robert Pattinson, Benny Safdie, Jennifer Jason Leigh, and Buddy Duress
The plot: When a bank robbery goes wrong and his brother gets arrested, Connie (Pattinson) goes on an expedition to get his brother out of jail.
'Jackie Brown'
Starring: Pam Grier, Samuel L. Jackson, Robert De Niro, and Michael Keaton
The plot: A stewardess named Jackie Brown attempts to smuggle money from Mexico to LA for an arms dealer. When she gets caught, she concocts a plan of attack.
'Taxi Driver'
Starring: Robert De Niro, Jodie Foster, Cybill Shepherd, and Albert Brooks
The plot: A veteran who suffers from insomnia (De Niro) works as a nighttime taxi driver in NYC. Chaos ensues when he becomes involved in the lives of a presidential campaign employee and an underaged prostitute.
'Leon: The Professional'
Starring: Jean Reno, Natalie Portman, and Gary Oldman
The plot: In Natalie Portman's film debut, she plays 12-year-old Matilda, who is taken in by a professional assassin named Leon after her family is killed. The film chronicles their relationship as she becomes his protégé.
'Gone Girl'
Starring: Ben Affleck, Rosamund Pike, Nail Patrick Harris, and Emily Ratajkowski
The plot: Based on the novel by Gillian Flynn, a wife goes "missing" and her husband is suspected to be the murderer.
'Bonnie and Clyde'
Starring: Warren Beatty and Faye Dunaway
The plot: This one's a classic. When a waitress named Bonnie meets an ex-con named Clyde, the two go on a massive crime spree through the country. They even rob a few banks along the way.
'Queen & Slim'
Starring: Daniel Kaluuya, Jodie Turner-Smith, and Indya Moore
The plot: In this recent release, the two titular characters (Kaluuya and Turner-Smith) go on a first date that ends in death when they shoot a police officer in self-defense. In a nod to Bonnie and Clyde, the two go on the run.
...
For more stories like this, including celebrity news, beauty and fashion advice, savvy political commentary, and fascinating features, sign up for the Marie Claire newsletter (subscribe here).
Celebrity news, beauty, fashion advice, and fascinating features, delivered straight to your inbox!
Juliana Ukiomogbe is a freelance writer who covers culture, wellness, books, and movies. When she's not writing, you can find her reading, watching The Fresh Prince of Bel-Air, or attempting to knit.