Behind-the-Scenes Pictures from the Set of 'Outlander'
The Outlander cast is weirdly obsessed with shadow selfies.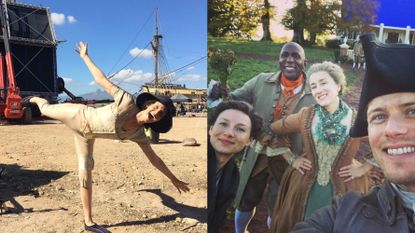 (Image credit: Instagram)
Marie Claire newsletter
Celebrity news, beauty, fashion advice, and fascinating features, delivered straight to your inbox!
Thank you for signing up to . You will receive a verification email shortly.
There was a problem. Please refresh the page and try again.
Outlander, your favorite sexy, time-traveling, Scottish romance, is a lot of things. It's sexy, yes. It's dramatic. Sometimes it's even kind of hilarious. Behind the scenes, though, the cast's hilarity and personal brand of quirky absurdity are turned up to 11. To prove it, here are 46 wonderfully weird photos the cast and crew have shared from behind the scenes of the hit Starz drama.
Sam Heughan, Caitriona Balfe, Maria Doyle Kennedy, and Colin McFarlane
Full costume selfies are the best selfies.
Sophie Skelton, Caitriona Balfe, and Sam Heughan
Nothing says "historically accurate" like a smartphone and puffy coat, right?
Caitriona Balfe and Sam Heughan
The stars of Outlander work so hard they can't stay awake by the end of the season. Or Caitriona can't, anyway.
Sam Heughan and Sophie Skelton
Just a little Pret on set.
Sam Heughan
Sam Heughan. In full costume. On a bike. Perfection.
Sam Heughan
Does it ruin the magic to see the camera there? Not for us, either.
Caitriona Balfe and Sam Heughan
Just chilling at Frasers Fridge. No big.
Caitriona Balfe, Sophie Skelton, and Richard Rankin
This group selfie is amazing, whether you're an Outlander fan or not.
Caitriona Balfe
Sam Heughan shared this great Boomarang of Caitriona celebrating the end of filming Season 4 in someone's trailer.
Caitriona Balfe, Aisha Tyler, and Sam Heughan
Sometimes famous fans visit the set and everyone involved needs to geek out with Instagram pics.
Caitriona Balfe
Caitriona shared this picture of her and Costume Designer Emma-Louise Ryan on set back in 2014.
Lauren Lyle
Lauren Lyle, casually pulling back the curtain on Outlander's green screen use.
Sam Heughan and Crew
Sam Heughan's wrap shots deserve to be made into a calendar.
Sam Heughan
In case you ever forget that Outlander is all happening on a set full of people in modern clothes...
Caitriona Balfe, Lauren Lyle, John Hunter Bell, and Keith Fleming
Everything about this group shot is pure joy.
César Domboy
This mirror selfie in the makeup trailer is quintessential behind-the-scenes stuff.
Sam Heughan and Cairtriona Balfe
Here's one of Sam and Caitriona's earliest on-location friendship selfies, from way back in 2014.
Caitriona Balfe
A special thank you goes out to Sam Heughan for this photo of Caitriona, doing wonderful weirdo stretches in old-timey underwear.
Lauren Lyle
Lauren Lyle would make an excellent 18th century influencer.
Caitriona Balfe and Sam Heughan
Water shoots are always sexy.
Cast Shot
Sam Heughan shared this photo of his "Season 2 dysfunctional family" on Instagram.
Caitriona Balfe and Anita Anderson
Here's a little proof from Outlander makeup artist Anita Anderson that Caitriona is the epitome of poised perfection.
Makeup Artist Anita Anderson
And here Anderson is on set, with cats, courtesy of Caitriona's Instagram.
Sam Heguhan
Anderson's cat picture can't beat Sam's cat selfie though.
César Domboy and Keith Fleming
Beach naps on the Outlander set. We've never been so jealous.
Set Breakfasts
Anita Anderson also gave the world a glimpse at the glamorous world of Outlander set breakfasts.
Caitrion Balfe, César Domboy, and Lauren Lyle
César Domboy shared this "seasons collide" selfie, and we thank him for it.
Sam Heughan and Caitriona Balfe
Sam shared this (clearly boozy) photo of him and Caitriona at one of Outlander's wrap parties.
Sam's Students
Sam Heughan shared this photo of him and students from The Royal Conservatoire of Scotland on the Outlander set.
Lauren Lyle
Lauren, expertly avoiding an Outlander #CoffeeGate situation by having her coffee far from hot sets.
Sophie Skelton and Caitriona Balfe
Skelton shared this wonderful snap in honor of National Absurdity Day, which feels like a holiday invented for Outlander.
César Domboy
Just a casual "hanging out at the trailer in character" shot shared by César Domboy.
Sam Heughan
The best part of this in-costume rugby shoutout video is Caitriona Balfe video bombing it.
Sam Heughan and Romann Berrux
This selfie welcomed Romann to Instagram and we can't think of a better introduction to the IG world.
Caitriona Balfe and Tobias Menzies
Warning: Caitriona's goodbye tribute to her onscreen husband might make you tear up.
Lauren Lyle and César Domboy
If it weren't for the water bottle, this could pass for a still from the show.
Caitriona Balfe and Sam Heughan
Caitriona and Sam, like all best friends, kill time taking random photos together, like this one of their shadows, complete with a trolly caption from Caitriona about Sam's height.
Richard Rankin
Richard Rankin is also a fan of shadow selfies on set. Must be an Outlander cast thing.
César Domboy
And César Domboy, too. The shadow selfie is basically an Outlander rite of passage.
Romann Berrux and Caitriona Balfe
You know, for those times when your camera needs a shower cap.
César Domboy and Romann Berrux
Two Ferguses in one photo? We're fine with that.
Caitriona Balfe
Fun fact: The Outlander cast spends their downtime on set doing things like watching sheep racing.
Caitriona Balfe
And watching goats dance. As if you didn't already think the Outlander cast had the best jobs, right?
Romann Berrux
Puffy coat and a camera coverup. Scotland weather is brutal.
Lauren Lyle and John Hunter Bell
Photo courtesy of César Domboy, playing paparazzi on set.
Caitriona Balfe
Caitriona Balfe shared this picture of the Outlander table read in 2014.
Kayleigh Roberts is a freelance writer and editor with more than 10 years of professional experience. Her byline has appeared in Marie Claire, Cosmopolitan, ELLE, Harper's Bazaar, The Atlantic, Allure, Entertainment Weekly, MTV, Bustle, Refinery29, Girls' Life Magazine, Just Jared, and Tiger Beat, among other publications. She's a graduate of the Medill School of Journalism at Northwestern University.