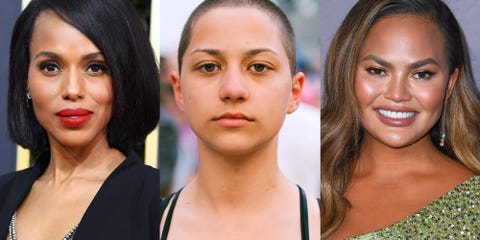 Last year was big for buzzy documentaries. There was Knock Down the House, which followed Rep. Alexandria Ocasio-Cortez's historic campaign, and the Sundance-winning One Child Nation, which charted the fallout from China's notorious procreation policy. Other acclaimed films delved into sexual abuse by R. Kelly, Michael Jackson, and former USA Gymnastics coach Larry Nassar. And who could forget the two dueling documentaries devoted to the disaster that was the Fyre Festival? After so many powerful hits, we couldn't wait to see what was coming up in 2020. Thus far, it's already been a terrific year: Cheer, Tiger King, and Killer Inside have ensured that some of the most talked-about films haven't been fictional. And there's so much more to come. From Taylor Swift and French fries to hard looks at violence in Mexico and attacks on press freedom in the Philippines, these are the documentaries you won't want to miss.
Agnes Gund, long-time philanthropist, watched Ava DuVernay's 13th (another must-watch documentary). She was so deeply affected that she immediately sold her favorite Lichtenstein painting for $165 million so she could start "Art for Justice." With the fund's focus on helping incarcerated artists and groups that fight mass incarceration, she's devoted her time, energy, and dwindling money to criminal justice reform. With an initial debut at Sundance, early reviews are tremendously positive, both as a celebration of Gund and another important look at the necessity of prison reform. The New York Times wonders if she's "the last good rich person."
7
'Surviving Jeffrey Epstein'
In the next chapter of its "Surviving" series (following Surviving R. Kelly and Surviving R. Kelly II), Lifetime is debuting a new docuseries this summer. It'll be a similarly tough subject: It dives in deep on the Epstein scandal, including the financier's trial and death in 2019. But since there's already been a ton of coverage and airtime devoted to the topic, it'll also offer coverage beyond the news stories and TV segments. Surviving Jeffrey Epstein takes a look at how the former financier was able to get away with his predation for as long as he did, as well as the network that aided, abetted, and profited off his procurement of underaged girls. It'll be a devastating, but necessary, watch.
Completed with the participation of Bruce Lee's family and friends, Be Water (premiering at Sundance) looks at the martial arts icon through his philosophy and activism. He's most known for his acting and athletic ability, but he also advocated for diversity on film and worked to change attitudes about Asian Americans in the United States. The title's taken from the kung fu mantra about adaptability and strength, which Lee is now known for popularizing and integrating into his work and life. The director envisions what Lee would be doing if he were still alive, including work with young martial artists and potentially a stint in politics.
It's hard to believe now that her face is plastered on protest signs around the globe, but less than two years ago, Greta Thunberg was a lone and unknown 15-year-old student in Sweden who decided to go on strike for climate change. If world leaders didn't care about her future on earth, why should she care about school, she reasoned. The filmmakers behind Greta, coming to Hulu later this year, have been following the now world-famous 16-year-old from the early days, through her trips across the sea to the United Nations where she gave her rousing "How dare you!" speech to world leaders this past fall.
In another tale of youth activism on the global stage, Us Kids follows the teen survivors of the February 2018 shooting at Stoneman Douglas High School in Parkland, Florida, where 17 of their classmates and staff members were killed. The film, premiering at Sundance, tracks how the survivors catalyzed the Never Again movement for gun control, which culminated in the March For Our Lives, one of the largest protests in U.S. history.
More than 40,000 people have been registered as "disappeared" in Mexico, many the result of the country's ongoing drug cartel wars. One case that has become a symbol of the lack of rule of law in Mexico is that of the 43 college students from a teacher training school who have been missing and presumed killed since September 26, 2014, when their convoy was attacked in Iguala, a city in southwest part of the country, by local police officers and other masked assailants, working with a criminal gang and the mayor. Six people were killed, dozens wounded, 43 male students were forcibly "disappeared," and the reason why they were targeted remains a mystery.
In interviews with surviving students and grief-stricken family members, this new documentary from Chinese artist and activist Ai Weiwei, premiering at Sundance, looks at the psychological and emotional toll of endemic violence and systemic injustice in Mexico.
Two of our favorite things: French fries and Chrissy Teigen. They're joining forces next year in a documentary that seeks to answer the crucial question: Why do we looooove the famed fried potatoes so much? The film, produced by Teigen's Suit & Thai Productions company and financed in part by a fancy ketchup company (I kid you not!) follows chefs like Le Bernardin's Eric Ripert, celebrities including Teigen, farmers, food scientists, and others as they try to get to the bottom of our obsession.
"I always knew my love of fries and years of experience in the field were meant to serve a higher purpose," Teigen said in a statement to Variety. We can't wait to watch it, in part because surely theaters will serve fries during screenings instead of popcorn, right? RIGHT?!
Thirty-six hours after President Donald Trump signed an executive order known as the Muslim ban, lawyers with the American Civil Liberties Union emerged from a Brooklyn court house with fists raised triumphantly in the air: They had won the first crucial victory in preventing the order from taking effect. The Fight, produced by Kerry Washington among others and premiering at Sundance, chronicles that courthouse battle and others waged by the ACLU in the years since Trump's election, including cases regarding the administration's actions to expel transgender people from serving in the military, roll back voting rights, separate children from their parents at the U.S.-Mexico border, and prevent detained migrant teens from getting abortions. The film depicts the ultimate David vs Goliath story as the scrappy ACLU lawyers serve as a check on the president's power at every turn.
On February 13, 2017, Kim Jong-nam, the half-brother of North Korean leader Kim Jong-un, was waiting for a flight at the Kuala Lumpur International Airport in Malaysia when two women covered his face with a cloth containing a nerve agent, killing him. The women pled not guilty, saying they thought they were taking part in a harmless TV prank, and it is widely believed that Kim Jong-un ordered the murder.
In Assassins, premiering at Sundance, director Ryan White, the filmmaker behind recent hits Hulu's Ask Dr. Ruth and Netflix's The Keepers, follows the trial of the female assassins in gripping detail, investigating whether the women were truly trained killers or unknowing and innocent pawns for North Korea.
In 2018, Maria Ressa, a Filipino-American journalist and cofounder of Rappler, a Jakarta-based investigative news website, told PBS Frontline about how the government in the Philippines had created a massive propaganda machine to spread misinformation on Facebook, drowning out factual reporting from Ressa and others on corruption and crimes perpetrated by the authoritarian regime of President Rodrigo Duterte. "It's death by a thousand cuts," she said. A version of that quote is now the title of a documentary by Filipino-American documentarian Ramona S. Diaz, premiering at Sundance this year. The film takes viewers behind the scenes with Ressa as she documents abuses of power and fights for the truth, even when doing so gets her thrown in jail. Prepare to be inspired.
On October 2, 2018, Washington Post columnist and Saudi dissident Jamal Khashoggi entered the Saudi Arabian consulate in Istanbul to obtain documents needed for his upcoming marriage. He never exited. We now know that inside the consulate, Khashoggi was ambushed by a 15-member squad of Saudi hit men, suffocated, and dismembered with a bone saw in an assassination that, according to an investigation by the U.S. Central Intelligence Agency, was ordered by Saudi Crown Prince Mohammed bin Salman. Filmmaker Bryan Fogel, best known for 2017's Academy Award winning documentary Icarus about the Russian Olympic doping scandal, secured exclusive access both to key evidence and interviews with Khashoggi's fiancé Hatice Cengiz and close friend Omar Abdulaziz in a film premiering at Sundance. It promises to be an intimate portrait of the life and death of a man sacrificed everything in the name of freedom.
When Joy Buolamwini was a college student studying computer science, she couldn't complete an assignment that relied on artificial intelligence (A.I.) facial detection because the software couldn't detect her dark-skinned face. Buolamwini, who is black, had to borrow her white roommate's face to finish the project, as she wrote in The New York Times. The A.I. fueled discrimination continued when she was a graduate student in M.I.T.'s Media Lab—she resorted to wearing a white mask to conduct her work—but this time she had the power to do something about it. Today, as the founder of the Algorithmic Justice League, Buolamwini works to combat what she calls "the coded gaze" by highlighting algorithmic bias and pushing for the development of more inclusive technology. Coded Bias, which will premiere at Sundance, follows Buolamwini as she works to pass the first-ever legislation to govern A.I. in the United States, alongside powerful testimonials from people whose lives have been impacted by unjust algorithms.
•••
For more stories like this, including celebrity news, beauty and fashion advice, savvy political commentary, and fascinating features, sign up for the Marie Claire newsletter.

SUBSCRIBE HERE