The Best Documentaries of 2019 That Are Already Changing Everything
From I Love You, Now Die to Untouchable, this year's documentaries are changing everything.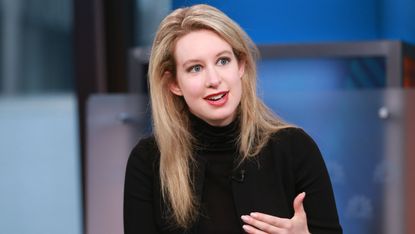 (Image credit: Getty Images)
Even just a few months into 2019, we'd had our world rocked by this year's documentary movies. Think about it: R. Kelly had been arrested, Michael Jackson's legacy was being questioned, and all of us knew way more about Fyre Festival than we ever thought we would. Later in the year, Erin Lee Carr caused us to question what we know about both the Larry Nassar case and the Michelle Carter case. And even beyond those cases, we had more to discover from the biggest documentaries of 2019.
American Factory
American Factory has all the credentials you could want from a documentary. The Netflix-distributed film debuted at Sundance and was the first film from Barack and Michelle Obama's production company, Higher Ground Productions. The film focuses on a Chinese company factory in Ohio. The company, Fuyao, set up shop in Moraine Assembly, a former General Motors plant in a suburb of Dayton and American Factory uses its story as an entry point to explore the complex dynamics of the global economy.
The 2018 midterms saw the elections of a new class of progressive democrats to the House of Representatives. Knock Down the House, which is streaming on Netflix, follows the primary campaigns of four of these politicians: Alexandria Ocasio-Cortez, Amy Vilela, Cori Bush, and Paula Jean Swearengin.
Knock Down the House
This harrowing documentary tells the story of twin brothers Alex and Marcus Lewis. When the brothers were 18, Alex was involved in a devastating motorcycle accident that robbed him of his memories, leaving him to depend on his twin to fill in the blanks about his childhood. Marcus fills in the blanks, but as Alex eventually realizes, not with the truth. Tell Me Who I Am is a story of deception, abuse, and, ultimately, love.
Tell Me Who I Am
This environmental doc, produced and narrated by Leonardo DiCaprio, explores the possibility of an extinction-level event caused by arctic methane release, as well as new technologies with the potential to reverse the effects of global warming.
Ice on Fire
Two Fyre Festival documentaries came out this year (this one, which premiered on Netflix in January, and Fyre Fraud, which premiered on Hulu a few weeks before), but the Netflix one is superior for several reasons. For one, the Netflix doc just looks better, elevating the true story of the notoriously failed music festival into something like opera, through dizzying cuts and modern, empty spaces that evoke the kind of hubris and vapidity that led to, you know, Fyre Festival. For another, the Netflix doc is the one that didn't pay thousands of dollars to Fyre mastermind and conman Billy McFarland in order to get him to talk about nothing of substance.
Then again, you could always just be a completist and watch both. Either way, you'll get a schadenfreude-inducing peek into a modern-day disaster that will leave you shocked. Check Fyre out on Netflix.
Surviving R. Kelly
If 2017 was a year of rage aimed at the ways men in power have exploited their influence, and 2018 was a year of crystallizing that rage into meaningful conversations, then 2019 looks to be the year we parse through what we've learned and pave a new way forward. One of the first documentaries to take this important step was Surviving R. Kelly, which looks at the alleged sex crimes of the musician. The rumors swirled for so long about what Kelly was doing—decades, even—but the first wave of #MeToo didn't touch his career. This series on Lifetime may have finally changed that overlooked hypocrisy, as scores of women—the vast majority women of color—came forward with their harrowing, heartbreaking allegations of abuse.
After the six-part series aired, Kelly was dropped from his record label and arrested for 10 counts of aggravated sexual abuse. You can watch it with your cable provider through Lifetime.

Leaving Neverland
Another documentary that's hard to watch, Leaving Neverland is the tragic, slow-burning tale of two men who claim that Michael Jackson sexually abused them when they were kids. Like R. Kelly, Jackson's legacy before this documentary laid it out so straightforwardly was complicated: Many people knew what he was suspected of doing, but remained so enamored with his work that we could sometimes collectively convince ourselves it was okay to push the allegations aside. Leaving Neverland revokes that privilege by giving Jackson's accusers the freedom to speak openly and wrenchingly about their experiences. You can never un-see it, but you owe it to the accusers to watch. Stream it on HBO Go.
Lorena
Though the case is a punchline now, back in 1993, the story of a fed-up housewife who cut off her husband's penis was receiving wall-to-wall coverage. But what do we really know about Lorena Bobbitt? According to this documentary in which we hear it directly from her, she was also the victim of horrible alleged abuse—a facet of her story that recontextualizes the whole narrative in the wake of #MeToo. Watch the four-part doc, produced by Jordan Peele, now on Amazon.
The Inventor: Out for Blood in Silicon Valley
Director Alex Gibney has tackled a lot of maligned public figures and organizations—the Church of Scientology, Eliot Spitzer, the leaders of Enron—but Elizabeth Holmes is in a category all her own. The once-lauded CEO of blood-testing startup Theranos was in the running to be the next Steve Jobs, before it all came crashing down. Find out what really happened in Gibney's compelling, very fair retelling.
Penguins
Say what you will about the cutesiness of some of DisneyNature's documentaries, I love a good penguin movie. And this one, which came out on Earth Day, has it all: Love, danger, a penguin who trips over stuff a lot—what more do you need? I will take one ticket, please!
Hail Satan?
Look, obviously we all love Satan. But the activities of the Satanic Temple, which chooses to worship the devil in an organized fashion, are more fascinating than you may realize. For instance, the Satanists' focus on fairness and social justice and their abhorrence to religious hypocrisy has resulted in them taking up several First Amendment cases—and sometimes winning. In Penny Lane's surprisingly warm and thoughtful documentary, this and more is explored.
At the Heart of Gold: Inside the USA Gymnastics Scandal
Erin Lee Carr is about to be everywhere. This is one of two documentaries by the filmmaker on this very list, and both look to be powerful and illuminating. At the Heart of Gold explores at the ground level the scores of brave women who came forward from USA Gymnastics to accuse Larry Nassar of decades of abuse.

Ask Dr. Ruth
In a year that has a lot of documentaries about sexual misconduct, it was refreshing to see one about a woman who made sex more navigable for millions of people. Dr. Ruth Westheimer is a legend: Famed sex therapist, Holocaust survivor, sexual literacy and HIV activist, prolific author. She was talking about sex frankly when people were very nervous about the subject, forever altering the discourse in ways we still see today. This documentary celebrates the 90-year-old's brilliant, tragic life—so far.
I Love You, Now Die: The Commonwealth vs. Michelle Carter
Another Erin Lee Carr joint, this two-part documentary goes into the real story of the famous texting case between troubled teens Michelle Carter and Conrad Roy, her boyfriend. Carter was famously tried for murder for Roy's death after text records showed her appearing to pressure him into committing suicide. The doc brings up questions about technology, mental health, and the pressure put on teenagers in modern life.
The Great Hack
You know what happened with the whole Cambridge Analytica scandal, right? There was a company called Cambridge Analytica, and Facebook got hacked...and also Hillary Clinton was there, I think...and I want to say there were Russians? Hmm, maybe I need a refresh. This documentary will explain it through the stories of two people at either end of the scandal: David Carroll, a professor at Parsons who sued Cambridge Analytica to figure out where it was getting its data, and Brittany Kaiser, a former employee of Cambridge Analytica who left as the controversy started to crescendo. Sounds dramatic.
One Child Nation
Filmmaker Nanfu Wang grapples with the realities of China's horrific former one child policy (it ended in 2015), as she becomes a first-time mother herself. The resulting film looks so spooky, so gaspingly awful, that even watching the trailer I had to remember that it really did happen—and for a long time, and in one of the biggest nations on earth.
Jawline
This Hulu documentary follows the story of a 16-year-old from rural Tennessee who dreams of internet stardom. But even though screaming girls and live broadcast fandoms may follow, what's at the end of this rainbow? And who gets to become internet-famous, and how long do they get to last? As much the story of a boy's modern life as it is an indictment of internet celebrity culture, this one looks sad.
Untouchable
Though most of us never want to see Harvey Weinstein's monstrous face ever again, it would behoove us not to explore the power dynamics and seeming untouchability he maintained in Hollywood for decades in order to make sure we don't, as a society, let anything like that happen again. This documentary, which initially premiered at Sundance, will explore some of those issues.
Fireball
Werner Herzog is the master of strange, beautiful documentaries—if you haven't yet, let Grizzly Man and Little Dieter Needs to Fly change your life—and this one sounds especially weird. It's apparently about comets and other space debris more broadly, and how astronomical bodies have influenced man for thousands of years, in ways great and small.
Rumored for release in late 2019.
Salvatore Ferragamo: The Shoemaker of Dreams
Ferragamo shoes are iconic, thanks to the beautiful mind of the man who started making them. His life and legacy are parsed in this documentary, which is currently rumored for a fall release.
Release date TBD 2019.
For more stories like this, including celebrity news, beauty and fashion advice, savvy political commentary, and fascinating features, sign up for the Marie Claire newsletter.
RELATED STORIES
Celebrity news, beauty, fashion advice, and fascinating features, delivered straight to your inbox!
Cady Drell is a writer, editor, researcher and pet enthusiast from Brooklyn.