The Cast of 'Bring It On:' Then Vs. Now
Here's where your favorite Clovers and Toros are, 20 years after the cheerleading classic's debut.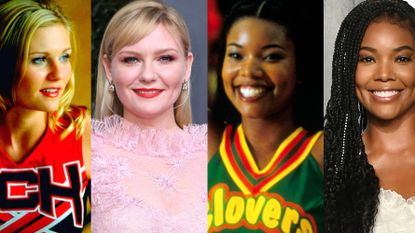 (Image credit: Everett / Shutterstock / Getty Images)
Before Netflix's Cheer, there was Bring It On. The 2000 film sparked a flurry of remakes and has long been revered as a seminal classic in the teen flick genre. In honor of the film's 20th anniversary, we tracked down our favorite members of the Toros and Clovers to see what they're up to in 2020. Roll call!
1/34
Then: Kirsten Dunst
When Bring It On premiered in 2000, Kirsten Dunst was by far the most famous cast member having already starred in films like Interview With a Vampire, Little Women, and Jumanji. She played Rancho Carne High School's head cheerleader, Torrance Shipman.
2/34
Now: Kirsten Dunst
Dunst hasn't strayed far from the screen since she played Torrance. The actress has since appeared in box office hits, including the Spider-Man trilogy, Marie Antoinette, and Hidden Figures, and had a leading role on the hit TV series, Fargo. In 2017, she got engaged to her Fargo costar, Jesse Plemons, and a year later they welcomed their first child together.
3/34
Then: Gabrielle Union
Gabrielle Union first made a name for herself in the late '90s on shows like Sister, Sister, 7th Heaven, and Saved by the Bell. By the time she appeared in Bring It On as Isis, the captain of the Clovers squad, she had already been a teen movie regular, appearing in She's All That, 10 Things I Hate About You, and Love & Basketball.
4/34
Now: Gabrielle Union
Union has continued to act in shows like Being Mary Jane, as well as movies like Bad Boys II. Most recently, she was a judge on America's Got Talent, but left in 2019 after filing a lawsuit against executive producer and fellow judge, Simon Cowell, for alleged discriminatory actions. The actress married professional basketball player Dwyane Wade in 2014, and they welcomed their first child, Kaavia James, in 2018.
5/34
Then: Eliza Dushku
Eliza Dushku's debut role was in the 1992 film That Night. She continued to appear on-screen throughout the '90s, which included a reoccurring role on Buffy the Vampire Slayer. Her portrayal of edgy cheerleader, Missy, in Bring It On earned her major star power.
6/34
Now: Eliza Dushku
Post-Bring It On, Dushku continued to appear in Buffy the Vampire Slayer and joined the spinoff show, Angel. Since then, she's been in shows like Hulk and the Agents of S.M.A.S.H. and Dollhouse. Most recently, she had a recurring role on the CBS show Bull—during which she reportedly faced misconduct on set. (The network later settled with her for $9.5 million.) She's been married to businessman Peter Palandjian since 2018, and they have one child together.
7/34
Then: Jesse Bradford
After his breakout role in the 1990 film Presumed Innocent, Bradford appeared in films like King of the Hill, Hackers, and Romeo + Juliet prior to landing his role in Bring It On. He played Missy's brother and Torrance's crush, Cliff.
8/34
Now: Jesse Bradford
Although Bring It On remains one of his most notable roles, Bradford went on to star in Swimfan in 2002. He has also appeared in TV on The West Wing, Outlaw, and Shooter. In 2018, he tied the knot with actress Andrea Watrouse.
9/34
Then: Clare Kramer
Clare Kramer played Torrance's frenemy and fellow cheerleader, Courtney, in Bring It On. Before her days at Rancho Carne High, Kramer made her film debut in In & Out.
10/34
Now: Clare Kramer
After her Bring It On success, Kramer followed her co-star Eliza Dushku to Buffy the Vampire Slayer and later appeared in the film, The Rules of Attraction. While she's continued to act, most recently she's begun to work as a producer for television. She currently hosts the podcast Take Five With Clare Kramer.
11/34
Then: Nicole Bilderback
Nicole Bilderback played Whitney, another cheerleader on Torrance's squad. Who could forget Whitney's stage mom coaching during her little sister's try out? Thankfully the Toros aren't a democracy, but a cheerocracy.
12/34
Now: Nicole Bilderback
Since Bring It On, Bilderback has continued to act and has had guest roles on numerous television shows, including NCIS: New Orleans, Bones, The Mentalist, Numb3rs, Heroes, Without a Trace, Boston Legal, and, most recently, Brooklyn Nine-Nine.
13/34
Then: Shamari Fears
Shamari Fears played Lava in Bring It On, but in real life she was a member of the singing group Blaque, along with two other actresses who played East Compton Clovers squad members. "They reached out to us and they wanted Blaque to do it," Fears previously told Bravo about the casting process. "Which was a blessing, we didn't have to audition, we went away to cheerleading camp for two weeks, we learned how to do the stunts and go up in the air."
14/34
Now: Shamari DeVoe
Around the time of Bring It On, Blaque had a platinum album, but in 2004 the group broke up. Despite an attempt to work together again in 2010, the group never reunited. Most recently, Shamari DeVoe (neé Fears) was on season 11 of The Real Housewives of Atlanta.
15/34
Then: Bianca Kajlich
Although she played one of the lesser-known Toros squad members, Carver, Bianca Kajlich made her mark in the film as the cheerleader who falls from the pyramid, needing to be replaced. Before working on the film, Kajlich appeared in 10 Things I Hate About You.
16/34
Now: Bianca Kajlich
After her minor role in Bring It On, Kajlich appeared in Dawson's Creek, Halloween: Resurrection, and 30 Minutes or Less. She's currently on the TV show Legacies, which was just renewed for a third season.
17/34
Then: Richard Hillman
Richard Hillman played Torrance Shipman's college boyfriend, Aaron. You loved to hate him, and loved watching Torrance get her sweet revenge on him even more.
18/34
2009: Richard Hillman
Sadly, the Bring It On cast member passed away of unknown causes in 2009. Hillman was 34 years old at the time.
19/34
Then: Brandi Williams
Brandi Williams appeared in the film as Lafred, one of East Compton's squad members. She was also a member of Blaque.
20/34
Now: Brandi Williams
Williams didn't leave the entertainment world after Blaque disbanded. After Bring It On premiered, Williams was in On the Line and Honey.
21/34
Then: Lindsay Sloane
Before her role as the former Toros cheer captain Big Red, Lindsay Sloane made regular appearances on sitcoms like The Wonder Years and Sabrina the Teenage Witch.
22/34
Now: Lindsay Sloane
After the cheerleading film, Sloane appeared in the TV show Grosse Point. She continues to appear in TV and film in supporting roles on projects like, Over Her Dead Body, She's Out of My League, The Other Guys, and Horrible Bosses. In 2015, she was cast in the CBS show The Odd Couple.
23/34
Then: Nathan West
Nathan West was one of the members of Torrance's squad who was stuck with the pyramid's heavy lifting. Before Bring It On, he'd only had minor acting roles. Here, he's pictured at the premiere of the film with his girlfriend, Chyler Leigh, who you'll recognize from Grey's Anatomy.
24/34
Now: Nathan West
West went on to have a successful career throughout the aughts. He landed a reoccurring role on 7th Heaven and was cast in the film Miracle. These days, the actor keeps a low profile; his last acting credit was for the 2010 film, Alleged. One thing that remains the same for West? He's now married to actress Chyler Leigh. The couple tied the knot in 2002.
25/34
Then: Natina Reed
Natina Reed was the lead singer of Blaque, but from Bring It On you'll remember her as Jenelope, the take-no-BS member of the Clovers sqaud.
26/34
2012: Natina Reed
Reed passed away in 2012 after she was hit by a car near her home in Georgia. The former lead singer of Blaque had been engaged to rapper Kurupt, although they were not together at the time of her death. They had a son together in 2002.
27/34
Then: Cody McMains
Cody McMains earned his film stripes as Torrance's annoying little brother, Justin. At the time, the 14-year-old actor already had a few credits under his belt, including Escape to Grizzly Mountain.
28/34
Now: Cody McMains
Soon after starring in the cheer classic, McMains appeared in the parody film, Not Another Teen Movie, which coincidentally mocked Bring It On. He also landed several reoccurring roles on popular TV shows, from 90210 to Monk.
29/34
Then: Huntley Ritter
Huntley Ritter appeared in the film as everyone's favorite male cheerleader, Les. The role was one of the actor's first major credits.
30/34
Now: Huntley Ritter
Although Ritter appeared in a number of films after Bring It On—including The Wedding Planner, We Are Marshall, and September Dawn—Ritter has since stepped back from acting. His most recent acting credit was the 2007 film, The Third Down. According to Forbes, Ritter is now the founder and CEO of tech start-up, USeek.
31/34
Then: Ian Roberts
Thanks to Ian Roberts's dance skills, we'll never forget the boom box-fueled choreography of Sparky Polastri...or underestimate the importance of spirit fingers.
32/34
Now: Ian Roberts
Roberts continued to work in comedy and has had minor roles in notable movies and shows, including Step Brothers, Parks and Recreation, Arrested Development, and Veep. He also works as a writer and producer.
33/34
Then: Riley Smith
Riley Smith didn't have a huge role in Bring It On, but he managed to steal the show as Les's crush during Nationals.
34/34
Now: Riley Smith
After Bring It On, Smith went on to become one of Disney's biggest heartthrobs, thanks to Motocrossed. He later earned roles on 90210, True Blood, and Nashville. Currently, he stars in the TV series Nancy Drew.