Meet the Winners of Our First Annual Image Makers Awards
They're the stars (behind the stars) of the red carpet.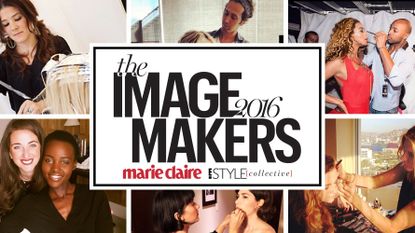 (Image credit: Marie Claire)
Here's a not-so-big show-business secret: It's the makeup artists, hairstylists, and background players who truly run Hollywood. To celebrate the men and women who create those iconic looks that blow us all away (think Kristen Stewart's edgy eye makeup and Lupita Nyong'o's spotlight-stealing outfits), Marie Claire is hosting the Image Maker Awards on January 12 in Los Angeles—right after these powerhouses have all flexed their muscles for the Golden Globes, naturally. Read on to meet the winners, and tune in to E! between now and January 12 to catch exclusive interviews with the masters themselves.
Jillian Dempsey: Makeup Artist
Dempsey is a go-to makeup artist for Hollywood It girls and Oscar-winning stars when they need to be camera-ready for the red carpet and magazine covers. As if working with A-listers and formulating her own cosmetics line wasn't enough, she's also a jewelry designer and a sculptor. "I love working with my hands, and creating beauty in everyday life," she says.
CELEBRITY CRED: "There are makeup artists, and then there are true artists. That's what it takes to create an image. Jill falls under the latter. There are few of those in this business," says Kristen Stewart.
BIG BREAK: After assisting makeup artists and hairstylists (yes, she can cut hair, too), Dempsey got booked on a magazine shoot with Brooke Shields in the '90s. "It began a stream of opportunities," she says.
SECRET WEAPON: Dempsey's must- have is an adjustable light. "I need good lighting to make someone look amazing."
Adir Abergel: Hair Stylist
The mane man for Jennifer Garner, Kristen Stewart, Rooney Mara, Maria Sharapova, Anne Hathaway, and countless others is a power player on the red carpet and in the pages of every magazine. "I love making the women I work with feel beautiful and powerful," he says. "Hopefully the looks we create inspire others to feel the same."
CELEBRITY CRED: "Adir is a real artist—the ultimate collaborator," says his longtime client Jennifer Garner. "He's also loyal to a fault, gives the best hugs, and never tells your secrets."
HAIR PRODIGY: Abergel got the beauty bug early. "When I was 10 years old, my mom's friends would pay me $3 to color and style their hair," he says.
MENTOR: "I did an apprenticeship program with Arthur Johns, a famous hairdresser in L.A.," he says. "I got to do Tina Turner's wigs and blowdry Julie Christie's hair!"
SECRET WEAPON: Whether he's doing a blowout, waves, or an updo, Abergel starts with volumizer. "Hair is like architecture; it's all about creating a strong foundation at the roots," he says.
WORDS OF WISDOM: You're only as good as the last hairdo you created, notes Abergel. "I also learned early on that trust is a big part of what we do in this business. When someone tells you something in confidence, you respect that."
Sir John: Social Media Star
With a combined following of almost 100k on Instagram and Twitter, this makeup artist has achieved his own star status with snaps of his globetrotting life and behind-the-scenes work on clients like Beyoncé, Karlie Kloss, Joan Smalls, Iman, and Chrissy Teigen. "Social media has become my portfolio, and it's a way for me to inspire others and get inspired," says Sir John.
BIG BREAK: Eight years ago, Sir John was working as makeup artist Pat McGrath's assistant when he met his first celebrity client, Naomi Campbell.
MENTORS: "Charlotte Tilbury gave me invaluable career advice," he says of the makeup artist who introduced him to Beyoncé. "But it's my mom who is my biggest cheerleader and critic—and she's my best friend!"
SECRET WEAPON: Matte taupe blush. "I blend it under cheekbones, on temples and eyelids, and underneath the jawline to create a sense of depth."
WORDS OF WISDOM: "A lot of young makeup artists want instant visibility and fame, but you have to put in years of assisting and learning the craft. Everything will come to you if you have the work to back it up."
Tracey Cunningham: Detail Maker
In a typical week, the hair colorist might fly to Europe to do Shakira's hair, jet to New York to touch up Jennifer Lopez, and then jump on a red-eye to her L.A. home base, Meche Salon, where she works with Jessica Biel, Charlize Theron, and Cameron Diaz while serving as a creative consultant for Redken. Such is the life of a truly A-list celebrity colorist.
CELEBRITY CRED: "Tracey is an artist and magician," says client Jessica Biel. "She makes my hair look like it's never been colored, as if I spend my days lounging in the sun by the pool— which is definitely not the case."
BIG BREAK: "One of my first star clients was Renée Zellweger, right around the time she was in Bridget Jones's Diary. That was a huge turning point."
MENTOR: "Before I started in the beauty business, I was Bette Midler's nanny. She believed in me and ultimately invested in my future by paying my tuition to beauty school."
WORDS OF WISDOM: "Learn from your mistakes. I grow from every bad move I've made—personal and professional."
Jenn Streicher: New Guard
Makeup artist Jenn Streicher has made a name for herself working with Hollywood's cool crowd, from musicians to indie actresses on the rise. She paid her dues and learned her craft working at beauty counters, then started doing editorial shoots in NYC before heading to L.A. Last year, she opened Beverly Hills beauty hot spot Striiike with her sisters, eyebrow guru Kristie and hairstylist Ashley.
CLIENT LIST: Streicher has prepped Carrie Brownstein, Emily Blunt, Kiernan Shipka, and Alison Brie.
BIG BREAK: "I met John Krasinski on a shoot, and he introduced me to Emily Blunt," she says. "Everything in my life and career has been so serendipitous."
SECRET WEAPON: The Beauty Blender. "I dampen it with water and a little Caudalie Beauty Elixir, then use it to blend foundation, concealer, and cream blush for the perfect application."
WORDS OF WISDOM: "Don't take things personally! In this job, you have to have a thick skin. You may work with someone you really like a few times, and then they hire someone else. You have to realize that this has to do with scheduling and things that are totally out of your control."
Micaela Erlanger: Stylist
The fashion stylist helps clients like Lupita Nyong'o, Michelle Dockery, Meryl Streep, and Hilary Swank pull off daring looks and timeless classics during awards season. Erlanger, who bounces between NYC and L.A., also styles editorial shoots, runway shows, and advertising campaigns—you know, in her spare time.
CELEBRITY CRED: "Fashion can be daunting, but Micaela makes selecting, fitting, and wearing these looks enjoyable," says client Lupita Nyong'o. "The Nairobi blue Prada dress I wore to the 2014 Oscars was created with her input, and it felt like having a piece of home with me that night."
BIG BREAK: Michelle Dockery was the stylist's first major client. "She introduced me to Lupita, whose 2014 awards season put me on the map," says Erlanger.
MENTOR: "Stylist Annabel Tollman taught me everything I know, from the correct pronunciation of designers' names to tying a bow the right way."
WORDS OF WISDOM: "Be authentic and true to your client; they have to feel confident in what they have on."
Marie Claire email subscribers get intel on fashion and beauty trends, hot-off-the-press celebrity news, and more. Sign up here.