24 New Christmas Movies to Distract You From the Misery of 2020
Consider this your homework for the next month.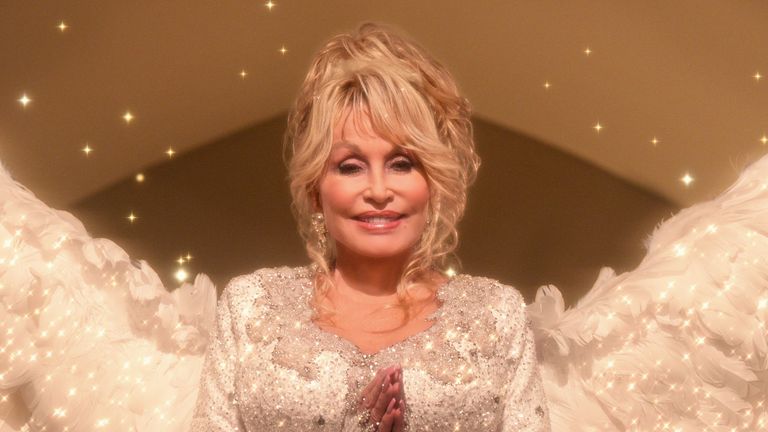 (Image credit: Netflix)
When it starts getting colder and the sun decides 4 p.m. is a good time to clock out for the day, the best—and, in 2020, perhaps the only—option is to plant yourself on the couch in your coziest PJs and brighten up those long, dark hours with marathons of kinda-unhinged, kinda-adorable Christmas movies. (opens in new tab) Fortunately for us all, this year's offerings definitely fit the bill: Between Netflix's (opens in new tab) six star-studded holiday films, (opens in new tab) Lifetime's 34, Hallmark's 40, and one each from Hulu (opens in new tab) and Apple TV+, you might even forget about the dire state of the world outside of your TV. At the very least, you'll have plenty of wintertime watching options beyond just playing Home Alone and Elf on repeat. Here, in order of release date, find the 24 best new Christmas movies of 2020—basically, an Advent calendar's worth of the corniest love stories imaginable. You're welcome in advance.
1/24
Christmas Unwrapped
A small-town reporter (Amber Stevens West) tries to dig up the truth behind the local guy who claims all the gifts he gives out every Christmas come straight from the big man in red. Whether he's experiencing very vivid hallucinations or just gaslighting his entire community, you can bet he'll win over Charity's heart by the end. Bonus: This delightful fever dream of a Lifetime movie was executive produced by Tiffany Haddish.
Premiered Oct. 24 on Lifetime.
2/24
Holidate
Fed up with her pushy mom and his penchant for choosing the worst dates, Sloane and Jackson (Emma Roberts and Luke Bracey) make a deal after one particularly painful Christmas to spend every subsequent holiday together as platonic friend-dates. Things go very off the rails very fast (just wait 'til you see what happens on Halloween), but they're finally patched up in time for the following Christmas with a dramatic gesture that is the perfect mix of cringey and sweet.
Premiered Oct. 28 on Netflix.
3/24
Holly & Ivy
As Melody (PLL's Janel Parrish) prepares to adopt her ailing neighbor's (Riverdale's Marisol Nichols) two daughters—the titular Holly and Ivy—she renovates her house with the help of a charming contractor. Sounds like the perfect combo of tear-jerking adoption drama and HGTV fanfic.
Premiered Nov. 1 on Hallmark Movies & Mysteries.
4/24
The Christmas Aunt
Rebecca (Keshia Knight Pulliam) spends the two weeks before Christmas juggling babysitting her niece and nephew, and revisiting her favorite holiday traditions with her childhood BFF Drew (Jarod Joseph). Plot twist you never saw coming: Rebecca soon starts seeing Drew in a "whole new light."
Premiered Nov. 1 on Lifetime.
5/24
Operation Christmas Drop
Erica (Kat Graham) is sent to a military base in Guam to find a reason to shut it down, while her host Andrew (Alexander Ludwig) is trying to prove that the base deserves to stay open because of its annual tradition of airdropping special deliveries to locals at Christmastime. Consider this Netflix's official entry into Hallmark and Lifetime's "ambitious woman learns that love is more important than career success" territory.
Premiered Nov. 5 on Netflix.
6/24
Jingle Jangle: A Christmas Journey
Not to be confused with the mysterious drug that makes the rounds on Riverdale, this movie (which counts John Legend among its producers) stars Forest Whitaker as Jeronicus Jangle, a long-suffering toymaker who must team up with his granddaughter to restore his shop and reputation to their former glory. Keep an eye out for plenty of other famous faces, including Keegan-Michael Key, Hugh Bonneville, Phylicia Rashad, and Ricky Martin.
Premiered Nov. 13 on Netflix.
7/24
The Princess Switch: Switched Again
If you thought having two Vanessa Hudgenses in 2018's The Princess Switch was bonkers enough, just wait 'til you see how many Vanessa Hudgenses are in the sequel. Fine, spoiler alert: There are three Vanessas this time around, with the third Vanessa playing Fiona, evil cousin to Margaret (aka Vanessa #2, the one who was born royal—not to be confused with Vanessa #1, Stacy, the one who married into royalty). If that sounds tricky to keep up with, don't worry—no matter what, at least one Vanessa will have a happy ending.
Premiered Nov. 19 on Netflix.
8/24
A Nashville Christmas Carol
A country-fied take on the Dickens classic featuring country royalty Wynonna Judd, Kix Brooks, and Kimberly Williams-Paisley as the three spirits who visit a workaholic TV producer (Jessy Schram) to help her change her own life—also featuring performances from Sara Evans and RaeLynn. Yeehaw!
Premiered Nov. 21 on Hallmark Channel.
9/24
Feliz NaviDAD
Mario Lopez plays the titular (navi)dad, who has spent the years since his wife's death avoiding Christmas. Eventually, his sister and daughter take matters into their own hands, signing him up for an online dating service and swiping right on AnnaLynne McCord's Sophie, a "witty musician." Cheesiness ensues.
Premiered Nov. 21 on Lifetime.
10/24
Dolly Parton's Christmas on the Square
"Christine Baranski plays an uptight businesswoman who has to learn to loosen up" might sound like the plotlines of several other entries in the Mamma Mia scene-stealer's filmography, but are those movies set to the music of one Dolly Rebecca Parton, with the country legend also starring as the angel that watches over Regina's festive journey? I didn't think so!
Premiered Nov. 22 on Netflix.
11/24
The Christmas House
Hallmark's first Christmas film with an LGBTQ couple at the center, The Christmas House stars Mean Girls' Jonathan Bennett as Brandon Mitchell, who is hoping to adopt a child with his husband Jake. They're spending Christmas with Brandon's parents—who are "working through some difficult decisions" of their own—along with his brother Mike, who rekindles his high school romance while home.
Premiered Nov. 22 on Hallmark Channel.
12/24
Happiest Season
It's rare enough to have a lesbian couple at the center of a major mainstream film (opens in new tab), let alone one in the uber-traditional Christmas category, but Happiest Season promises to be an instant classic. Harper (Black Mirror's Mackenzie Davis) brings her girlfriend Abby (Kristen Stewart) home for the holidays—even though she has yet to come out to her conservative parents. The stacked cast also includes Alison Brie, Dan Levy, Aubrey Plaza, and Mary Steenburgen.
Premiered Nov. 25 on Hulu.
13/24
The Christmas Chronicles: Part Two
This follow-up to the 2018 holiday romp that was The Christmas Chronicles gives the people more of what they want: more Kate and Teddy teaming up with Santa Claus to save Christmas, more jolly Kurt Russell proving that Santa is the role he was born to play, and, thankfully, much more Goldie Hawn as the equally charming Mrs. Claus.
Premiered Nov. 25 on Netflix.
14/24
Merry Liddle Christmas Wedding
Another first for Lifetime: Merry Liddle Christmas Wedding is the network's first-ever sequel to one of its Christmas movies, last year's Merry Liddle Christmas. Kelly Rowland is back as Jacquie Liddle, whose family seems determined to throw the plans for her destination wedding completely off the rails. As families tend to do.
Premieres Nov. 28 at 8 p.m. ET on Lifetime.
15/24
A Christmas Waltz
In the first of her two Hallmark movies this yuletide season, Lacey Chabert plays Avery, who learns to dance—and, presumably, falls in love—with instructor Roman (Will Kemp) after her dream wedding falls apart.
Premieres Nov. 28 at 8 p.m. ET on Hallmark Channel.
16/24
Mariah Carey's Magical Christmas Special
Sure, it's not exactly a full-length movie, but Apple TV+'s solo yuletide offering promises to be just as heartwarming and unnecessarily dramatic as the rest of this list. Loosely tied together with a mission to help Santa rectify a dangerous holiday cheer shortage, the film sees Mariah Carey teaming up with Ariana Grande, Jennifer Hudson, Snoop Dogg, Tiffany Haddish, Misty Copeland, and more for showstopping song-and-dance numbers and "groundbreaking animation."
Premieres Dec. 4 on Apple TV+.
17/24
Too Close for Christmas
Hayley (Jessica Lowndes) spends Christmas with her sister's in-laws, and reluctantly befriends (and, let's be honest, most likely falls for) her sister's husband's brother, played by none other than Chad Michael Murray. Let's call this one The Family Stone Lite.
Premieres Dec. 4 at 8 p.m. ET on Lifetime.
18/24
Time for Us to Come Home for Christmas
A mouthful of a title deserves an equally tangly plot: When five seemingly random guests are invited to spend Christmas at an inn, Sarah (Lacey Chabert, again!) gets to work figuring out how they're all connected.
Premieres Dec. 5 at 10 p.m. ET on Hallmark Movies & Mysteries.
19/24
A Little Christmas Charm
What do you get when you mix a jewelry designer (Ashley Greene), an investigative reporter (Brendan Penny), and a joint mission to track down the owner of a charm bracelet by Christmas Eve? A perfectly corny-cute made-for-TV movie, that's what.
Premieres Dec. 6 at 10 p.m. ET on Hallmark Movies & Mysteries.
20/24
A Christmas for Mary
Looking for the story that will prove to her editor (Vivica A. Fox) that she's worthy of a promotion, magazine journalist Lena (Morgan Dixon) ends up uncovering a romantic tale of young love with her late grandfather at the center. This, of course, inspires her to find a true love of her own. Let's just hope she doesn't forget about her deadline in the process...!
Premieres Dec. 8 at 9 p.m. ET on OWN.
21/24
The Christmas Setup
Lifetime, too, is finally entering the modern era with its first Christmas movie with an LGBTQ couple at the center: The Christmas Setup stars IRL married couple Ben Lewis and Blake Lee as Hugo and Patrick, the unwitting subjects of Hugo's mom's matchmaking prowess. Plus, Hugo's meddling mom is played by The Nanny's Fran Drescher!
Premieres Dec. 12 at 8 p.m. ET on Lifetime.
22/24
Love, Lights, Hanukkah!
Hallmark's sole Hannukah-centered offering this winter, Love, Lights, Hanukkah! stars Star Trek: Discovery's Mia Kirshner as restaurant owner Christina, who discovers via DNA test that she's Jewish just in time for the Festival of Lights. Cue eight nights of learning, growing, and, obviously, falling in love. Ben Savage, of Boy Meets World fame, is there, too!
Premieres Dec. 12 at 8 p.m. ET on Hallmark Channel.
23/24
A Sugar & Spice Holiday
While it's not exactly surprising, it's still extremely disappointing that it took Lifetime this long to make a Christmas movie with a Chinese-American family at the center. Fortunately, A Sugar & Spice Holiday rights that wrong in a big way, with not only an inspiring story about a woman who draws on her grandmother's experiences and heritage to enter a baking competition, but also a trio of Asian-American women behind the scenes, too, as writer, director, and casting director.
Premieres Dec. 13 at 8 p.m. ET on Lifetime.
24/24
Christmas Comes Twice
An astrophysicist (Tamera Mowry-Housley) takes a mysterious carousel ride that sends her five years in the past, uses this second chance to kindle a surprising romance with her "frenemy," played by Michael Xavier, then zooms back to the present to anxiously await the outcome of her time-traveling change-ups. You know, that classic Christmas tale.
Premieres Dec. 13 at 8 p.m. ET on Hallmark Channel.
Andrea Park is a Chicago-based writer and reporter with a near-encyclopedic knowledge of the extended Kardashian-Jenner kingdom, early 2000s rom-coms and celebrity book club selections. She graduated from the Columbia School of Journalism in 2017 and has also written for W, Brides, Glamour, Women's Health, People and more.