The Best Christmas Movies on Hulu Right Now
Including a holiday version of John Tucker Must Die that simply must be seen to be believed.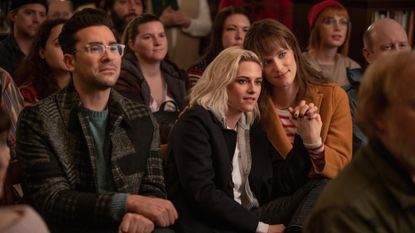 (Image credit: Hulu)
Marie Claire Newsletter
Celebrity news, beauty, fashion advice, and fascinating features, delivered straight to your inbox!
Thank you for signing up to Marie Claire. You will receive a verification email shortly.
There was a problem. Please refresh the page and try again.
So, you've already crossed all the new Christmas movies from Netflix, Lifetime, and Hallmark off your list and are looking for something to shake up your current nightly viewing schedule of both Macaulay Culkin Home Alones and the Jim Carrey Grinch (no judgment!). Your best bet is probably a dive into Hulu's wide-ranging catalog of holiday hits, many of which you've probably never heard of. Sure, the streamer is the place to watch Happiest Season, the lesbian holiday rom-com we've all been waiting for, and to get nostalgic with A Very Brady Christmas, the 1988 made-for-TV movie that reunited the '70s' favorite blended family. But Hulu is also something of a treasure trove for Christmastime sleeper hits, including some of the wackiest dramedies from the Hallmark and Lifetime back catalogs, and a respectable selection of holiday horror films, a very real genre that is about to be your new fave, if A Nasty Piece of Work has anything to say about it.
Here, in no particular order, are 17 of Hulu's best holiday offerings, from blockbusters of Christmases past to what just might be Idris Elba's corniest role.
1.Anna and the Apocalypse
Ah, a classic Christmas zombie musical. Anna Shepherd (Ella Hunt) finds herself amid a zombie apocalypse right before Dec. 25. Her solution? Team up with her friends to sing and slash their way to rescue their families and build a zombie-free new world, of course!
2.Happiest Season
Kristen Stewart and Mackenzie Davis star as Abby and Harper, a couple traveling to Harper's parents' house for the holidays—despite the fact that she's not yet out to her parents. It's the perfect blend of emotional and hilarious, thanks to a star-studded cast that also includes Dan Levy, Alison Brie, and Aubrey Plaza.
3.The Christmas Calendar
"Big-city lawyer"-turned-small-town baker Emily (Laura Bell Bundy) has two mysteries to solve: who sent her an intricate Christmas countdown letter filled with heartfelt notes, and whether the Frenchman (Brendon Zub) who just opened up a rival bakery is friend or foe. Who wants to bet that solving the first will answer the second?
4.Girlfriends of Christmas Past
A made-for-TV, Christmas-ified remake of John Tucker Must Die. Enough said.
5.A Christmas in Vermont
A high-powered businesswoman (Abigail Hawk) is sent to idyllic Vermont to shut down a long-standing small business—only to have her entire business ethos changed by her burgeoning relationship with a handsome local. Plus, Chevy Chase appears as her very un-Clark Griswold-like boss!
6.The Truth About Christmas
Also known as: the one where Santa Claus himself steps in to put a stop to the endless cycle of "fake news" in American politics. Sounds refreshing—though it turns out to be a less than ideal situation when spin doctor Jillian (Kali Hawk) is spending the holidays meeting her boyfriend's family for the first time and can suddenly tell only the whole truth, and nothing but the truth, so help her Santa.
7.So This Is Christmas
A troubled teen (Lexi Ainsworth) straightens out her life and—say it with me—discovers the true meaning of Christmas, when a mysterious handyman shows up and gets her involved in more wholesome extracurriculars. Keep an eye out for Eric Roberts and Vivica A. Fox, who star as her overwhelmed parents.
8.A Very Brady Christmas
More than a decade after The Brady Bunch stopped filming, the original cast reunited in what would become one of the most important television events of the late '80s: A Very Brady Christmas. It's simultaneously a heartwarming throwback to the beloved sitcom and a meaningful glimpse into the grown-up Brady kids' complicated lives—with multiple Christmas carol singalongs as the cherry on top.
9.Naughty & Nice
A disgraced radio host (Tilky Jones) is sent to a small-town station to rehab his image, it's up to local host Sandra (Haylie Duff) to make him at least slightly less of a total fuckboy. Tune in to see if she accomplishes this seemingly impossible mission—and to see Parks & Rec's Jim O'Heir and Marcia Brady herself (aka Maureen McCormick) pop up as typically quirky side characters.
10.A Nasty Piece of Work
What do you get when you cross The Hunger Games with an office Christmas party? Find out in this horror flick from Hulu's "Into the Dark" film series, in which Schitt's Creek's Dustin Milligan is pitted against a coworker in a fight to the death (literally) for a year-end promotion.
11.This Christmas
There's nothing more pleasantly melodramatic than a Christmas movie that gets a little too on-the-nose about the Christmas song it's named after (looking at you, Last Christmas), and This Christmas is no exception. Good luck keeping up with all the hidden relationships, secret career plans, and fistfight-causing drama of the Whitfield family, which counts Regina King and Idris Elba among its many famous faces.
12.The Dog Who Saved Christmas
All you need to know is that Mario Lopez is the voice of the titular Christmas-saving dog. No snarky line from me here, just true awe at the masterminds over at Freeform.
13.A Christmas Movie Christmas
If you like your holiday movies a little more meta than most, this one's for you. Sisters Eve and Lacy (Lana McKissack and Kimberly Daugherty) send a wish to Santa for a movie-perfect Christmas, but once their wish is granted, they quickly learn that life in a Hallmark movie isn't as charmed as it may seem—a major blow to made-for-TV film fanatics everywhere.
14.The Man Who Invented Christmas
There's no shortage of A Christmas Carol adaptations in the world, but this 2017 Charles Dickens biopic takes a refreshingly different approach. Dan Stevens plays the author as he crafts the 1843 classic, which is often credited with increasing the popularity of Christmas itself. Bonus: Christopher Plummer makes an excellent (imaginary) Ebenezer Scrooge.
15.Once Upon a Time at Christmas
It's another classic Christmas tale: Boy meets girl; boy and girl fall in love; boy and girl dress up as Santa and Mrs. Claus and embark on a psychopathic killing spree around a small upstate New York town. Just your average holiday movie!
16.The March Sisters at Christmas
December is undoubtedly Little Women season, but if you've already completed your annual reread and can quote both the 1994 and 2019 movie versions by heart, why not mix things up with this made-for-TV adaptation of Meg, Jo, Beth, and Amy's story? These March sisters are a little less quaint than their 19th century counterparts, but don't seem to stray too far from Louisa May Alcott's original vision, making The March Sisters at Christmas a perfectly charming piece of modern-day Little Women fanfic.
17.Holly's Holiday
Don't you hate it when you find out your seemingly perfect boyfriend is actually just a head trauma-induced hallucination based on an attractive mannequin you recently admired in a store window? Ugh, same.
Celebrity news, beauty, fashion advice, and fascinating features, delivered straight to your inbox!
Andrea Park is a Chicago-based writer and reporter with a near-encyclopedic knowledge of the extended Kardashian-Jenner kingdom, early 2000s rom-coms and celebrity book club selections. She graduated from the Columbia School of Journalism in 2017 and has also written for W, Brides, Glamour, Women's Health, People and more.