Where Are All the Modern-Day Big-Budget Lesbian Films?
Ammonite is yet another entry in a long list of prestige period pieces about lesbian romances. But why can't queer women also get a contemporary blockbuster?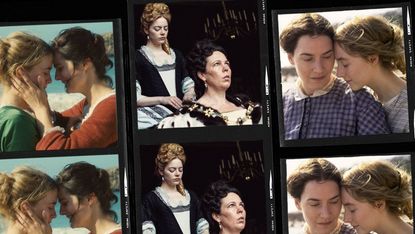 (Image credit: Shutterstock + 20th Century Fox + Neon )
Marie Claire Newsletter
Celebrity news, beauty, fashion advice, and fascinating features, delivered straight to your inbox!
Thank you for signing up to Marie Claire. You will receive a verification email shortly.
There was a problem. Please refresh the page and try again.
When filmmaker Alice Wu decided to write a feature film based on her first heartbreak, she knew it would be set in high school. But which high school? And when? The answer was her 2004 film Saving Face, a contemporary New York City rom-com in which the girl gets the girl, that became a crucial piece of the lesbian canon—a collection of typically lower budget love stories that often make grappling with queerness the central issue for the protagonist. Because it was a modern-day movie, Saving Face was unlike almost everything that predated it, and, even 16 years later, is dissimilar from most major studio-backed movies that show women loving women. So Wu recreated that magic in her 2020 follow-up, The Half of It, again setting it in the present.

"It was almost a period piece, set in the 1990s," she tells Marie Claire from her home in San Francisco. "But I realized that would subtly be saying that people used to be homophobic, back then. But I'm an old Asian dyke, and it's not like I'm unaware that sexism, homophobia, xenophobia still persist." By allowing the emotional narrative to take precedence over the setting and costuming, The Half of It (which was released on Netflix in May) encourages people from any background to emotionally connect.
But the director's deliberate decision to set her work in the present is in stark contrast to the elaborate, historically set lesbian-centric films that have been creating buzz at film festivals and award shows over the past few years. Films where wigs and period dresses and enormous chateaus help homophobia and misogyny masquerade as socially acceptable.
Before social media and streaming, films like Imagine Me & You, Kissing Jessica Stein, Bound, and But I'm A Cheerleader built the niche lesbian catalog but were completely left out of mainstream discourse, rarely reviewed in major publications, or nominated for big awards. Only in recent years have lesbian-centric stories and series—Portrait of A Lady on Fire, Carol, The Favourite, Ratched, The Haunting of Bly Manor—earned popular and critical acclaim. With one major common denominator: they're all set in the past. Another similarity? Most of these titles were written, directed, or produced by men. So few films, movies, and television shows accurately (or at least semi-accurately) capture lesbian life, that I, along with many folks online, began wondering what the deep fascination is with historic lesbians, real or fictional. And why, in 2020, are lesbian happy endings nearly unheard of in Hollywood?
The "Rachel Weisz Effect"
When the trailer dropped for Ammonite, a historic biopic by filmmaker Francis Lee (it premiered in theaters on November 13) that depicts the romance between British paleontologist Mary Anning (Kate Winslet) and geologist Charlotte Murchison (Saoirse Ronan), I was excited...then took a step back. Another lesbian period film. Starring straight, white actors. Made by a cis, white man. Yawn. Sure, I love a period piece as much as the next woman who grew up on American Girl Dolls and Dear America novels, but I'm also a person living today. Why is it so hard to see someone like myself on the big screen, instead of, say, an aristocrat living in near isolation in 1770 coastal France, where our only similarity is our sexuality?
"I think there's an enduring appeal of historical dramas full stop, and lesbian films are no exception," says Dr. Clara Bradbury Rance, who studies lesbians and feminism in cinema. "We are constantly looking backwards. There's a temptation to wonder how relationships of the past might have been presented or represented if they'd been legitimized in that way...There's a desire to tell old stories differently, or rather reveal the absences and erasures that were inherent in many of the stories we've been told before."
Despite period pieces being more expensive to produce (The outfits! The props! The research!) this curiosity of how people, particularly marginalized people, used to live, pervades the mainstream—seemingly more so than how people live and struggle now.
"The most obvious trend can be narrowed down to the 'Rachel Weisz effect:' accoladed English and American actresses take a sudden interest in sapphic pleasure onscreen," says Shayna Maci Warner, programming assistant at NewFest, New York's annual LGBTQ+ film festival. She's referring to Weisz's critically-lauded turn in Disobedience—Rolling Stone called her performance "blazing"—a lesbian romance that, while an exception to the historical rule, is instead set in the niche subculture of Orthodox Judaism. Warner also attributes 2016's Carol, with its six Academy Award nominations and meme pages "dedicated entirely to Cate Blanchett's outfits," to the rise in studio-backed lesbian storytelling.
Several smaller films, made by LGBTQ+ people of color in the past five years, are capturing what life is like now for young, queer people, notes Warner. Those titles just never reach the mainstream, mostly due to lack of funds and Hollywood's well-oiled trend machine: Big-budget movies are driven by market research, hierarchical decisions, and an unwillingness to stray too far outside of what will almost certainly turn a profit. While indie films have heart and offer unique perspectives, Hollywood ones have money.
In Hollywood's typical purview of queer characters, they often suffer, not in spite of, but due to their sexuality. They die by suicide, overdose, get murdered, divorced, or depressed. And, yes, plenty of women-loving women have endured arduous lives due to homophobia. That's an indisputable fact. But a storyline that portrays queerness as a character flaw rather than a strength plays into homophobia. Instead, audiences need movies that celebrate, or at least acknowledge, queerness as a fact of life.
In 2018's Academy Award–winning The Favourite, we see an ailing Queen Anne (Olivia Coleman) privately courted by two lovers, Sarah (Rachel Weisz) and Abigail (Emma Stone), a darkly cheeky tale inspired by history books. The 2017 film Battle of the Sexes, a Billie Jean King (Emma Stone) biopic centered around her 1973 tennis match against Bobby Riggs (Steve Carrell), shows a lesbian relationship tearing up King's marriage, demonstrating the struggle of being an out athlete in the 20th century. Several more cinematic period pieces detail the lesser known same-sex relationships of prominent women: Virginia Woolf (2018's Vita & Virginia); Emily Dickinson (2018's Wild Nights with Emily); Colette (2018's Collette); HBO's movie-quality series centered around Anne Lister's lesbian trysts (2019's Gentleman Jack).
While entertaining, films set in eras when being queer, or being in a lesbian relationship, often ended tragically, deny the existence and potential of lesbian happiness, whether single or in relationships. Where are the troves of lighthearted rom-coms and romances and buddy comedies, many of which could be inspired by my group texts alone? As a viewer, I want more than just dramatic retellings of doomed lesbian love affairs set way back when lesbianism was not a viable lifestyle.
Hungry for Happy Endings
On a summer night in 2019, a friend and I met for mussels in Manhattan's West Village before catching a screening of Adam, the movie based on Ariel Schrag's novel of the same name, in which a teenage boy pretends to be trans in order to woo a lesbian. It takes place circa 2006, and yes, the premise sounds problematic (the release of the film, which was directed by trans director Rhys Ernst, was highly controversial), but the film itself also transported me to a world in which queer filmmakers can make mainstream, contemporary, queer films with complex themes that encourage nuanced conversation.
In an early scene, a group of college-age lesbian and queer friends crowd into a small Manhattan living room, screening the latest episode of The L Word. The friends shout over the show's dialogue and comment on the characters' questionable decisions. In that dark theater, I felt seen. Here, lesbians weren't dressed in Victorian makeup and voluminous wigs, but rather in hoodies similar to the ones in my own closet, watching a show I watched. While internally shrieking with giddiness, I had a revelation. This is what I'd been missing. For 27 years, I hadn't seen a single scene in a movie that even remotely captured my social life. This was it: like looking in a mirror, but heightened. And I wanted more.
Luckily for those of us craving more representation in mainstream and independent cinema, a new generation of creatives are eager to provide. Like Cristin Tello, who shifted from nonprofit work to launch a queer steaming platform and production company, Tello Films, in 2018.
"I want to support filmmakers and tell our stories," Tello says. "Our stories are worth being told. My story is worth being told." Tello currently streams a wide variety of previously released lesbian series, as well as produces new content for the genre. In 2019, Tello launched its first original feature, Season of Love, and is gearing up to release the lesbian-centric holiday film I Hate New Year's. "I knew that Hallmark, Lifetime, and Netflix weren't putting out a rom-com with two queer women leads, so I did a cheesy rom-com. [Lesbians] also want the tropes of kissing under the mistletoe," she explains. Clearly, Tello is not alone in her thinking. Twitter lit up in early November when the trailer dropped for Clea DuVall's holiday comedy, Happiest Season, about a semi-closeted woman (Mackenzie Davis) who brings her girlfriend (Kristen Stewart) to her conservative family's home—in the 21st century.
Tello herself has another idea in the pipeline: A Civil War drama about women who dressed like men to fight in combat. Yes, it's a period piece, but Tello can't resist the temptation. "[That was] a time when women were allowed to be affectionate with one another as friends, it was easy for two women to sleep in the same bed, hold hands, and no one thought anything of it. There's a natural tension there, and in the script, I really try to show how things we're dealing with today as women are not that dissimilar to 1865."
There's nothing wrong with a period piece. In fact, the more queer filmmakers can retell centuries of straight-washed history, the better. But we need more queer representation in all forms, for all eras. Without the balance of seeing, understanding, and just being entertained by the way women-loving women live today, in current times, an enormous cinematic gap must be filled. If not we risk perpetuating the idea that heterosexuality is superior, that queer stories aren't with telling, understanding, or feeling. We risk audiences never seeing or believing that love is universal.
Even as Tello is tempted to produce a screenplay set in turn-of-the-century New Orleans, one thing is clear to her: "If I see one more married or almost married woman pining in a period dress, without a happy ending, my god. What is it with the straight community not wanting us to have a happy ending? They keep giving us period pieces, where tragedy is true. They just can't let us have a happy ending, and that's what we need."

A previous version of this story referred to Shayna Maci Warner as Shayna Weingast. The article has been update to reflect her professional name.
RELATED STORIES
Celebrity news, beauty, fashion advice, and fascinating features, delivered straight to your inbox!
Melissa is a writer based in Brooklyn.