The Cast of 'Tiny Pretty Things' Is Full of Actual Dancers
Their credits range from Cats to The Cher Show.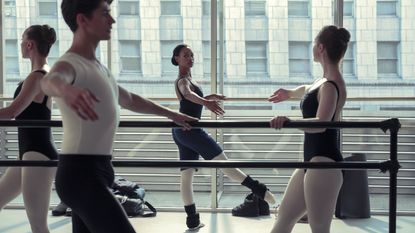 (Image credit: Sophie Giraud/Netflix)
While we wait for Riverdale to start back up again and for the Gossip Girl reboot to arrive on HBO Max, Netflix has swooped in to fill the void left by the absence of any similarly dark, campy teen shows. Enter: Tiny Pretty Things, an adaptation of the novel of the same name by Sona Charaipotra and Dhonielle Clayton. The series, which debuted on Netflix on Dec. 14, follows a group of young dancers at a ballet academy so cutthroat that they'll do anything it takes to succeed, from trolling the city for drugs to dull the pain of training on a fractured foot to maybe, just maybe, pushing a star student off the roof of the school. Spliced between all the over-the-top drama and off-the-rails dialogue, though, are breathtaking dance scenes, as the students train for and rehearse their annual showcase performance. And those scenes aren't just Hollywood smoke and mirrors—the cast is largely comprised of actual professional dancers. Here's who's who in Tiny Pretty Things, and where you may have last seen them pirouetting across a stage.
1/14
Kylie Jefferson as Neveah
The new girl at the Archer School of Ballet, Neveah steps in to fill the spot recently vacated by Cassie, the star dancer who fell or, more likely, was pushed off the top of the four-story building. Within days of joining the group, Neveah starts shaking up their long-held traditions by toppling the dancers' hierarchy and encouraging them to push back against the school's abusive tactics.
Jefferson, an L.A. native, has been dancing for most of her life and, at age six, was the youngest person accepted at the academy level to the Debbie Allen Dance Academy. She choreographed ScHoolboy Q and Travis Scott's "CHopstix" music video and has appeared in performances at the 2020 Grammys, the Late Late Show, and more.
2/14
Anna Maiche as Cassie
Cassie spends quite a bit of the series in a coma, prompting Neveah's brother to helpfully label her the "homie in a comie." The police investigation of her fall is at the core of the show, even as many of her former friends and fellow dancers seem to be moving forward with their lives weirdly quickly, considering they almost lost a classmate.
Maiche trained as a dancer, and has also branched out into acting in recent years, with roles in The French Teacher and Crazy Love. She'll next appear in Women, a thriller due out in early 2021, and Wicked, the film adaptation of Jennifer L. Armentrout's paranormal romance trilogy.
3/14
Casimere Jollette as Bette
As the younger sister of one of the ASB's most talented alums, Bette is driven to the point of recklessness by her desire to prove her own skills. That includes scheming to steal a lead role from a so-called friend, dancing on a severely injured foot, and begging her mother for drugs to keep dancing on said foot.
Jollette has been training as a ballet dancer with prestigious academies like Chicago's Joffrey Ballet and N.Y.C.'s American Ballet Theatre for much of her life, but has also dabbled in modeling and acting. She most recently appeared in Dirty John and This Is Us.
4/14
Michael Hsu Rosen as Nabil
Nabil is the prime suspect in Cassie's fall since he had recently moved from Paris to Chicago to be with her, but, upon arriving, discovered she was cheating on him. Fortunately for Nabil (and for viewers looking for a twisty whodunit), it seems like the identity of Cassie's attacker will have a much more complicated motive than that.
Rosen is a triple threat: The N.Y.C. native made his Broadway debut at 17 in West Side Story, and has since gone on to appear in On the Town and Torch Song, among many other theater credits, and in Netflix's Jessica Jones.
5/14
Brennan Clost as Shane
Between training for his first lead role in a showcase production and untangling a complicated relationship with his roommate Oren, Shane has a lot to deal with. Obviously, the only way to deal with all that stress is to strip down to your underwear and take a Champagne-fueled dance break on the roof of the school.
Clost, too, has an impressive dance resume, with a degree from Juilliard and a lead role on another angsty teen dance drama, The Next Step.
6/14
Barton Cowperthwaite as Oren
Oren might have even more to deal with than his roommate: He's juggling his secret hookups with Shane, his complicated relationship with Bette, a less-than-stellar part in the showcase, and an eating disorder. At least he doesn't seem to be a prime suspect in Cassie's fall?
Cowperthwaite is no stranger to onscreen teen dramas that take place in the world of dance. He starred in Center Stage: On Pointe, and also appeared in an episode of Fosse/Verdon.
7/14
Daniela Norman as June
Losing the lead role in the showcase performance is devastating enough on its own, but it's a million times worse when a lack of a starring role means June's mom is going to pull her out of the ASB. With ballet as her first and only love, June makes a tough decision that might ruin her relationship with her mother forever, but will at least allow her to keep dancing.
London native Norman trained at the English National Ballet, during which time she played the lead role in Sleeping Beauty, and has since broadened her focus to take roles that combine dancing with acting on stage and screen. Among these were parts in An American in Paris on the West End and in the film adaptation of Cats.
8/14
Damon J. Gillespie as Caleb
What would a gritty teen show be without an Islamophobic army brat who's carrying on an illicit affair with a certain older woman? Caleb is a very weird, very interesting piece of the ASB puzzle, though it's not totally clear where, exactly, he fits.
While Gillespie is known predominantly for his onscreen roles—he's credited on Empire, Netflix's The Society, and the short-lived musical drama Rise—he's also a singer, dancer, playwright, and acrobat, and can play six instruments.
9/14
Shaun Benson as Mr. Brooks
As the ASB's main dance teacher, Brooks is a strict disciplinarian who expects nothing less than perfection from his dancers—and he's not afraid to storm out of the studio if he doesn't get it.
Though Benson is a skilled musician and trained in theater arts, he's not a dancer by trade. You may recognize him from The Boys, The Girlfriend Experience, and Channel Zero, to name just a few titles from his dozens of TV roles throughout the past two decades.
10/14
Jess Salgueiro as Isabel
Isabel was the first police officer on the scene after Cassie's fall and hasn't been able to shake the feeling that there was foul play involved—despite a lack of concrete evidence and all that other due process-y stuff.
Like her costar Benson, Salgueiro also had a recurring role on The Boys (though their characters never crossed paths). She's also appeared in Letterkenny and Workin' Moms, and will next star in Netflix's upcoming superhero series Jupiter's Legacy.
11/14
Lauren Holly as Madame Dubois
Madame, a former dancer herself, does not take kindly to Neveah's efforts to shake up the ballet school she's in charge of running. Somehow, though, that aversion to rule-breaking doesn't stop her from engaging in some very taboo behavior of her own.
Holly has been racking up roles in Hollywood for nearly 40 years. Highlights include recurring roles in Picket Fences and NCIS, as well as movie roles in Dumb and Dumber (with then-partner Jim Carrey), What Women Want, and Any Given Sunday.
12/14
Bayardo De Murguia as Ramon
There's plenty of reasons to be wary of Ramon: He keeps getting threatening texts from a mysterious sender, seemed to be getting a little too familiar with Cassie before her fall, and, of course, thought it was a good idea to glorify Jack the Ripper's violence against women in ballet form. For those keeping score at home, that's three major strikes against him.
A theater lover who split his childhood between Tijuana and San Diego, De Murguia got his start on network TV in CSI nearly a decade ago, and has since appeared in Agents of S.H.I.E.L.D., NCIS, Shooter, among several other popular shows.
13/14
Tory Trowbridge as Delia
As older sisters are wont to do, star ballerina Delia casts a looming shadow over Bette's entire life, leaving her younger sister taking desperate measures to match up to Delia's talent. In spite of that incredible talent, you really have to question Delia's judgment, since she seems perfectly comfortable dating seeming sociopath Ramon.
Trowbridge (pictured second from right) is a Broadway star who has appeared in The Cher Show and An American in Paris. She began dabbling in TV and film in recent years, with parts in The Couple, Isn't It Romantic?, and Law & Order: SVU.
14/14
Morgan Kelly as Mr. Renfrew
Renfrew, scathingly referred to as "The Wrench" by some of his cheekier students, is the ASB's sports physician (and husband of Brooks). He goes above and beyond this role—and proves himself to be the only person at Archer with a heart—by supporting June's plan to emancipate from her parents.
Kelly has been a consistent presence in Hollywood for the past two decades. His credits include Being Erica, Killjoys, Mindhunter, and Spinning Out, to name just a few.
Celebrity news, beauty, fashion advice, and fascinating features, delivered straight to your inbox!
Andrea Park is a Chicago-based writer and reporter with a near-encyclopedic knowledge of the extended Kardashian-Jenner kingdom, early 2000s rom-coms and celebrity book club selections. She graduated from the Columbia School of Journalism in 2017 and has also written for W, Brides, Glamour, Women's Health, People and more.