The Cast of 'Shadow and Bone': Get to Know Who's Who
Your primer on the stars of Netflix's new fantasy show.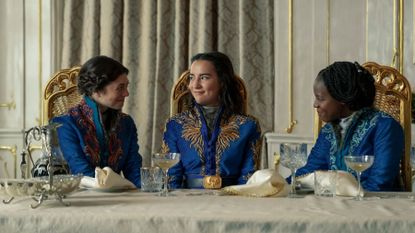 (Image credit: Netflix ¦ DAVID APPLEBY)
If you, like me, have been waiting for a new fantasy series to distract you from the chaos of real life, Netflix has a new hit incoming: (opens in new tab) The much-anticipated Shadow and Bone premieres on April 23. Based on the first book in author Leigh Bardugo's Grishaverse series, Shadow and Bone takes place in a war-torn country called Ravka that's split in half by a region of tangible darkness filled with monsters known as the Shadow Fold. The first season follows Alina Starkov (Jessie Mei Li) (opens in new tab), a mapmaker who discovers that she has the power to summon sunlight, a rare power that could dissolve the Fold. After her power becomes known, she's swept away from her former life to train with Ravka's other magic-users, led by General Kirigan (Ben Barnes).
If all the lore isn't enough, the show also introduces a wide cast of characters, including Alina's fellow magic-users, called Grishas, and thieves attempting to cross the Fold themselves. Most of the cast is made up of relatively unknown actors, with the exception of one fan-casting come to life. To help you keep track of the characters, here's your guide to the cast of Shadow and Bone.
1/11
Jessie Mei Li as Alina Starkov
Alina Starkov is a mapmaker in the First Army of Ravka, comprised of ordinary citizens. She was raised in an orphanage after her parents died, and her closest confidant is her best friend Mal. Alina sets off the events of the series when she uses her hidden and rare power of summoning light for the first time.
Shadow and Bone is Mei Li's first major role in a television show. The 25-year-old Chinese-English actress previously appeared in a 2019 National Theatre Live stage production of All About Eve. She's set to appear in the upcoming film Last Night in Soho, co-starring Anya Taylor-Joy and Matt Smith.
2/11
Ben Barnes as General Kirigan
General Kirigan is the leader of the Second Army of Ravka. He commands an army made up of Grisha, or people with special abilities. Kirigan takes a special interest in Alina after her powers are revealed, since her ability to summon sunlight is so rare.
The most-recognized face in the cast, Ben Barnes has a lot of experience with fantasy novel adaptations. He previously appeared in the films Seventh Son, Stardust, The Chronicles of Narnia: Prince Caspian. He also had significant roles in the Netflix series The Punisher and the first season of HBO's Westworld. Barnes is actually a popular fan-casting for a character from the books named the Darkling.
3/11
Archie Renaux as Mal Oretsev
Malyen Oretsev, who goes by Mal, is Alina's best friend. He's also a member of Ravka's First Army with Alina, but he's a soldier and a gifted tracker. In the book, they're separated once Alina's power is revealed, and as he goes through his own journey, he realizes that he has feelings for Alina.
A 23-year-old British actor and model, Renaux has previously appeared in some television shows, including Amazon's Hanna and BBC's Gold Digger, which also featured his co-star Barnes. His most recent appearance is the Netflix film Voyagers, co-starring Colin Farrell and Lily-Rose Depp. He's also set to appear in the highly-anticipated superhero film Morbius, and the dystopian thriller Zero.
4/11
Freddy Carter as Kaz Brekker
Kaz Brekker is the leader of the Dregs, a prominent gang in the city of Ketterdam in Ravka. A main character in Bardugo's Six of Crows duology, which has been intertwined with the Shadow and Bone trilogy in the show, he's known for doing any job, which earned him the nickname "Dirtyhands."
Carter is a British actor who is most known for playing Jason Ripper in the Starz series Pennyworth and stable boy Pin Hawthorne in the Netflix series Free Rein. Fun fact, his first IMDb credit came from playing a soldier in 2017's Wonder Woman.
5/11
Amita Suman as Inej Ghafa
Inej Ghafa is a spy and a member of the Dregs with Kaz and Jesper. She grew up in a family of traveling acrobats, performing with them and walking the high-wire. Around age 14, she was captured and forced to work as an indentured servant until she met Kaz, who freed her and offered her a spot in the dregs.
Ghafa, a 23-year-old Nepalese-born British actress, has previously appeared on The CW series The Outpost and a 2018 episode of Doctor Who.
6/11
Kit Young as Jesper Fahey
Jesper Fahey, another member of the Dregs, is a sharpshooter who teams up with Kaz and Inej. He's also a Grisha like Alina, though he has with different abilities.
Young is a Scottish and Ugandan actor who has mostly done stage acting. He has appeared in National Theatre Live productions of Julius Caesar and A Midsummer Night's Dream. He's also set to appear in the upcoming Paul Feig-film The School for Good and Evil, co-starring Charlize Theron, Kerry Washington and Michelle Yeoh.
7/11
Daisy Head as Genya Safin
Genya is a Tailor at the royal palace in Ravka, where she's lived since she was five. When Alina arrives, Genya dresses her and gets her ready to meet the king of Ravka. They also become confidants.
Head is an English actress who has appeared in the shows Harlots, The Syndicate, and Girlfriends (a 2018 British series, not the one staring Tracie Ellis-Ross). She also appeared in the 2016 film Underworld: Blood Wars.
8/11
Danielle Galligan as Nina Zenik
Nina Zenik is a Heartrender, a Grisha who can manipulate a person's inner organs. In the show, she's traveling in Ketterdam when she's captured by a group of Drüskelle, Fjerdan soldiers that hunt Grisha. After their boat shipwrecks, she's stranded with one of her captors, Matthais Helvar, and they travel together to safety, saving each others' lives multiple times.
Galligan is an Irish actress who's most well-known for playing Sarra in a Season 8 episode of Game of Thrones. She has also appeared in the TV series Krypton and Cold Courage, as well as multiple short films. She's also a poet, and posts some of her poems on her Instagram, @daniellegalligan_.
9/11
Calahan Skogman as Matthais Helvar
Helvar is a soldier from Fjerda, a country at war with Ravka. He's a Drüskelle, a holy soldier who hunt Grisha for trial and execution, claiming that Grisha are demonic and evil. In the book, he is on a ship that held a Grisha named Nina, when there's a shipwreck. He and Nina end up traveling together through Ravka as he fights his attraction to her.
Skogman is an American actor, who was born in Wisconsin and earned an MFA in acting from the University of Southern California. Shadow and Bone is his first major TV show; he previously appeared in short films and the 2019 film Blood Puppet! Christmas '94.
10/11
Sujaya Dasgupta as Zoya Nazyalensky
Zoya is a member of Ravka's Second Army and a Squaller, a Grisha who can manipulate the wind. The biggest use of her power is to fill the sails and move the skiffs that travel across the Fold. She's also one of Kirigan's favorites, and she gets a bit jealous when Alina comes into the picture.
A British actress, Dasgupta's most recent appearance before Shadow and Bone was in the hit show I May Destroy You, where she played a member of Arabella's support group. She also featured in the TV series Doctors, Press, and Casualty.
11/11
Zoë Wanamaker as Baghra
Baghra is assigned to be Alina's teacher when she arrives at the Little Palace. The no-nonsense Grisha is a living amplifer, someone who can enhance another Grisha's powers. She also has a hidden connection to Kirigan.
Wanamaker has had a long and impressive career as a stage and screen actor. Fantasy fans may recognize her from her role as Madame Hooch in Harry Potter and the Sorcerer's Stone, or as Cassandra in the first season of the new Doctor Who. Fun fact: she's one of the two American-born cast members featured in the Harry Potter movies whose lines were not dubbed over by a British cast member.
Contributing Culture Editor
Quinci LeGardye is a Contributing Culture Editor who covers TV, movies, Korean entertainment, books, and pop culture. When she isn't writing or checking Twitter, she's probably watching the latest K-drama or giving a concert performance in her car.