'Shadow and Bone' Season 2: Everything We Know
The show has many more books to adapt!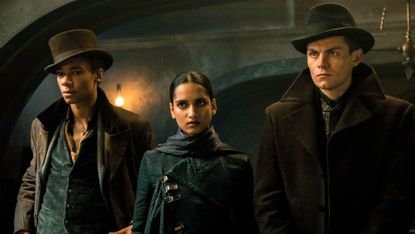 (Image credit: Netflix)
Spoilers for the first season of Shadow and Bone. The best fantasy series are the ones that build entire universes for fans to discover, complete with unique monsters, currencies, and languages. Netflix's highly anticipated fantasy series Shadow and Bone, adapted from Leigh Bardugo's Grishaverse books, draws fans into the world of Ravka, a country populated with element-manipulating powers and divided by a region of tangible darkness filled with monsters called the Shadow Fold. The show's first season follows Alina Starkov, a mapmaker who discovers that she has a rare power to summon sunlight, which could destroy the Fold and save countless people. She's quickly ensnared in Ravka's Second Army of people with powers, a.k.a. Grisha, as its commander General Kirigan takes a special interest in her power. On June 7, 2021, Shadow and Bone was officially renewed by Netflix for a second season.
Shadow and Bone has drawn comparisons to Game of Thrones, and like GoT, it has a wealth of written material to draw from for future seasons. The first season of Shadow and Bone is based off the first book in Bardugo's trilogy of the same name, as well as her Six of Crows duology. The show was a hit, seeing more than a billion streaming hours between April 26 and May 2 alone, according to Nielson. After a long wait, all us fans are finally getting new episodes, with Netflix confirming that the new season will arrive in 2023.
Has Shadow and Bone been renewed for a second season?
Yes! Netflix confirmed the news in June 2021 on the first day of its "Geeked Week." Showrunner Eric Heisserer said: "I'm honored and thrilled to return to the Grishaverse and continue the stories of these endearing characters, particularly Milo." Bardugo added: "I've been writing in the Grishaverse for nearly ten years now, so I'm thrilled we get to keep this adventure going."
When will season 2 of Shadow and Bone be released?
Unfortunately, it'll be a long wait for another season. The show's first season was a huge production, filmed in and around Budapest, Hungary, and was logistically complicated even before the global pandemic slowed down most major productions. Also, similar Netflix shows like The Witcher and Umbrella Academy have had gaps of at least 18 months between seasons. Shadow and Bone season 2 will probably get a release date of early or mid 2023.
Is there a trailer?
This weekend, Netflix finally released the first footage of season 2, over a year after the show's renewal. The clip begins by showing that Alina has become more comfortable in her identity; when a man tells her that she's just a "symbol," she replies with conviction, "I am the Sun Summoner."
It then shows a montage of all our favorite characters, plus some new additions that are fan favorites from the books (including an actual Alina and Mal kiss!). The Darkling also gets an ominous beat, as he asks an unknown character, "Are you willing to sacrifice that which is most precious to you?"
Who are the new cast members for season 2?
Netflix began production on season 2 in January 2022, at which point they revealed the new faces who will be joining the wide-ranging cast. Traces actress Anna Leong Brophy (Back, Traces) and Mortal Kombat actor Lewis Tan will play Tamar Kir-Bataar and Tolya Yul-Bataar, twin Grisha mercenaries who work under the privateer Sturmhond. The Magic Flute actor Jack Wolfe will portray Wylan Hendricks, an alias of the popular Six of Crows character Wylan Van Eck, and The OA actor Patrick Gibson will play Nikolai Lantsov, prince of Ravka.
Of the new cast members, the addition of Nikolai is the most involved in Alina's story. The Ravkan prince is a fan favorite, who in the books worked as a privateer under the alias Sturmhond, commanding his own ships to help the Ravkan war effort. Avoiding spoilers, he crosses paths with Alina, Mal, and the Darkling, and eventually joins the efforts to bring the baddie down.
Mercenaries Tolya and Tamar are both Heartrenders, Grisha who have the power to damage or manipulate a person's internal organs. While Tolya is skilled in a range of weapons, his sister Tamar is known for her skill with her axes. The siblings also have Shu Han heritage, like the show's version of Alina. Meanwhile, Wylan is another Six of Crows member joining the show, who links up with the Dregs (Kaz, Jesper, and Nina) as their demolitions expert.
In addition to the four new actors, returning cast members Danielle Galligan (Nina Zenik), Daisy Head (Genya Safin) and Calahan Skogman (Matthias Helvar) have been promoted to series regulars.
What will Shadow and Bone season 2 be about?
Spoilers for the end of Shadow and Bone season 1. The show ends with our heroes Alina, Mal, Kaz, Inej, Jesper, and Zoya escaping from the Fold, with the evil General Kirigan presumably left for dead. Later the two groups separate, with Kaz, Inej, and Jesper going to Ketterdam to deal with the enemies who want their heads for failing to capture the Sun Summoner. Alina and Mal sail off to a distant land, where they'll hide from the people hunting them and find allies, and Alina will train her powers until she's strong enough to destroy the Fold. She'll also have to deal with the return of General Kirigan, who didn't die in The Fold and now has power over the darkness and its monsters.
The first season of Shadow and Bone was a faithful adaptation of the book of the same name, so season 2 will likely cover the second book, Siege and Storm. The description from the second book reads: "The Darkling is more determined than ever to claim Alina's magic and use it to take the Ravkan throne. With nowhere else to turn, Alina enlists the help of an infamous privateer and sets out to lead the Grisha army. But as the truth of Alina's destiny unfolds, she slips deeper into the Darkling's deadly game of forbidden magic, and further away from her humanity. To save her country, Alina will have to choose between her power and the love she thought would always be her shelter. No victory can come without sacrifice–and only she can face the oncoming storm."
Heisserer echoed fans' suspicions in an interview with Insider that the Darkling, a.k.a. General Kirigan, will be a more powerful foe in season 2, in part due to the Darkling's new allies: "In the books, these are called Nichevo'ya, which is Ravkan for "nothing" and they will be a level up kind of opponent for Alina, Mal and anybody else who runs into Kirigan."
But Ben Barnes, who plays the Darkling, said to Collider that he thought season two will diverge from the books. "I've obviously read the books, but I think it will steer off from the course of the books, in terms of the second season. I think the character becomes a bit more representative in Alina's mind of what the darkness is and a bit symbolic, and I wanted to keep him as a human being," Barnes said. "He's many fold more powerful, now that he has the walking, living volcra that he can summon and send at his will, without even having to use his hands to use magic."
Heisserer also revealed to Insider that a new character from the books, Wylan, will enter the fray: "I can tease this much: That there will be a hundred percent more Wylan. We'd like to introduce him for sure. And we would like to spend at least a little bit more time in Ketterdam." He added to TV Line: "It would be good to see if Wylan and Kaz already had a relationship and then maybe Weiland is responsible for something in Season 1."
Another certainty for future seasons: Crows and Alina's path will intersect, Heisserer told Variety. "We had so much fun at the moments when these two sets of characters could find ways to integrate. I have a lot of fun theories about how we can make this happen organically again, without really disturbing too much of the separate storylines that they're on."
As for Mal and Alina? "There were definitely moments where a kiss felt warranted...I believe there is there is a lot of kissing in their future, should we ever get the opportunity," he told TV Line.
Could there be a Six of Crows spinoff?
The show Shadow and Bone doesn't just cover the trilogy of Leigh Bardugo books by the same name. It also looped in Bardugo's Six of Crows duology, which follows a group of underground criminals from the same universe called the Dregs. The popular Six of Crows characters Kaz Brekker, Inej Khafa, Jesper Fahey, Nina Zenik, and Matthias Helvar are prominent characters in the Netflix show, and have a storyline that showrunner Heisserer described as "Ocean's Eleven meets Game of Thrones."
In an interview with Variety, Heisserer said: "I told them [early on], 'I'm not going to touch this series unless I also have the "Six of Crows" duology and have those characters. I don't see a show without both."
The announcement that the show would cover Six of Crows surprised some fans, since the duology takes place two years after the end of the Shadow and Bone trilogy. To include the characters, Bardugo and showrunner Heisserer wrote new prequel stories for Kaz, Inej, and Jesper and to fit them into the Shadow and Bone storyline. "Eric and our writers' room and our directors have built something entirely new that still somehow stays true to the characters and to the heart of the stories," Bardugo said in a Den of Geek interview.
In interviews, Heiserrer has emphasized his approach of giving the Shadow and Bone and Six of Crows crews equal importance in the show. He told Collider, "I love both for different reasons, and they live in the same world. I think if you just do one you're getting a smaller slice of your audience. I'm essentially making a show where people are gonna be like, 'I don't like this character, but I love these two.' And I'm all right with that."
Bardugo loves the approach so far, telling The Guardian: "It makes the world feel bigger. It's a much more fitting introduction to a universe that I've been working on for a decade now. I'm very proud of the show. I feel grateful for all the love and care that went into it."
What have the cast and crew said about season 2?
During season one promotion, the cast and crew expressed excitement for future seasons and what's in store for their characters. Bardugo told ELLE that her wish was for all seven Grishaverse books to be adapted. "I want to see the whole story, and I know that's crazy. I know it's unlikely. And I don't think it would take seven seasons to get us through seven books. I would love to see the whole story unspool. I think that would be something special," she said.
Archie Renaux, who plays Mal, said to Collider: "I have a lot of questions, and not so many answers. The fact that it is so open and there is this whole world that has still been unexplored on the screen excites me a lot. A lot of the character relationships feel like they're still in the very early stages and have only just scratched the surface, so to speak."
Jessie Mei Li, who plays Alina, spoke to ELLE about specific scenes from the book that they're looking forward to filming, including the upcoming clashes between Alina and the Darkling after they both build their own armies. They said, "Because Kirigan's got his shadow soldiers, and then obviously Alina gets her own army, I'd love to see how that manifests and how that affects her."
Li also referenced the future storyline where Alina uses merzost, or the power of creation. In the books, the magical act requires the sacrifice of something essential from the person attempting it, and it drains vitality from that person. It's also likely to produce unexpected and devastating results; the Darkling's use of merzost created the Fold.
"Obviously we've seen the effects of merzost in the show on Kirigan and his black veins and everything. And Alina's hair is meant to turn white. I'd be interested to see how gruesome that is," Li said.
In an interview with Harper's Bazaar, Amita Suman, who plays Inej, said that one scene she would love to see in a future season is the first meeting between Inej and the Dregs' leader Kaz. "I remember, when reading that, it was such an exciting thing. There was just such a foreshadowing of their relationship, of, 'I can help you.' From a fan's point of view, I would love that scene to be there."
Celebrity news, beauty, fashion advice, and fascinating features, delivered straight to your inbox!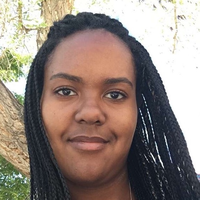 Contributing Culture Editor
Quinci LeGardye is a Contributing Culture Editor who covers TV, movies, Korean entertainment, books, and pop culture. When she isn't writing or checking Twitter, she's probably watching the latest K-drama or giving a concert performance in her car.