10 Books to Read If You Love Watching the Olympics
These stories revolve around the sports and competition we can't get enough of.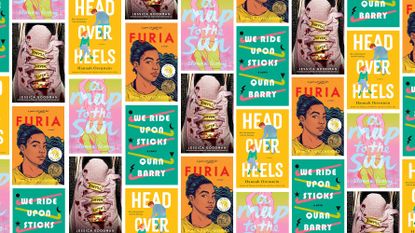 (Image credit: Design by Morgan McMullen)
Welcome to Olympics season, where everyone becomes an expert in gymnastics (can you believe that Yurchenko double pike?!), obsessed with swimming (not me reading every single member of Team USA's Wikipedia pages), and delighted by activities they had no idea existed before July 2021 (dressage forever!). But Tokyo 2020 has also been defined by conversations around athletes' mental health (opens in new tab), the immense pressure these competitors face (opens in new tab), what happens after Olympians leave the Games (opens in new tab), and the politics of sports (opens in new tab) beyond what we see on TV.
I've been thinking about these issues a lot due to the release of my second novel, They'll Never Catch Us (opens in new tab), a young adult thriller that follows two competitive cross country sisters aiming for number one in their small town. Stella and Ellie Steckler buck up against the crushing pressure placed on them to win gold and aim for perfection—while also finding themselves wrapped up in a murder investigation.
It's just one of many books that focus on the full, messy, heroic lives of athletes and fans navigating the brutal, complicated world of competition—giving us all the sports fix we crave during and after the Games. Ahead, 10 books to devour if you can't get enough of the Olympics.
Jessica Goodman is the New York Times bestselling author of The Counselors, They'll Never Catch Us, and They Wish They Were Us. She is the former op-ed editor at Cosmopolitan magazine, and was part of the 2017 team that won a National Magazine Award in personal service. She has also held editorial positions at Entertainment Weekly and HuffPost, and her work has been published in outlets like Glamour, Condé Nast Traveler, Elle, and Marie Claire.