10 Books to Read If You Love Watching the Olympics
These stories revolve around the sports and competition we can't get enough of.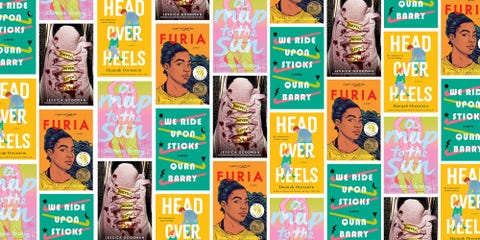 Design by Morgan McMullen
Welcome to Olympics season, where everyone becomes an expert in gymnastics (can you believe that Yurchenko double pike?!), obsessed with swimming (not me reading every single member of Team USA's Wikipedia pages), and delighted by activities they had no idea existed before July 2021 (dressage forever!). But Tokyo 2020 has also been defined by conversations around athletes' mental health, the immense pressure these competitors face, what happens after Olympians leave the Games, and the politics of sports beyond what we see on TV.
I've been thinking about these issues a lot due to the release of my second novel, They'll Never Catch Us, a young adult thriller that follows two competitive cross country sisters aiming for number one in their small town. Stella and Ellie Steckler buck up against the crushing pressure placed on them to win gold and aim for perfection—while also finding themselves wrapped up in a murder investigation.
It's just one of many books that focus on the full, messy, heroic lives of athletes and fans navigating the brutal, complicated world of competition—giving us all the sports fix we crave during and after the Games. Ahead, 10 books to devour if you can't get enough of the Olympics.
1
If You Love Track & Field
'They'll Never Catch Us' by Jessica Goodman
This mystery follows two hyper-competitive sisters vying for the top spot on their small town cross country team. Their dreams are thwarted when a new girl comes to town, threatening to outshine them. But when she disappears, everyone begins to suspect the sisters are guilty of something sinister. I wrote this book as a reaction to the way young female athletes are forced to fit into neat little boxes and exude confidence and perfection at all times. Spoiler alert: These characters throw all of those expectations out the window.
2
If You Love Gymnastics
'Head Over Heels' by Hannah Orenstein
This thoughtful romance follows former gymnast Avery Adams, who gave up her Olympic dreams after a disastrous performance and is trying to figure out who the hell she is without the sport that defined her. After a nasty breakup, Avery moves back into her parents' house, starts coaching a future all-star, and meets a man who could be something special. All Avery has to do is deal with the trauma from her gymnastics past, which is much easier said than done.
3
If You Love Soccer
'Furia' by Yamile Saied Méndez
Set in Argentina, Furia stars Camila Hassan as a dutiful daughter who's keeping a secret from her family: She's an unbeatable dynamo on the soccer field. With wild ambition that matches her talent, Camila has her sights set on a college scholarship at a North American university. If only she can figure out a way to convince her disapproving parents to let her follow her dreams.
4
If You Love Surfing
'Malibu Rising' by Taylor Jenkins Reid
Taylor Jenkins Reid delivers a breathtaking, epic family novel that follows the four magnetic Riva siblings in 1980s Malibu (swoon). All of the gorgeous and complex Rivas surf to varying degrees of excellence, but the author's descriptions of gliding through the water, conquering the waves, and feeling the ocean breeze rustle through your hair will make you feel like you're not only on the beach, but that you too could slice through the ocean like a pro.
5
If You Love Field Hockey
'We Ride Upon Sticks' by Quan Barry
Field hockey + witchcraft + the '80s = a delicious underdog sports story that rivals the Bad News Bears. In We Ride Upon Sticks, Quan Barry has written such a charming story about a high school hockey team whose members pledge themselves to eternal darkness (yes, seriously) in order to crush their competition. The Salem Witch Trials loom large here, as do so many nostalgic '80s references (Emilio Estevez is everywhere). Turns out those are ideal ingredients for an unputdownable novel.
6
If You Love Diving
'Manhattan Beach' by Jennifer Egan
In WWII-era New York City, when all the men are off at war, curious and adventurous Anna Kerrigan becomes the first female diver, repairing ships and finding herself in a dangerous yet exclusive world. What unfurls is a consuming novel that explores gender identity and family secrets, all told with a brilliant voice.
7
If You Love Basketball
'A Map to the Sun' by Sloane Leong
Tender and heartfelt, this young adult graphic novel follows Ren and Luna, whose friendship has been tested after Luna moves away. But when Luna returns and both girls join their struggling high school basketball team, they and their peers endure a coming-of-age tale that celebrates the power of tight bonds and how these teams can bring young women together.
8
If You Love Softball or Baseball
'The Proposal' by Jasmine Guillory
Romance queen Jasmine Guillory's second novel is about a proposal gone wrong at a baseball stadium. Protagonist Nik has a hilarious voice and will skewer anyone who tries to pop the question without knowing how to spell her name (ahem, man-bun boyfriend). With astute analysis about what it's like to be at the center of a national media moment, The Proposal is a fast-paced, big-hearted love story.
9
If You Love Archery
'The Hunger Games' by Suzanne Collins
How can you watch athletes hit the bullseye without thinking of Katniss Everdeen and her soaring arrows? Revisit the iconic dystopian series for a hit of adrenaline as the beloved heroine uses her skills to hunt for food—and save her life.
10
If You Love Tennis
'Citizen: An American Lyric' by Claudia Rankine
Though this one isn't technically a novel like the rest of the books here, I felt compelled to include it on this list. Written in prose poetry, Citizen is a moving treatise on race and houses a famous essay about Serena Williams's place in the extremely white world of tennis. This is a must-read for tennis fans who yearn to dig deeper into the inequality within the sport.
This content is created and maintained by a third party, and imported onto this page to help users provide their email addresses. You may be able to find more information about this and similar content at piano.io