'Fifty Shades' Producer to Thirsty Henry Cavill Fans: Cool Your Loins
Like a fire extinguisher to the pants.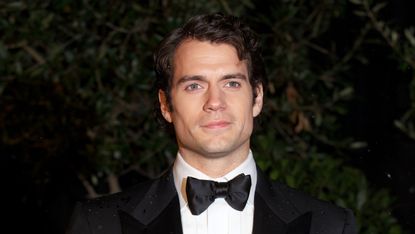 (Image credit: Getty)
Update, 9/22: Sneaky, sneaky Henry Cavill certainly made it seem like he was thisclose to signing on as Ana's walking HR violation of a boss, but turns out he was just getting himself some free press. Brilliant.
Speaking with E! News, producer Dana Brunetti very plainly denied Cavill's involvement in Fifty Shades Darker, explaining that the sequel hasn't even hired a casting director yet.
"Somebody posts something on some obscure blog and then it gets picked up by something a little less obscure and it keeps going," Brunetti said. "Fans are starting the news by saying things like [the Cavill casting]."
Welcome to the internet, Dana. What's your Insta?
Update, 9/8: Optimistic in the face of an ever more E L James-ian landscape, Dakota Johnson said she is no longer scared of Fifty Shades Darker.
"It's quite exciting," she told Empire. "There was a moment of being afraid, because I didn't know what it was going to be like. I had an experience with Sam [Taylor-Johnson] and then that all went away. Now I'm excited. I think James is a talented filmmaker. How often do you get to reconvene with the same people and have a different spin?"
I mean, Hollywood is really riding the sequel train ATM, so...all the time? Still, few follow-ups command as much enduring attention—and Twitter backlash—as this.
Update, 8/20: Please welcome to the Red Room...director James Foley, whose arrival on the Fifty Shades Darker set might make the name thing tough unless they call E L by her other name.
Deadline reports that Foley, whose previous credits include Fear, Glengarry Glen Ross, and 12 episodes of House of Cards, is the top replacement for Sam Taylor-Johnson, although negotiations have not yet begun. Filling out Team Fiddy are screenwriter Niall Leonard, producers Michael De Luca and Dana Brunetti, principal actors Dakota Johnson and Jamie Dornan, and everything else E L James.
Studies show Fifty Shades can cause near-psychosis and high-risk behaviors, so godspeed, James F. May your predecessor's fate not befall you.
Update, 7/27: It takes a great man to end a practical joke that's gone on too long but an even greater man to recognize that, if he plays it right, he and his costar could stay in the news forever because Fifty Shades *sells.*
In an interview with Magic FM, The Man from U.N.C.L.E. actors participated in some cheeky banter, with Cavill shutting down the rumor that he will play Jack Hyde, Anastasia's walking HR violation of a boss, and Armie Hammer coming back and being like, "Nah. He's definitely doing it."
So which is it? For now, whatever you want it to be? ¯\_(ツ)_/¯
http://www.dailymail.co.uk/embed/video/1201548.html
Update, 7/22: Rumors of Henry Cavill's casting in the Fifty Shades sequel have apparently been bubbling up in the thirstier corners of the internet lately, so E! News took initiative and broached the subject on the press junket for The Man from U.N.C.L.E.
British Superman's answer: "Basically, what I can say is I can't say anything about it right now." I, too, would be hesitant to reveal that I have committed myself to playing a "known philanderer" who harassed his last five assistants and would have assaulted Anastasia too were it not for her self-defense training and Christian's "hyper-vigilance."
https://www.eonline.com/videos/238382/embed-video
Update, 5/8: Jamie Dornan might have been made an offer not even a cinematic Never Nude could refuse: $1.5 million to drop trou.
Star magazine reports an all-encompassing "they" involved with Fifty Shades Darker has thrown down the not-insignificant sum, although Dornan previously stated that, in the first movie, there were contracts in place specifically guarding against that sort of exposure.
"They have assured Jamie that it won't be overt, but more of a brief tease," the source said. "And he'll have some creative control over how it's handled."
Mmhmm. But then again, someone's surely set up a #freethetodger fund, so the total could be $76 gazillion by now.
Update 2, 4/30: *heavy breathing* No, not from me—from the new Fifty Shades Darker teaser.
The bonus-feature-packed DVD for the first movie comes out tomorrow and, according to the YouTube user who uploaded the snippet, includes this footage of Christian Gray putting on a mask perhaps in preparation for a good nighttime burgle. (The movie is, after all, in the thriller category now.) Watch the video below.
https://www.youtube.com/watch?v=QYUTv-LhRw8
Update, 4/30: During a keynote Q&A at The Hollywood Reporter's ninth annual Power Lawyers breakfast, Universal Pictures chairman Donna Langley revealed Fifty Shades Darker will be "more of a thriller."
The sequel, scheduled for February 2017, indeed contains intrigue, an assassination plot, gun-slinging, and a lot of confused feelings, which the as-yet-unnamed director will be sure to play up with some chiaroscuro and tremolo on the soundtrack. Maybe E L James will throw in something fromone of her playlists? A touch of Britney, perhaps? Either way, *spooky.*
Update, 4/24: Just when you thought we were getting a much-needed respite from all things Fifty Shades, WHACK. More news! Like a riding crop to the face!
First up: No new S&M stuff in time for Valentine's Day 2016. According to Variety, it was announced at CinemaCon on Thursday that Fifty Shades Darker and Fifty Shades Freed will be released Feb. 10, 2017, and Feb. 9, 2018, respectively.
Second thing: They stuck a mask on Christian Grey. Access Hollywood obtained an exclusive first look at Fifty Shades Darker, and it appears Mr. Grey looks a lot like Jamie Dornan getting ready to attend the Save Venice Ball.
https://twitter.com/accesshollywood/status/591384066299015168
Update, 4/22: Um, what? E L James reportedly wrested wanted greater creative control over Fifty Shades Darker, so, according to the Hollywood Reporter, she's gone and hired a screenwriter who's accustomed to her demands: her husband.
"Niall [Leonard] is an outstanding writer in his own right, with multiple established credits, and we are lucky to have him join Team Fifty," producer Michael De Luca said in a statement.
Leonard worked on the first Fifty Shades script and has written for the British TV shows Air Force One Is Down and Wire in the Blood. He is also author of the Crusher murder-mystery book series.
Original post, 2/20: Some things we stand for:
Teamwork
Women supporting women
Fine literature
Sequels that offer the same caliber of entertainment as the originals
I don't know how we're going to reconcile all these, given the news that Fifty Shades of Grey author E L James is reportedly demanding control of the sequel's script. Gulp.
According to Variety, the bane of Sam Taylor-Johnson's existence is looking to write the script for Fifty Shades Darker, which Universal Pictures hasn't green-lighted yet, presumably because James and studio execs are still hammering out the details. In any case, insiders say neither STJ nor screenwriter Kelly Marcel will be back for the second installment for reasons that might have to do with the, erm, tension on set. (Not the sexual kind—heavens knows there was none of that anywhere.)
So if you're hoping for another chains-and-whips-excite-me-type Valentine's Day, don't hold your breath—James has never written for the silver screen before, production probably won't start until 2016, nothing's finalized yet, yada, yada. GOOD. We could all use a break.
Chelsea Peng is a writer and editor who was formerly the assistant editor at MarieClaire.com. She's also worked for The Strategist and Refinery29, and is a graduate of Northwestern University. On her tombstone, she would like a GIF of herself that's better than the one that already exists on the Internet and a free fro-yo machine. Besides frozen dairy products, she's into pirates, carbs, Balzac, and snacking so hard she has to go lie down.