This Domestic Violence PSA Changes Everything—Literally—By Reacting When People Stare at It
"Look at me."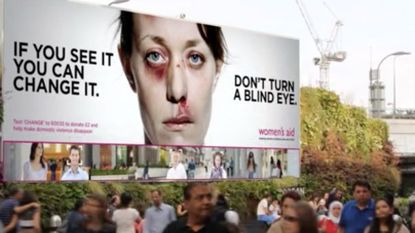 (Image credit: Marie Claire)
This week, in advance of International Women's Day, ad agency WCRS teamed up with Women's Aid and Ocean Outdoor to create a PSA that clearly shows how to help stop domestic violence in its tracks: Pay attention when you see it.
The award-winning billboard, which premiered today in London's Canary Wharf, features the bruised and bloody face of a woman straight on, along with text reading "LOOK AT ME." When people stop to stare, facial recognition technology (courtesy of an innocuous camera affixed to the top of the ad) tracks their attention, and as more people pause and take it in, the woman begins to heal. The copy then shifts to read "don't turn a blind eye." Because the message mirrors the call to action—you have to acknowledge domestic violence in order to eliminate it—the PSA is especially effective, causing viewers to realize their own role in the cycle of abuse.
It's actually been a fairly big week for ads that focus on elevating domestic abuse to international discussion: The Salvation Army in South Africa capitalized on internet brouhahaby showing a woman wearing an infamous gold and white dress covered in cuts and painful looking bruises. The ad reads "Why is it so hard to see black and blue? The only illusion is if you think it was her choice. One in 6 women are victims of abuse. Stop abuse against women." It's a powerful, clear message about what we choose to see and what we cannot see—and one that the world truly needs.
But just because these two ads were created for South African and English women does not by any measure mean that they aren't ripe for American audiences, too. In the U.S., stats are pretty grim: Every day, three women in the states will be murdered by a former or current male partner; every nine seconds, a woman is assaulted or beaten; women with disabilities are threetimes more likely to be raped; and boys who witnessed their parent's domestic violence are twice as likely to perpetuate the cycle with their own wives.
Around the world one out of every three women has been beaten, coerced into sex, or abused during her lifetime. Today, India seemed to turna blind eye when they banned a BBC documentary about a brutal rape, but ignoring violence is never the answer. To stop it, first we have to acknowledge what is happening. We have to truly see it.
You should also check out:
This Domestic Violence Ad Will Change How You See #TheDress
Katy Perry Will Perform at the Grammys With a Domestic Violence Survivor
The NFL Is Finally Addressing Domestic Violence Head-On With This Chilling Super Bowl Ad
Marie Claire email subscribers get intel on fashion and beauty trends, hot-off-the-press celebrity news, and more. Sign up here.
Elizabeth Kiefer is a features editor at Cosmopolitan, where she focuses on enterprise stories, narrative reporting, and cultural coverage for the magazine's print and digital platforms.