Headed to SXSW? Download These 9 Apps First
You'll thank us later.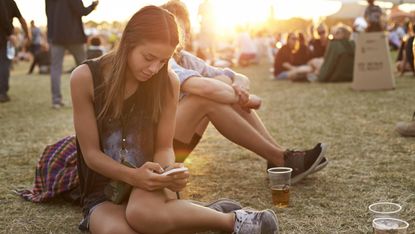 (Image credit: Archive)
SXSW—the place to be and be seen in Austin, Texas—has become the place of cool fashion and tech. Be ready to take the festival by storm (and don't miss that underground party with free tacos) by downloading these essential apps that will save your life and keep you in the know. ('Cause you're not a regular attendee, you're a cool, hip attendee.)
1. SoundCloud
Never heard of a SXSW artist? Listen to their tunes for free, plus catch up on film, sports, and music panels from past festivals. (Android and iPhone, free)
2. SXSWFM
Use the in-app alarm—featuring thousands of bands that have played at SXSW—to wake up to fresh indie songs leading up to the festival. Then you'll know them when you get there. (Android and iPhone, free)
3. SXSWGo
Sync your personalized schedule of must-see shows and exhibitions to all your devices with the official SXSW app. (Android and iPhone, free)
4. Lyft
Instead of rushing to catch the hotel shuttle bus, request a taxi with Lyft and watch it make its way to you on the app while you perfect your #ootd. (Pssst...Catch Lyft CEO Logan Green's interactive keynote speech on Monday, March 16.) (Android and iPhone, free)
5. Clear
Compile backup notes on your schedule for each day (event, time, place, and how to get there) with this list app, so nothing can stop you from seeing your favorite artist or attending that cool film panel when apps are crashing and internet service is spotty. (iPhone, $1.99)
6. Swackett
Weather in Austin can be unpredictable; Swackett gives you quirky, detailed weather reports with suggestions for what to wear, whether you're networking (ballet flats) or heading to a show (black Chucks). (Android and iPhone, free)
7. FOMOATX
This hip, real-time guide to SXSW gives you of-the-minute info on the shortest lines, surprise parties, and (most importantly) where the tacos are. (Android and iPhone, free)
8. Stylebook
Curate a Clueless-style virtual closet before you go by uploading pictures of your festival (and conference) looks and turning them into a packing list. (iPhone, $3.99)
9. Travel List
Never forget your go-to shades or phone charger again with this easy-to-use app: Add location alarms for individual, can't-live-without-them items that'll alert you as leave your apartment. (iPhone, $1.99)
You should also check out:
The 5 Best Apps to Up Your Insta-Game
Celebrity news, beauty, fashion advice, and fascinating features, delivered straight to your inbox!