6 Brilliant Web Series All the Cool Girls Are Watching
Pause the streaming, it's time to switch things up.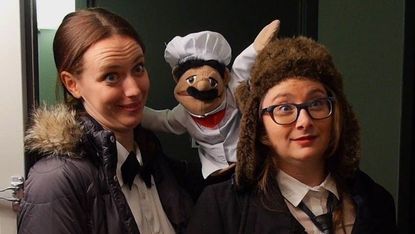 (Image credit: Youtube)
Marie Claire Newsletter
Celebrity news, beauty, fashion advice, and fascinating features, delivered straight to your inbox!
Thank you for signing up to Marie Claire. You will receive a verification email shortly.
There was a problem. Please refresh the page and try again.
Web series are the new Netflix. Hear us out: They're just as addicting but have the entire art of one House of Cards episode crammed (skillfully) into five minutes, taking binge-watching to a whole new level. Instead of finishing five episodes on one particularly lazy Sunday, you can finish every season. It's genius.
Similar to thousands of YouTube hopefuls striving to become the next Justin Bieber, there are a ton of web series out there and even five minutes wasted is time you'll never get back. So here is a list of the best web shows for every cool girl so you can cut through the pack and begin the binge.
Made To Order
Comedians Katie Hartman and Leah Rudick both write and star in this hilarious series about two girls in "New York Titty" and all their crazy adventures starting with their sandwich business that gets a little sketchy.
The Misadventures of AWKWARD Black Girl
Awkward black girl follows the life of J who is truly, well, awkward. J is just trying to make it in the world, but the uncomfortable interactions never seem to end. From dealing with the one co-worker who can never take a hint to navigating her first interracial relationship (with a guy also named Jay), this addicting series will have you immediately hooked. Look out for more misadventures heading to ABG soon.
Very Mary-Kate
Disclaimer: we love the Olsen girls but this unofficial, parody biography of Mary-Kate is something you have to see. Produced by College Humor, the show details her life as a rich, struggling college girl who loves diamonds almost as much as she loves herself and to torture her bodyguard.
http://www.collegehumor.com/e/6869045
Whatever, Linda
If you love Mad Men, Whatever, Linda is the web series for you. The Canadian "dramedy" is set in the 1970's and follows Linda Thoroughbred, a down-on-her-luck, 30-year-old woman who finds opportunity and riches on Wall Street—until it all comes crashing down.
H+ The Digital Series
This one is for all the sci-fi fans out there. The world of H+ is set in the future where the age of technology continues to reign. People are lining up by the thousands to get micro-implants–basically the iPhone 6 in your brain. When a virus hits, only a few are left in the post-technological-apocalyptic world. Even though you thought you were tired of the doomsday trend, H+ is a fresh take that will keep you clicking through.
High Maintenance
It's the web series that everyone's raving about, so naturally you have to experience it for yourself. It's all about weed all the time, which means a lot of nonsensical laughing and some serious munchies.
https://player.vimeo.com/video/110602645?title=0&byline=0&portrait=0&badge=0" width="500"
High Maintenance - Trailer from Janky Clown Productions on Vimeo.
You should also check out:
Everything You Need to Know About theVeronica Mars Web Series
The Sartorialist Hits Milan in New Web Series
'Mad Men' Star Kiernan Shipka Is Only 15, but You'll Want Everything She's Wearing Here Anyway
Celebrity news, beauty, fashion advice, and fascinating features, delivered straight to your inbox!
Simedar Jackson is an esthetician, content creator, and lover of sci-fi fiction living in Brooklyn, New York. She is passionate about creating space for Black and Brown people in the beauty and wellness industries by providing access to culturally nuanced education and services that meet their needs. You can find them doing their skincare routine, reminding friends to reapply SPF, and watching reruns of Love Island.