"It Breaks My Heart He Was Miserable His Entire Life": Khloé Kardashian in the Final Part of 'About Bruce'
Monday's special was insightful and inspiring.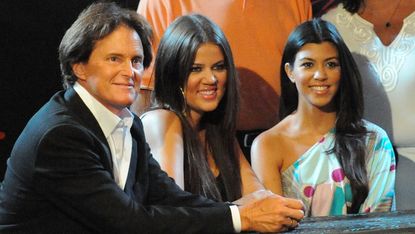 (Image credit: Getty)
Update, 5/19: After Bruce broke the news of his transition to them one by one, the Kardashians, as they always do, banded together and spoke to some cameras about it.
"It breaks my heart that he's been miserable his entire life," Khloé said during the second part of About Bruce, which aired Monday. "All these kids, great father, great family, but he was never happy." More rallying, more sound bytes, then it was Kendall's turn: "I hope for this to turn into something amazing. He's gone 65 years hiding something. Why not be who you want to be? If that's her, then that's her," she said.
But perhaps the most touching bit was Bruce's own message of understanding and acceptance.
"The only thing I want out of this is to help people," he said. "Not just the transgender community. It's really bigger than that. It's so much more. There's so much about tolerance toward people, about understanding of people," Bruce said. "We need more tolerance in the world toward our fellow man. We're all human beings put on this earth. We need to learn to live together."
Update, 5/18: The first half of E!'s two-part special About Bruce aired Sunday, and, as every promo leading up to it had promised, it was emotional, revealing, and at times heartbreaking.
Khloe, Kim, Kourtney, Kendall, Kylie, and Kris battle anger and sadness throughout the special, going through "a tough transition" themselves Bruce likens to "dealing with a death in the family." But amidst the struggle there was also acceptance and compassion, most obvious in two poignant exchanges, both involving Kim. In the first, Kim begs Bruce to keep the family "in the loop," to which he responds, after kicking off a slipper to reveal a pink pedicure, "I'm so tired of lying about my life, about everything. After a while, it just wears your ass out. I just want to be honest."
In the second conversation, Kim tries to help Kris understand. "I know this is the dumbest comparison, but it's like, a slight sliver of how he must feel. When I was pregnant, I did not feel like I was in my body. I felt like who is this roly-poly? I couldn't get out of bed. I couldn't wipe myself. And that was for less than a year. And he has to deal with this his entire life."
The second part airs Monday at 9 p.m.
Update, 5/15: In a new sneak preview of About Bruce, Khloé arrives at her stepfather's house in Malibu bearing gifts. "I don't know her taste yet, so I'm trying to figure that out," she says (after the requisite complaint about trekking up his gravel driveway in heels).
"Well, to be honest with you, I don't know her taste either," says a visibly touched Bruce. "But do you know how nice this is? Without even opening them, do you know how nice this is and how much I appreciate this?"
"Well, good," Khloé tells him. "You deserve it." Ugh. I'm not crying. YOU'RE crying.
Update, 5/14: Another clip of Bruce Jenner's two-hour E! special is here, and it's as emotional as you'd expect. (So grab some more tissues.) In the clip that aired on NBC's Today, Kris Kardashian reminisces about the relationship she had/has with Bruce: "We had so much in common that it was kind of a match made in heaven. We went to races. We played golf. We went snow skiing," Kris says. "I mean, there wasn't anything we didn't do, and we could not keep our hands off each other."
And Bruce points out that while their relationship has changed, Kris is definitely still his #1: "You know, Kris is a really good woman and I love her to death," he says. "And the love and acceptance I have gotten from Kris is absolutely overwhelming."
(I told you to grab the tissues.) Watch it all below:
Update, 5/8: E! has released the first promo spot for the new two-hour Kardashian special about Bruce Jenner opening up to his family about being transgender, and you can already tell it's going to be an emotional roller coaster.
The promo features home videos of Bruce with voiceovers from the family. "I just don't like when people say Bruce is gonna be gone," Kendall is heard saying. "I'm not going anywhere," Bruce replies.
Watch the promo below, and grab a box of tissues:
Update, 4/5: The TODAY show has debuted two new clips from E!'s upcoming two-part broadcast, which feature three of the family members we've been most eager to hear from: Kris, Kendall, and a brief appearance from Khloé Kardashian.
In the first clip, Kris speaks candidly with Kim about Bruce's transition explaining, "I have these memories of this life, and I feel sometimes like it didn't exist."
In the second clip, speaking out is just as heart-rending for Kendall. She breaks down, needs to leave to get a tissue, and then explains that her dad "is the most amazing person I know. I couldn't ask for a better dad." Later on, Bruce himself has a candid conversation with Kim in which he reveals that he's had "secrets all my life," and shows off a freshly-painted pink pedicure.
The special will air on May 17 at 9 p.m. and May 18 at 9 p.m.
Update, 4/29: In addition to Jenner's docuseries, E! will be hosting a special broadcast in which the Kardashian clan, including Kris, Kim, Khloe, Kourtney, Kendall, Kylie, and Scott Disick, will talk about their reactions to Jenner's decision to live as a woman.
In a statement, the network describes it as an "intimate family conversations where [Bruce's] transition, and what it means for those relationships, is discussed." Following Kris Jenner's decision to give "no comment," to 20/20, we presume that this is the platform she's been holding out for to open up about Bruce's coming out. There's no word yet on when the special will air.
Original Post, 4/25: Bruce Jenner's transition to becoming a woman will be the focus of a new docuseries on E!, the network has announced. According to the press release, "The series will tell Bruce's intimate story and will join him as he seeks out his 'new normal.'"
It's a powerful platform for an important narrative, at a time when our culture is only beginning to understand and accept transgender issues. In last night's 20/20 interview with Diane Sawyer, Jenner said triumphantly: "We're going to change the world. I really firmly believe that, that we're going to make a difference in the world with what we're doing."
The eight-part docuseries, which premieres this summer, will expand to Jenner's famously close inner circle and explore what his transition means for his family and loved ones. "Living for the first time as the person he feels he was born to be," the press release states, "the docuseries will explore...how those relationships are affected, while offering a better understanding of many of life's challenges."
You should also check out:
"I Am a Woman": Bruce Jenner Finally Opens Up in Emotional Diane Sawyer Interview
Kim Kardashian: Bruce Will Tell His Story On His Own Terms
Bruce Jenner's Transformation-Themed Docu-Series Is Put on Hold
Lauren is the former beauty editor at Marie Claire. She love to while away the hours at coffee shops, hunt for vintage clothes, and bask in the rough-and-tumble beauty of NYC. She firmly believes that solitude can be a luxury if you've got the right soundtrack—that being the Rolling Stones, of course.