The (Kind of Crazy) Truth Behind Reality Dating Shows
From UnREAL stars Shiri Appleby and Constance Zimmer.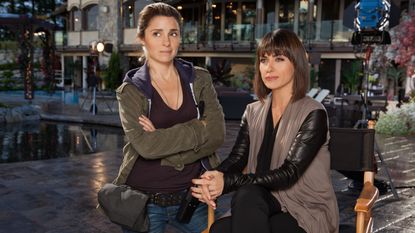 (Image credit: courtesy of Lifetime/Joseph Viles)
The awesomely funny stars of Lifetime's new awesomely funny scripted series UnREAL—a dark dramedy about the production of The Bachelor-esque dating reality shows, premiering June 1—Shiri Appleby and Constance Zimmer stopped by Marie Claire HQ to talk about what it takes to give good reality TV.
Marie Claire: Tell us about UnREAL!
Constance Zimmer: The logline of the show is: "Behind the scenes of the making of a reality dating competition series." But we're trying to pull back the curtain on reality television, kind of in general. It's a look inside the manipulation that happens and how they make good television. And I play Quinn, the director and producer of the show.
Shiri Appleby: And I play Rachel Goldberg, who may or may not be Jewish. I'm the field producer whose job it is to manipulate the contestants to get them to do what we really want them to do to get the footage to make the show.
MC: Would you describe your characters as cynical?
SA: I feel like Quinn is, no?
CZ: I don't know that she would know that she's cynical. She's a woman who's almost too honest for her own good. You know everybody wants the truth, but they never want that much truth, and I don't think she cares. I consider her just very unfiltered and she's got a job to do. And she's going to do it.
MC: Quinn can be pretty brutal, but then you see a soft side every once in a while.
CZ: Thank you for noticing I have a soft side. I do.
SA: Not you! The character!
CZ: Sorry—this is not about me! You have to reveal a character's vulnerability because ultimately, underneath it all, we are all the same. We all have a heart, and we all have feelings, but she just has a job that needs to be done and she will do it no matter what it takes.
SA: And I don't know if I would say Rachel's cynical. I feel like she's more confused. She's confused about like who she is and what she's doing. She's really good at being a producer and manipulating people to get what she needs, but it actually makes her feel really bad and gross about herself, so she's really conflicted. Part of her feels like she could end up leaving this world and marrying some really safe guy and having some normal life. But then at the same time, she sees what Quinn's doing and she could kind of do that too.
MC: Any behind-the-scenes manipulation tricks surprise you most?
SA: As the show progresses, things get so much darker than you could ever imagine. When we were getting scripts, we were all running around like, "Did you read what happened?! I can't believe this!" It gets really scary.
MC: Do you watch any real-life reality shows?
SA: I'm a total Project Runway junkie. I also watch Keeping Up with the Kardashians. We met Kim Kardashian recently. I was like, "She's right over there! Someone introduce me." And what was interesting was that we met her and she's so nice, so down to earth, but there was a little lull in the conversation, and I was like, "Kim, we're making a show about the making of the reality show!" And she was like, "I was like waiting for somebody to do a show about this." And she was explaining how they sort of have more control because they're the ones in charge of the editing.
CZ: Because they're the producers, so they feel that they can't be manipulated as much as people are on reality shows.
SA: We were so fascinated.
CZ: Yeah. I kept wanting to touch her…
MC: So what kind of research did you guys do for your roles?
SA: I started manipulating Constance.
CZ: She still does.
SA: I went and met with the people that run [production company] Magical Elves. I sat down to an hour-long meeting with them to ask a bunch of questions. One that I was really fascinated by was if they felt guilty about what they were doing and they kind of looked at me like they hadn't thought about it. I also met another girl that actually was like Rachel, on the field manipulating the contestants, and she told me some of the far-out crazy things she did. Like, I asked how she dresses at work, because my character wears basically the same thing for the whole season, so I asked, "Did you use your sexuality?" and she said she always makes sure she wears a really lacy bra. She always has hair and makeup done. But when she's with women, she'll kind of try to button it up. Depending on who the man is, she'll show more and depending how the man is, if he, you know, likes his ego stroked, she'll flirt with him.
CZ: I was terrified to find anybody who was similar to my character in real life. I just watched more reality television because I wasn't very aware of it. And so reading the scripts, I would say, "What? These people can't exist!"
MC: If you had to design a reality show, what would it be?
SA: I would like to see more of the making of just regular television shows. Like the casting process. I think it's so fascinating to watch the actors come in and see how they discuss everybody afterwards. It's a crazy world that has no rhyme or reason. You never understand why anybody gets any jobs. It would be interesting to see how that really goes down. Like I want the camera turned on the network president. How are you deciding what show to pick up? Or I'd like Hilary Clinton to have a camera following her for the next two years. Or just Chelsea. Like what if Chelsea did a documentary?
CZ: Are there any reality shows that actually follow like firefighters or people that are actually doing good in the world?
SA: Boring. I'm just kidding!
CZ: Like what do they do when they're not fighting fires? You know? I just think like a reality show that's actually following goodness, I feel, might be good for the world. But maybe it's boring. Maybe that's my problem.
MC: Well, after the fire, they could compete to date someone.
CZ: And there's a really good-looking woman that happens to be in the firehouse. Where did she come from? She's bringing you milk and cookies. What are you going to do with her? Fight a fire or find a woman? Find your wife or fight a fire?
SA: That was weird …
CZ: I was trying to spin it into something more exciting!
Catch unREAL Monday nights at 10pm on Lifetime starting June 1.
Celebrity news, beauty, fashion advice, and fascinating features, delivered straight to your inbox!
As deputy editor, Jen oversees Cosmopolitan's daily digital editorial operations, editing and writing features, essays, news, and other content, in addition to editing the magazine's cover stories, astrology pages, and more. Previously, Jen was a senior editor at Marie Claire. Before that, she worked at GQ.