Size-22 Model Tess Holliday Opens Up About Her Groundbreaking Success
FYI, she also wants you to get over that whole "plus-size is a bad term" thing.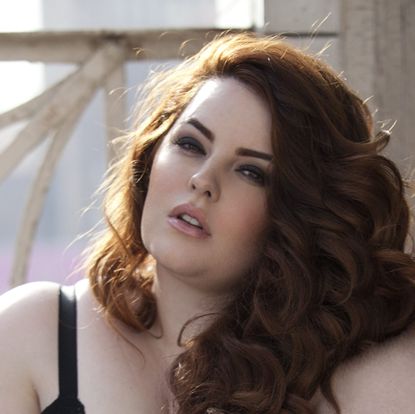 (Image credit: Catherine Harbour)
In case you've been living under a rock, let's get you up to speed: Tess Munster—known professionally as Tess Holliday—is not one to shy away from, well, pretty much anything. The 29-year-old body positive activist (who is a mom and has tattoos to boot) was the first plus-size model signed to a mainstream modeling agency, as well as the first plus-size model ever to grace the cover of People. Did we mention she also started an online movement to battle bullying and promote body acceptance?
We caught up with the articulate model (superhero?) to talk about her newfound fame, her icons, and why she thinks trying to ban the term "plus-size" is pointless.

You just became the first plus-size model ever to grace the cover of People. How did that come about?
"You know, my career kept building, but when I signed to Milk Model Management I think that was a turning point. People was like, 'we want to run you in the body issue,' but there was no mention of a cover until later. But it worked out and it was so awesome. When we shot the photos, there was one outside shot where I was literally in my underwear on a golf course in a very affluent area in Palm Springs. It was wild. There was one cart that just kept circling around, trying to figure out what was going on. But yeah, it was just a dream."
You started an online social movement—
#EffYourBeautyStandards
–that's really taken off.
"I started it pretty innocently, honestly: I was being bullied on Tumblr. This was when things were starting to take off and I had somewhat of a following—100K followers on Instagram—somewhere around there. But on Tumblr, I was getting trolled. People began to pick me apart, telling me, 'you shouldn't be wearing this,' and 'you should be covering up your body.' And I remember getting really frustrated one day reading the comments. You know, why can't I show off my body? Why do I have to wear ugly clothing? Why can't I wear what I want? And I basically took four photos of myself and put them side by side, and I posted on instagram. I said something like, "If you're tired of people dictating what you should wear, post a photo and hashtag it #effyourbeautystandards." And people did.
It was my metaphorical middle finger to society. Now, because it's so big, I have a team of other women who help me run it. There's a counselor who suffered from an eating disorder in Australia, a fashion blogger who funnily enough works for the Canadian Embassy in London, a member of the LGBT community in San Francisco and a body-positive blogger in Texas. So women from all walks of life, who have really helped me grow it to what I wanted it to be—you know, I can't speak to everyone. I wanted it to grow into something that all women and men could relate to—we all struggle with body image. It's about identifying and recognizing what we see in the mirror as something wonderful. I wanted that message to resonate—and obviously, I couldn't comfortably sit here and talk about issues I have no connection to. I needed more voices."
You're a size 22 and call yourself a plus-size model, but there are a lot of women out there
who want to ban the term.
What are your thoughts on that?
"Well, I think it's the most ridiculous thing. I respect all of those people and I understand that they have good intentions, but...I feel like I almost bang my head against the wall. Plus-size is a term that's never been used in hate; no one has ever used it in a negative way. The industry has always used it to help us identify where to shop. It's already so hard to find clothes, why would we want to make it harder? There should be more discussions about having different representations out there—different genders, sizes, abilities. That's what we should be focusing on—not what they call a segment of the industry."
What keeps you motivated to keep going in this industry? I'm sure it's been tough to change perceptions...
"I mean, it's definitely changed as my career has grown. I think in the past, I was motivated by seeing what I could do with my own career as far as success. I was definitely motivated by my followers and family, which hasn't changed. But now, I'm really about reaching as many people as I can. I love doing meet and greets, I love hugging them. That's a real connection. Making sure no one feels like they're alone out there. That's why I do it."
You are so connected to your followers, and you've been called a role model by many of them. Who do you consider your role models?
"I guess, it's silly, but I honestly do consider Miss Piggy a role model. She is! I've definitely always looked up to her because she was this character that was fat but very confident. She was a glamorous person/pig. For someone who gets called a pig at least 20 times a day, that's pretty powerful. It's silly, but that's my true answer. Other than that, glamorous person/pig, and now I get called a pig online at least 20 times, that's pretty, that's my silly but true answer. Also I'm constantly inspired by other women, every day. Especially ones who are doing things to change what's deemed acceptable by society. Laverne Cox is one woman who comes to mind. She's incredible."
What's something you haven't done yet that you want to do?
"Well, I can honestly say that I've kind of achieved what I've set out to do. I just want to keep doing it. I think next, what I'm more focused on is my family. I'm getting married later this year, and I can't wait to experience being a wife. I would like to have more children. Career-wise, a lot of cool things are happening, a lot of options are opening up that I didn't have before, people are knocking on my door. But I'm focused first on family. We'll see what happens."
What's been the biggest misconception about what you do or this industry? Something others might not understand when it comes to your job?
"I think people think how I got work came easy. People assume that I was an overnight sensation, because they're just now hearing about me, or that everything happened very quickly. This has been a long journey. I've been at this for eight years, and professionally working for five and a half years. But I was working at a dental office until just about a year ago. I had my first billboard and I couldn't pay my rent. My life was like that for a long time, where without assistance I couldn't have paid my rent—I struggled with everything. But it's funny, when I finally made the leap to model full-time, within two weeks I was booking solid work. I was getting busier, and I didn't have an agency. It was just me. I booked my stuff all on my own. It was crazy. But I got a lot of advice from others, and used that.
But I think in general, the biggest misconception people have about people they follow online is that tons of followers means you've made it. Millions of followers doesn't equal millions of dollars. It's taken me a really long time to get here, and a lot of sacrifices—but it's all been worth it."
Celebrity news, beauty, fashion advice, and fascinating features, delivered straight to your inbox!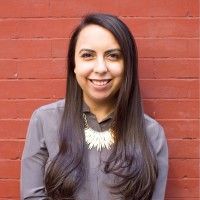 Samantha Leal is the Deputy Editor at Well+Good, where she spends most of her day thinking of new ideas across platforms, bringing on new writers, overseeing the day-to-day of the website, and working with the awesome team to produce the best stories and packages. Before W+G, she was the Senior Web Editor for Marie Claire and the Deputy Editor for Latina.com, with bylines all over the internet. Graduating from the Medill School of Journalism at Northwestern University with a minor in African history, she's written everything from travel guides to political op-eds to wine explainers (currently enrolled in the WSET program) to celebrity profiles. Find her online pretty much everywhere @samanthajoleal.