In Which We Unpack the Thousands of Subliminal Messages in Justin Bieber's New Video
Like: "Stop worshipping me."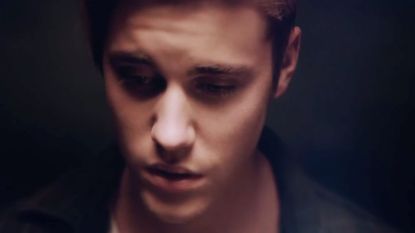 (Image credit: YouTube)
Justin Bieber, persona-formerly-non-grata-but-now-maybe-kinda-grata, released a new music video today for "Where Are Ü Now," his admittedly catchy song with Skrillex and Diplo. Like the song, the video is also pretty catchy. Behold:
It's a cool concept—fans/passers-by/artists were provided still frames from the video, and illustrated each. The effect when viewed at regular speed is trippy and fun...but when you slow it down, things get weird.
As in, self-aware weird. Or poorly-edited weird? Here's what I mean:
Bieber's thinking about weed. And girls.
A stripper makes it rain on Bieber (?).
Bieber needs Selena Gomez.
Bieber thinks he's vapid.
Bieber—and his goatee—want to go to the club.
Bieber wants you to stop worshipping him and go read a book.
And this is just what came up when I clicked the pause button. Imagine the countless of hours of fun you can have poring through frame-by-frame!
So either: The editors of this music video didn't see or have time to weed out (heh) the offensive messages, *or* they—and Justin Bieber—get it. They get how you see him, and they're okay with it, and they're going to make a cool music video that throws your POV right back at you, damnit.
I think it's probably the latter. Or at least I do for now...until I spend the next 13 hours analyzing every single frame. See you tonight?
Marie Claire email subscribers get intel on fashion and beauty trends, hot-off-the-press celebrity news, and more. Sign up here.
As the editor of Cosmopolitan, Jess oversees the editorial for all of Cosmo's efforts across print, digital, video, and emerging platforms. Previously she served as the digital director of Marie Claire, where she tripled the readership, and she's held print and hybrid posts at Glamour and Teen Vogue. In 2013 she launched an interactive e-commerce platform for a fashion-tech startup, and in a former life she was a ballet dancer and NYU film student. She lives in Manhattan with her scruffy dog George.