YES PLEASE: 'Xena: Warrior Princess' Might Be Coming Back
It's only *the birthplace* of our childhood feminism.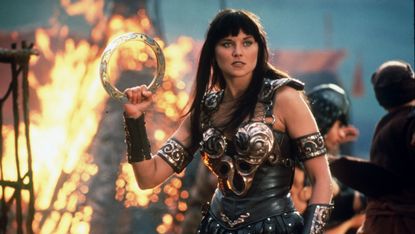 (Image credit: Universal)
Badass ladies are taking over pop culture. There's Agent Carter on TV, Wonder Woman about to hit screens, and of course, The Hunger Games' Katniss Everdeen. And now, the most badass warrior of all just might join them.
According to The Hollywood Reporter, NBC is thinking about bringing back Xena: Warrior Princess in a "modern reboot." The show, which got its start as a Hercules spinoff in the '90s, starred Lucy Lawless as an Amazon warrior going on adventures with her sidekick, Gabrielle. Execs hope that Lawless would have a hand in the production both in front of and behind the camera, but it's unclear whether she would revive her character.
Lawless brought everyone down a peg, saying things were "still in the wishful thinking stage." But Variety reports that hope is not lost—things are just in very early talks, so anything could happen.
Sorry, friends! news of a #Xena reboot is just a rumor. I'd love it to happen one day but it's still in the wishful thinking stage.July 20, 2015
See more
*SPOILER ALERT*
Even though Xena dies in the show's finale, Lawless doesn't see that as an obstacle to her bringing back her iconic character. "So what? Technicality," she joked during Comic-Con. "No one really dies! Screw her head back on, it's a bit wonky, and she's got a really bad attitude since she's been in a box for 20 years, so they've got to get Xena's mojo back, and go and save the world somehow."
Damn straight.
Megan Friedman is the former managing editor of the Newsroom at Hearst. She's worked at NBC and Time, and is a graduate of Northwestern's Medill School of Journalism.