Bette Middler Really Wants to Play Amy Schumer and Jennifer Lawrence's Mom in Their New Movie
She'd kind of be perfect, no?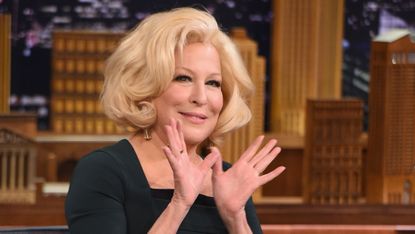 (Image credit: Getty)
Update, 9/2: Now that the world knows Amy Schumer and Jennifer Lawrence are writing a screenplay together, there's bound to be some interest from Hollywood at Large. And that interest has (at least publicly) started with that of one, Bette Midler.
Midler—a longtime vocal fan of Jennifer Lawrence—recently tweeted a not-so-subtle hint to the two leading ladies/Billy Joel fans, who are set to play sisters in the movie they're writing.
Amy Schumer & Jennifer Lawrence are co-writing a screenplay about sisters. Hmm, who could play their mother? She'd have to be DIVINE!September 1, 2015
See more
You see that Lawrence/Schumer?! Get on it. This is perfect.
Original story, 8/26: If you thought Tina Fey and Amy Poehler were the perfect comedy team/imaginary BFFs, they now have some competition. The New York Times reports that Jennifer Lawrence and Amy Schumer are writing a screenplay together, and they'll star as sisters.
If that wasn't good enough, it turns out the two are basically besties, and that means maybe someday you can get brunch with them. The way they met each other was something straight out of fan fiction.
"I emailed her after I saw Trainwreck and said, 'I don't know where to get started. I guess I should just say it: I'm in love with you,'" Lawrence told the Times. "We started emailing, and then emailing turned to texting." Soon enough, they were jet-skiing together and joining human pyramids on vacation.
And now, they're using their friendship to create the movie of our dreams. The two play sisters, and they're almost done with the screenplay, collaborating with Schumer's sister Kim, who worked on Trainwreck. "Amy and I were creatively made for each other," Lawrence said. "We have different flavors. It's been the most fun experience of my life."
Lawrence even texted Schumer during the interview to let her know she "spilled the beans." Schumer's reply was epic: "That you're gay? Totally! It's exciting!" These two couldn't be more perfect if they tried.
Megan Friedman is the former managing editor of the Newsroom at Hearst. She's worked at NBC and Time, and is a graduate of Northwestern's Medill School of Journalism.