Girls of Summer: Meet the 5 Female Olympians You're About to See Everywhere
Just weeks away from the 2016 Rio Olympics, we talk to gold-medal hopefuls about their quest for the top podium spot.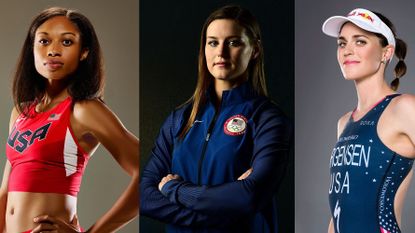 (Image credit: Getty Images)
The Training: "A typical day lasts around five hours. We warm up for an hour with some jogging and stretching, then do drills: high knees, butt kicks, straight-leg running. After, we start with longer runs, just working on conditioning. As the year progresses, it gets more ballistic, more technical."
The Recovery: "We may roll out on a softball or lacrosse ball to get all those little aches and pains. After a long run, I go to my massage therapist, my chiropractor, and then take an ice bath. I soak for about 10 minutes—after the first two, you feel numb and it's just so good!"
The Menu: "I work with a nutritionist and a chef who monitor my meals. For breakfast, I'll do oatmeal or fruit, something light. And for lunch, maybe a salad with some type of protein on it. Dinner is the bigger meal—fish, lots of vegetables, brown rice. In between, I snack on pistachios, cashews, and almonds."
The Gear: "Boy shorts and a sports bra. I run in layers. I'll start out with a sweatshirt, and as my workout continues, I shed clothes."
Pump-Up Playlist: "'Diva' by Beyoncé helps me get into my alter ego."
Everyday Beauty: Cetaphil facial cleanser and moisturizer, and Aveeno sunscreen.
Off-Duty Look: "I'll emphasize my eyes or wear a colorful lipstick—just have some fun with different colors, because I feel like I'm normally very neutral. And I wear heels."
Guilty Pleasures: Hot Cheetos and Ben & Jerry's Oatmeal Cookie Chunk.
Pre-Competition Ritual: "I always talk to my mom on the phone before I go out. We've been doing it since I was in high school."
Her Mantra: "I love this quote by Steve Prefontaine: 'To give anything less than your best is to sacrifice the gift.' I've been blessed with this amazing talent, and I need to go for it."
The Training: "Five days a week, we do it all: swim, bike, and run, and the gym. We start with a 30- to 40-minute run (three to five miles), then an hour-and-a-half swim (two to three miles), a two- or three- hour bike ride (37 to 56 miles), and then hit the gym that night."
The Recovery: "There are days when you can barely walk to the toilet because it hurts so badly. Some of it you just have to deal with. You're sore, but it's not necessarily a bad thing. Your body is adapting."
Mid-Workout Bite: "Any workout I do that is over an hour, I make sure to have some fuel. For me, that's normally a Red Bull."
Pump-Up Playlist: "Right before my race, I like to listen to Taylor Swift. When I'm training in the gym, I listen to country."
Everyday Beauty: "My hair and skin get dry very easily. I shower three times a day, so I'm not shampooing every single time because that can dry out the hair even more. I use conditioner more than I use shampoo, and I apply coconut oil to my hair before I get in the water. And I use Endurance Shield sunscreen. It has a moisturizer in it, which is really helpful for dry skin—I don't sweat it off."
Guilty Pleasure: "I eat chocolate after breakfast, lunch, and dinner. Not a lot, just one piece, but I don't restrict myself."
Her Mantra: "Going into a race, I don't say, 'I want to win.' Instead, I say processes that will help me win: 'Keep a high elbow on the swim' or 'Keep your shoulders relaxed on the run.' I've found in life we focus on the outcome too much, instead of the process."
The Training: "Five days a week, I do a lot of sprinting and power resting on the bike, explosive dynamic training, short-start bursts. A lot of power stuff."
The Recovery: "I have a protein shake at the end of [every training] session: Klean Athlete protein powder, with crushed frozen mango, banana, avocado, spinach, kale, and honey."
The Menu: "In our sport, we want to maintain a healthy weight but put out the most power, the most strength. We're not tiny people— you've seen track sprinters, and they've got big legs and big muscles popping out; we're similar to that. I just try to get the essential food pyramid in a day."
The Gear: Redline bicycle, Troy Lee helmet, race jersey and pants, bedazzled gloves, Oakley goggles.
Everyday Beauty: Aveda Tourmaline Charged Exfoliating Cleanser and Olay Regenerist moisturizer.
Competition Day: "When you cross the finish line, someone wants an interview. But you have helmet hair, you're sweaty. So I try to be a little more put-together: I do a braid along the front with my bangs and wear waterproof eye makeup, like Stila eyeliner, and mascara."
Pump-Up Playlist: "My favorite artist, no matter what I'm doing, is Pink. And Eminem—he gets you ready for war."
Guilty Pleasure: Cookie dough.
Her Mantra: "I always try to smile. I'm doing something pretty awesome—it can start to feel like work, but I love what I do. Sometimes I need that little reminder."
The Training: "On Mondays, Wednesdays, and Fridays, we swim from 6:15 a.m. to 8 a.m., and then we do weights in the afternoon for an hour, and swim again from 3:45 p.m. to 5 p.m. On Tuesdays and Thursdays, we swim for an hour and 45 minutes, and then do weights for 45 minutes or an hour. Each practice is pretty different—speed work, kick base, strength base, whatever our coach throws at us."
The Recovery: "I don't do much—I take a shower, go back to my dorm at Stanford, and eat. Every now and then, I'll get in an ice bath."
The Menu: "Pasta, rice, fish, chicken, lots of fruits and vegetables—basically all the good food I could possibly eat."
Mid-Workout Bite: Goldfish crackers.
In Her Gym Bag: Goggles, Stanford swim cap, and a change of clothes. "And my computer, because I bring my homework everywhere."
Guilty Pleasure: "I have a really bad sweet tooth. Once I start, I can't stop."
Pre-Competition Ritual: "There's rarely a time when I don't race with my purple goggles."
Personal Style: "I wear a charm bracelet. My mom thinks it should tell a story, so I have a volleyball charm, because I used to play; a swim charm; a daughter charm; a cross; and a pizza charm—it's my favorite food."
Big Splurge: "I have one cheat day a week, usually Saturday or Sunday. It could be ice cream or a cupcake—most of my cheat days involve desserts. It's not going to be candy; I want a dessert!"
The Training: "I'm in the gym six days a week— 9 two-hour training sessions a week—focusing on technique and strength. And at least once a day, I'm in sports medicine, working with a physical therapist on my core."
The Recovery: "On Mondays, Wednesdays, and Fridays, I do a 'contrast bath': a hot tub for one minute and then a cold tub (44 degrees!) for another minute."
The Menu: "Everyone thinks, Oh, my gosh, you must eat a crazy amount of calories. I don't eat an excessive amount of food— it's more nutrient timing. In the mornings, we eat oatmeal or quinoa with peanut butter, and egg whites with seasonal veggies. [After practice,] I'll have a protein shake. For lunch, a stir-fry with sweet potatoes or brown rice. And for dinner, chicken or lean beef with brussels sprouts, dried cranberries, pumpkin seeds, and sweet potatoes. And then a protein shake at night."
Late-Night Snack: "Progenex has a protein powder called Cocoon—it's a casein protein that takes a little longer to digest, and it has tryptophan in it, so it also knocks you out. It tastes like a cinnamon roll. You are supposed to drink it warm, and if you put peanut butter in it, it's the best thing in the whole world."
In Her Gym Bag: Tape for her thumbs, a mobility ball, shoes, Burt's Bees lip balm, and Benefit BADgal Lash Mascara.
Pump-Up Playlist: "For snatches [lifting the barbell from the ground to overhead in one motion with a wide grip], instrumental—violins and guitars—to keep me mellow. And rap, like Kanye West, when I clean-and-jerk [lifting the barbell from the floor up to shoulder height, then overhead, with a closer grip], because it gets me pumped up."
Pre-Competition Rituals: "This is gross: Once I start a training cycle, usually eight to 16 weeks, I don't wash my knee sleeve and I don't change my shoes."
Everyday Beauty: "My hair routine is pretty mellow: wash and air-dry. I use Alba moisturizer, and Avalon Organics face serum, too, because it's so dry in Colorado."
Competition Day: Laura Mercier tinted moisturizer, Nars concealer, and waterproof Maybelline mascara.
Her Mantra: "Leave no doubt in people's minds why you are here."
This article appears in the June issue of Marie Claire, on newsstands now. To learn more about all Olympic hopefuls, visit teamusa.org. The Olympics begin August 5.
As deputy editor, Jen oversees Cosmopolitan's daily digital editorial operations, editing and writing features, essays, news, and other content, in addition to editing the magazine's cover stories, astrology pages, and more. Previously, Jen was a senior editor at Marie Claire. Before that, she worked at GQ.