What's New on Netflix in September
"Views from the couch" = our new motto.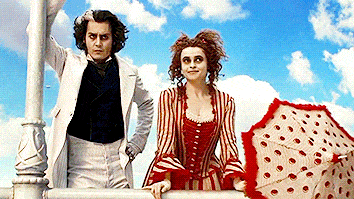 (Image credit: Giphy)
Hope you're not getting too invested in Stranger Things (opens in new tab) to divert your eyes for a moment to the new batch of movies and Netflix originals rolling in next month. After all, there are the most recent seasons of Supergirl and The Walking Dead to catch up on, two Sandra Bullock oldies-but-goodies in the form of Practical Magic and Hope Floats, plus a Sweeney Todd appearance to reminisce on pre-nightmarish-divorce (opens in new tab) Johnny Depp.
And with just enough time left, you might even be able to binge watch the entire ass-kicking Alias series and Audrey Hepburn's classic Roman Holiday before their Netflix curtain call in September.
What's New
September 1
The Amityville Horror (2005)
Babel
Bayou Maharajah: The Tragic Genius of James Booker
Bill & Ted's Bogus Journey
Bratz: The Movie
Burn, Burn, Burn
Cats & Dogs
Crashing: Season 1
Defiance
Easy Fortune Happy Life
Europe's Last Great Wilderness
The Fierce Wife
Footloose
Full Out
Game Winning Hit: Season 1
Heartland: Season 7
Hellevator: Season 1
Hoot
Hope Floats
I Am the Ambassador: Season 1 ­ (NETFLIX EXCLUSIVE)
Indochina's Wild Heart
The IT Crowd: Series 5
Jaws
Jaws 2
Jaws 3
Jaws: The Revenge
Joyful Noise
Keepers of the Game
Last Holiday
Lucky Days: Season 1
Man on Wire
Milk Money
Practical Magic
Road Trip
Sam Kinison: Breaking the Rules
Saving Private Ryan
Scary Movie 2
Shameless (U.S.): Season 5­6
Stomp the Yard
Sweeney Todd
Top Gun
True Grit (1969)
U­571
The Wicker Man
Wild Madagascar
The Womanizer: Season 1
The Year of Happiness and Love: Season 1
September 2
Baby Daddy: Season 5
Chef's Table: France ­ (NETFLIX ORIGINAL)
Kazoops!: Season 1 ­ (NETFLIX ORIGINAL)
Kulipari: An Army of Frogs ­ (NETFLIX ORIGINAL)
Narcos: Season 2 ­ (NETFLIX ORIGINAL)
Young & Hungry: Season 4
September 6
Crash
The Finest Hours
Hard Target 2
Honey 3
R.L. Stine's Mostly Ghostly: One Night in Doom House
September 7
The Blacklist: Season 3
Galavant: Season 1­2
September 10
Supergirl: Season 1
September 13
Extremis ((NETFLIX ORIGINAL)
Hawaii Five­-0: Season 6
London Has Fallen
September 14
Goldie & Bear: Season 1
September 15
Sample This
The Walking Dead: Season 6
September 16
Cedric The Entertainer: Live from the Ville ­ (NETFLIX ORIGINAL)
Raiders!: The Story of the Greatest Fan Film Ever Made
The White Helmets (NETFLIX ORIGINAL)
September 17
3 Days to Kill
Luther: Season 4
Penny Dreadful: Season 3
September 19
Call the Midwife: Series 5
Gotham: Season 2
September 20
Colliding Dreams
New Girl: Season 5
Zootopia
September 22
Bones: Season 11
Easy: Season 1 ­( NETFLIX ORIGINAL)
Wallander: Series 4
September 23
Audrie & Daisy ­ (NETFLIX ORIGINAL)
Iliza Shlesinger: Confirmed Kills ­ (NETFLIX ORIGINAL)
Last Man Standing: Season 5
Longmire: Season 5 ­ (NETFLIX ORIGINAL)
VeggieTales in the House: Season 4 ­ (NETFLIX ORIGINAL)
September 24
Portlandia: Season 6
River
September 25
Family Guy: Season 14
Margaret Cho: PsyCHO
September 28
The Fosters: Season 4
The Imitation Game
September 30
Amanda Knox (NETFLIX ORIGINAL)
Marvel's Luke Cage: Season 1 ­ (NETFLIX ORIGINAL)
Scream: Season 2
---
What's Leaving
September 1
2 Fast 2 Furious
A Walk to Remember
Anywhere but Here
Avengers Confidential: Black Widow & Punisher
The Bridge on the River Kwai
Call Me Crazy: A Five Film
The Color Purple
Crocodile Dundee
Days of Thunder
Defending Your Life
Double Jeopardy
Everybody Loves Raymond: Seasons 1­ – 9
Exporting Raymond
Flight of the Intruder
Girl Rising
Hachi: A Dog's Tale
Hardball
The Haunting
Nick Cannon: Mr. Showbiz
Our Man in Tehran
Primal Fear
Roboshark
Roman Holiday
S.W.A.T.
Sins of My Father
Spanglish
Traffic
The Weather Man
The Wood
Zoolander
September 4
Melissa & Joey: Seasons 1­ – 4
Shanghai Knights
September 5
Gabe the Cupid Dog
September 6
Hollywood Homicide
My Babysitter's a Vampire: The Movie
September 9
The Emperor's New Groove
Lilo & Stitch
September 11
Fringe: Seasons 1­ – 5
How to Train Your Dragon 2
September 15
Bob Saget: That's What I'm Talkin' About Read
September 16
Gridiron Gang
The Kids Are All Right
September 17
Gimme the Loot
Simon Killer
September 20
Something, Anything
September 23
The Lost Medallion
September 24
The Forbidden Kingdom
September 25
Alias: Seasons 1­ – 5
Jobs
September 28
Open Water
Open Water 2: Adrift
September 30
666 Park Avenue: Season 1
Another Gay Movie
The Aviators
League of Super Evil: Season 1
We Were Soldiers
Wolf
Follow Marie Claire on Facebook (opens in new tab) for the latest celeb news, beauty tips, fascinating reads, livestream video, and more.