100 Tech Geniuses Spent the Weekend Hacking Gender Inequality, and You Need to See the Results
Gucci and Facebook teamed up to show that we don't have to sit around and wait for real solutions.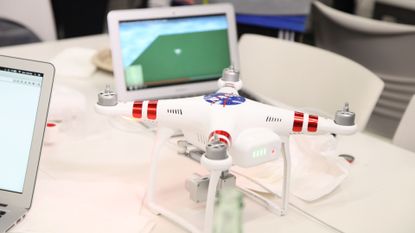 (Image credit: Getty Images)
There's no debating the remarkable changes that technology has made to almost every aspect of our lives. From transforming media, education, and politics, practically every industry, topic, and conversation has been significantly affected by the current state of tech. But now there's a new debate on the table, and it's coming out of Silicon Valley: How is technology *really* helping social change?
This weekend at Facebook's HQ in California, over 100 hackers got together during Gucci's Chimehack 3, to come up with solutions to gender inequality around the world and in doing so, shed light on the potential that technology has to promote and affect change.
Twenty-six hours of hacking later, what is certain is that technology never fails to inspire new avenues for progress. From drones that fly to the site of acts of violence to Facebook messenger bots that allow women to get the help they need, when and how they need it, technology undoubtably inspired these hackers of all ages to think about implementing and affecting change in all sorts of different and nuanced ways.
Issue experts, social networking geniuses, and marketing miracle workers all came together to support this campaign and offer mentorship along the way. The collaborative efforts between these hackers, Facebook, Gucci, Global Citizen, Hearst, and many more influential parties led to dozens of bright ideas. The winners of this weekend's hackathon included:
Dear Ally, a chat-based platform that anonymously connects people in need to certified allies.
Empowered by Messenger, a tool that provides a safe and protected way for victims to document and report abuse.
Emma, a chatbot that guides victims through the tailored-to-the-situation next steps to take after experiencing abuse while creating a verifiable report for the victim to present to the authorities.
Helpy, a Facebook-specific messenger bot that also walks victims through the appropriate next steps and connects victims to support resources.
I Believe You, a site that maps out specific instances of violence reported to the site annonymously to hold states and college campuses more accountable.
And EmpowHer, a swipe function that allows users to quickly connect with preselected contacts while triggering the smartphone's google maps, camera, and microphone to capture as much in the moment evidence of abuse as possible.
But the wins are not just in the winners. Last year, at Chimehack 2, End Rape on Campus (EROC) Director of Education, Sofie Karasek, was inspired to bring one of the projects that came out of the hackathon to life. This fall, they'll be launching a social map that is designed to ensure transparency and easy-access of necessary information in order for students, alumni, parents, and others to assess the ways in which their school approaches campus sexual assault, both on the prevention side and after-the-fact.
And this exemplifies another significant way that technology has been able to affect change, which is through quick access to information and the ability to turn that information into action. Anna Voremberg, the Managing Director EROC explained: "Accessing information, like your Title IX and Title II rights is easier for example, and we are reaching a point where higher education institutions cannot hide behind the excuse of 'how to report a sexual assault is in that handbook we gave them during orientation (that we all know likely went unread), so we did our jobs!'". Technology's ability to democratize information and educate the general public has led to a shift wherein those who used to control (and bury) information are no longer the only authority and are being held accountable.
Of course, social media has also been a major catalyst in recent years. Yasmeen Hassan, the Global Director of Equality Now, has seen first hand the impact that these platforms can have. "In the past few years I have seen media and social media play ever increasing roles in covering difficult issues (female genital mutilation, honor crimes, rapes on campus, rape in conflict), raising awareness, instigating important conversations and promoting social change."
However, as it is goes with technology, it can be a double-edged sword.
"The challenge for me is when the technology sector sees itself as an agent for change without partnership with those working on the ground or without a deep understanding of the nuances of the challenges that we are trying to address," says Hassan. With many technology companies having a top down approach, it can be difficult to support progress, which more often than not, comes from the bottom up.
Fortunately, there are global campaigns like Gucci's Chime For Change that understand this and work to bring tech companies like Facebook together with NGOs and groups like Equality Now and EROC, letting tech companies and other partners play the role of the enabler while experts take the driver's seat.
And the icing on the cake is that they are giving all of us some major motivation to join the cause. Liza Lambert Henshaw, the Chief Operating Officer at Global Citizen said during the opening panel, "I hope you are all Global Citizens taking action on our platform. People come to Global Citizen to learn about issues and find that small actions add up to bigger results. We give you points for these actions and you earn the chance to go to fabulous concerts with Beyoncé and Rihanna." So, ladies (and gents), if you needed another reason to get involved, now you have one. Time to get in formation cause Bey is going to slay.
Follow Marie Claire on Facebook for the latest celeb news, beauty tips, fascinating reads, livestream video, and more.
Marie Claire email subscribers get intel on fashion and beauty trends, hot-off-the-press celebrity news, and more. Sign up here.