'SNL' Cast Tackles One of the Biggest Mysteries from 'Stranger Things'
Finally, an answer to this burning question.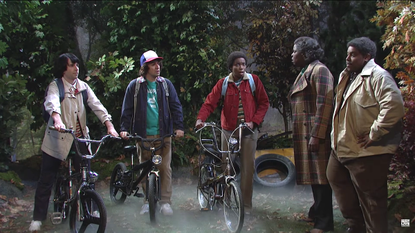 (Image credit: NBC)
Lin-Manuel Miranda, the creator and former star of Broadway's hit rap-musical Hamilton, joined the SNL as the host of last night's episode. As expected, his opening monologue unfolded into a revamped rendition of "My Shot," which included the requisite Trump jabs, of course.
Then, later in the episode, the show spoofed a different entertainment phenomenon: Stranger Things. The Netflix show had everyone hooked this summer, and left us all wanting more—and wanting more answers. Like, who is Eleven and where did she come from? Is she still alive? (Please let her still be alive! We want more Millie Bobby Brown!) Where is the Upside Down? Is Barb coming back? What's wrong with Will and why did he cough up a slug? Oh, and where were Lucas' parents in all this madness?
Lin-Manuel Miranda and the SNL cast tackled this burning question in last night's Stranger Things skit. It opens with the "Duffer Brothers" introducing a preview of Season 2, in which Miranda as Dustin, Kyle Mooney as Mike and Sasheer Zamata as Lucas are talking about finding Will and being scared of the Demagorgon.
"Whatever, I'm not scared of anything," boasts Zamata as Lucas.
Except for his parents, played by Leslie Jones and Kenan Thompson, who enter the scene shouting for their son. The three friends try to explain and rationalize their predicament to Lucas' parents, babbling about the Demagorgon and describing the Upside Down as a scary, dangerous version of the normal world—to which Jones responds, "Baby, people who look like us already live in the Upside Down." (A snappy commentary on systemic racism and the #BlackLivesMatter movement.)
The scene then opens up to include Melissa Villaseñor as Winona Ryder's Joyce Byers, the supposed adult supervising the kids on their dangerous endeavor. She clutches a bundle of Christmas lights with a crazed expression on her face, clearly not so credible as a guardian figure.
But just when Thompson is about to take his son home, in comes Kate McKinnon as Eleven (YAAASSS!!!)—buzzed hair, bloody nose and all—to stop him with her mind control. She's no match for Jones though, who scares the superpowers right out of the "little creepy wood dude," as she refers to Eleven.
Then Sheriff Hopper saunters in, late to the game as usual, and Lucas' parents immediately scream and put their hands in the air—another nod to the issues of police brutality. Lucas reassures his mom and dad that they don't have to be scared because "he's the police chief!" As though that should be a comforting fact. (Another culturally relevant zing from the SNL writers!)
Watch the full sketch in the video below:
Follow Marie Claire on Facebook for the latest celeb news, beauty tips, fascinating reads, livestream video, and more.
Celebrity news, beauty, fashion advice, and fascinating features, delivered straight to your inbox!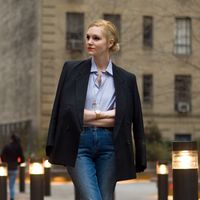 I am an experienced editor, writer, and creative strategist, specializing in fashion, beauty, and lifestyle content for digital media outlets, as well as video and social platforms. While I currently operate as a freelance contributor/consultant, with such clients as The Zoe Report, my 10+-year background in the industry was cultivated at the dot-coms of elite publications, including Harper's BAZAAR, ELLE, and Marie Claire.