The Revolution Will Be Televised
women's rights in arab countries - arab american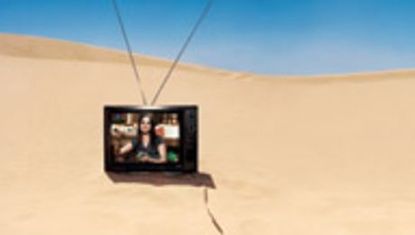 (Image credit: Andrew Hetherington)
On a softly lit set transformed into a chic, minimalist living room, five Arab women sit on orange and yellow couches, gossiping and laughing in front of a live studio audience. Another episode of the Arab world's top-rated TV program, Kalam Nawaem--which roughly translates as Sweet Talk--is underway. Modeled on American hit The View, Kalam Nawaem, broadcast out of Beirut, is a potent mix of cozy chat and edgy issues.

Its four hosts include a Palestinian actress, a Lebanese TV veteran--their blue-jeaned, blowdried sleekness straight off Madison Avenue--and a maternal Egyptian self-help columnist, a sort of Muslim Dear Abby. Only one host--Muna AbuSulayman, a Saudi Arabian working on a Ph.D. in American literature--is veiled, her shimmering hijab the shade of moonbeams.
Veiling happens to be the topic for today's show. "Congratulations on taking up the hijab!" AbuSulayman says enthusiastically, smiling at Kalam Nawaem's first guest, actress Hala Shiha. Known for her sexy film roles and scanty outfits, the young Egyptian star stunned her followers by recently deciding to wear the veil. "I'm really at peace--wearing the hijab gives me true power," Shiha says, her head swathed in a bright orange polka-dot scarf pushed back to expose her amber eyes. The audience's women--most with carefully coiffed manes, some in shoulder-baring halter tops--applaud wildly.
After chatting about upcoming film roles with Shiha, the hosts move on to their next guest: Dominique, a sloe-eyed pop star who recently scandalized fans across the Middle East by posing as a sexy mother in a music video. The group dives into the controversy--how could Dominique mix motherhood with eroticism? Talk about indecent-- cuddling her child while her husband comes on to her! But Dominique fends off the criticism, saying the video exemplifies her motherly devotion: how else could she have resisted her husband's caresses while caring for her baby?
It's soft daytime stuff, to be sure, but Kalam Nawaem, like a lot of new Arab shows available via satellite TV, is pushing its society to think in provocative, fresh ways. While the U.S. talks about Middle Eastern democracy as a matter of toppling dictators and totaling ballots, a quieter revolution is underway. In the past three years, Arab satellite-TV viewers have more than doubled. Today, about 80 percent of the Middle East's population is watching, according to Arab Advisors Group, a market research company. No longer exclusive to the elite, satellite TV has become standard mass-market entertainment, and anchors and talk-show hosts are using it to tackle taboos, challenge traditional authorities, and draw women in as never before. "Talk shows are raising people's consciousness," says Myriam Sfeir, an editor at the Beirut-based Journal Al-Raida, which focuses on women in the Arab world. "They're reaching women who are stuck at home, or who think being liberal means wearing short skirts and going to the beach. People are getting used to seeing women on TV--and they're starting to think their message of personal freedom makes sense."
People are also seeing women in a huge array of roles previously occupied only by men. Flip through Arab channels and one sees a complete range: veiled female scholars working on their Ph.D.s dispense Islamically correct advice to live callers on talk shows; female war correspondents in flak jackets broadcast from the streets of bombed out Lebanon; pouting Arab pop singers grind their way through sexually titillating songs. In poor and rural areas of the Middle East, where satellite TV is a new phenomenon, many women are learning for the first time about freedoms they are forbidden in daily life. More than half of Arab women are illiterate, meaning TV, rather than books or newspapers, serves as their window on the wider world. A Saudi Arabian woman--banned by law from voting, driving, or going out unveiled--can watch her Jordanian and Egyptian sisters do all those things on television. Meanwhile, talk shows like Kalam
Nawaem are gently nudging viewers to speak out. "These four kind-looking mommies, sitting and chatting on a warm yellow couch, have tackled the most difficult issues, from homosexuality to incest, from abuse to murder," AbuSulayman wrote in a recent article for the Middle East Broadcasters Journal.
"We make them watchable, believable and understandable." It's not the first time pop culture has revolutionized society: after Soviet block kids of the 1980s glimpsed the outside world via McDonald's, Levi's, and western ads, eastern Europe's Velvet revolution was born. Today, a generation of Middle Eastern youth is growing up on a diet of Paris Hilton and reality shows, pumped in through sat dishes, cell phones, and the internet. Cultural horizons are being stretched--well beyond the comfort zones of some Arab conservatives.
Until about a decade ago, Arab television was a seriously staid affair: state-owned channels with stiff presenters reading government-approved cue cards. But with the advent of fiercely competitive regional channels, there has been an explosion of sexed-up programming. Oblivious to the western stereotypes of Muslim women, networks (the biggest funded by wealthy Saudi Arabians, royals, and other gulf businessmen) churn out shows based on American formats, such as Who Wants to Win a Million? and the stunningly successful Middle Eastern version of American Idol, called SuperStar. The shows have attracted millions of fans--and controversy.
"These programs are in contradiction with our habits and with the principles of Islam," fumed Lebanese cleric sheikh Muhammad Hamdi. "We are seeing youngsters kissing and expressing emotions on TV. This is indecent."
Two years ago, Islamic conservatives, shocked at the fact that male and female contestants were sharing the same house in the Arab version of Big Brother, forced the program off the air. The harrowing politics of the region have proved a dubious boon to one makeover show: Labor and Materials fixes up houses that have been destroyed by bombs or grenades in Iraq. Last year another program, Starting Over, focused on six women living in a luxury flat outside Beirut and working with a team of psychologists, career counselors, and personal stylists to help reshape their lives on-air. One woman overcame crippling shyness; another started her own business. The show's success, according to producers, came from the fact that reform--personal as well as political--is a current buzzword for women across the Middle East, who see sat TV as a means for questioning the status quo. "The Arab woman is thankful to find a voice," says Kalam Nawaem's Rania Bargout. "She's sick and tired of being told what to do. Now she's seeking answers to enable her to move forward." Women have been part of the Middle East's satellite-television revolution from the start. Over the past two years, as the number of Arab channels has more than doubled to over 200, women's shows have been a fast-growing niche in the booming market. The majority of viewers hail from the eight Gulf states, North Africa, and the Mediterranean, but with new satellite packages and internet TV, Arab channels are also finding limited viewership in Europe, America, and Asia. (Kalam Nawaem's viewers, for example, watch from Virginia and Malaysia as well as Lebanon.)
Last year, the Middle East Broadcasting Company debuted MBC4, the region's second all-women's channel, built around hit American imports such as Oprah and Dr. Phil, as well as reruns of Frasier and Mad About You.
Top shows are beamed out of Lebanon and Dubai, enclaves of liberalism in the region. The highest ratings, however, come from wealthy, conservative Gulf states, where women are more frequently veiled and housebound. "When satellite television was in its infancy, the Lebanese stations were competing for viewership," explains Naomi Sakr, an expert in Arab media at London's
University of Westminster. "They figured the best way to do it was to put pretty women on-screen for all the Gulf guys who never get to see women unveiled."
Today, the female talent on TV is more than mere eye-candy: "There's been a feminization of the industry in the last decade," says Diana Moukalled, a correspondent with Lebanon's Future Television. A survey by the American research company Intermedia found that two of the top five favorite news anchors in this region are women. Of course, the female media isn't universally welcomed. "In Lebanon, I've never had a problem being a woman working in television," says Moukalled, who has covered everything from Taliban rule to an interview with president Bush. "But in conservative countries, I've faced resistance. I was trying to interview these women in Kuwait, and they got really pissed off. They kept asking, 'Why are you working with men?'" Others view female reporters with pity, believing they are "forced" to work. "They ask, 'how could your parents send you here?'" says Najat Charaf Eddine, a Beirut-based correspondent who reported from the ground during the Iraq invasion of Kuwait.
Others, who believe looking at a woman is a right granted only to her husband or immediate family, object to the mere appearance of women on television-- even those "protected" by their hijabs. "Saudis are a very private people, and displaying yourself in public isn't acceptable," says Kalam Nawaem's AbuSulayman on the chastising she received from conservative Saudi circles after stepping into the media spotlight. "Most choose not to go on television. But I chose to do it, and I showed that I can still be respectable." as for her critics, "I tell them, I don't interpret my religion that way,'" she says. "I choose to interpret it as the rest of the 1.2 billion Muslims around the world do, not the 187 million in Saudi Arabia and Pakistan, the most conservative ones." (Like many other Arab women, AbuSulayman sees no contradiction between being a progressive career woman and covering her head.) Despite such criticism, Kalam Nawaem's success lies in the hosts' frankness about their own issues: during her divorce, AbuSulayman talked candidly about custody issues; Farah Besaiso, a Palestinian, openly discussed giving birth. "Our private moments become public, and the public private," believes AbuSulayman. "That is the power of TV, of living your life in an artificial set that resembles a living room. Millions watch you discuss a personal problem that you'd vowed never to tell anyone." The most notable case happened two years ago, when Saudi television presenter Rania al-Baz brought the issue of domestic abuse--a rampant problem in Saudi Arabia--out of the shadows and into Arab living rooms. After her husband nearly beat her to death, she published photos her father had taken of her as she lay comatose in the hospital. The pictures of her face, bloated and bloodied, prompted a debate in Saudi Arabia of what previously had been seen as a family matter. Not long after al-Baz went public, Kalam Nawaem had an unrepentant wife-beater on the show. "We really ganged up on him," admits AbuSulayman with a laugh. "We told him he had a problem with anger management."
Perched on the edge of her chic wicker armchair lined with orange silk cushions, Sybele Tabbara casually runs her hand through her honey-highlighted auburn hair. She's dressed in low-rider jeans and a snug black T-shirt, a catalog image of MTV urban chic. But the 29-year-old host of Al-Aelaty (or My Family) is not interested in dishing about pop stars. Today, she's coaxing two middle-aged women to talk about their sex lives in front of millions of viewers. "Are you still active?" Tabbara presses. "No," admits a tense-looking mother of three. "I'm not. The hormones changed in my body. My desire is not like before. The kids are physically demanding--at night, I just want to go to sleep." Tabbara nods sympathetically before turning to another Al-Aelaty guest, Dr. Suleiman Jarri, a goateed and graying sexologist. Having listened to the women's hesitant complaints, Jarri weighs in: "There's this stereotype that a woman's life is over after 40, that she can't live as she did when she was young, sexually-speaking," he says. "This is unrealistic and pessimistic." It's not the first time the family show has tackled sex. "We're starting to shock viewers," concedes Tabbara. One Al-Aelaty episode dealt with teenage masturbation (a topic even American TV is loath to touch), providing frank counsel for concerned parents. "If a mother is changing her son's sheets and she finds sperm on them," Tabbara says, "How does she deal with it?" Other shows have picked up the sex theme. Kalam Nawaem ran an episode on what AbuSulayman calls "sexual satisfaction." "It was embarrassing," she says. "None of us felt comfortable saying it."
Zaven Kouyoumdjian, a popular Lebanese chat-show host who bills himself as the Arab world's Oprah, conducted a recent show on frigidity. The topic prompted massive call-ins from women desperate to talk. "We were getting messages from women who didn't know about orgasms," he says. One caller from Sudan said she'd never liked sex because she'd suffered female genital mutilation and childhood sexual abuse. "For Arab TV, that was a 'wow' moment," says Kouyoumdjian. "People say my show is revolutionary, but I don't consider myself a revolutionary. My job is to empower people who want to speak out in a society that is based on not putting your shit out there." But in a region with a long tradition of censorship, there are limits. "We have red lines we can't cross," says future TV correspondent Moukalled, "and these lines keep changing as the power shifts." Tough talk about the powerful Saudis has to be toned down on news shows. And since many channels are funded by conservative Gulf leaders, hosts can't directly challenge Islam. Instead, they use Islam to back up progressive thinking. In an episode about Arab parents who don't want their daughters to go to college, Kalam Nawaem interviewed an Islamic cleric. "We brought a sheikh on to talk about the saying by the prophet that Muslims should seek knowledge everywhere," says AbuSulayman. To forbid schooling for girls, he pointed out, would be contradicting the sayings of the prophet.
But push too hard, and you could lose more than your job. Lebanese writer and broadcaster Samir Kassir and his wife, Giselle Khoury, were the glittering couple of Lebanese TV: smart, sexy, outspoken crusaders for democratization and reform. Kassir in particular was a keen critic of Syria and its stranglehold on Lebanese politics. Last summer, he was killed when his Alfa Romeo exploded.
The bombers were never found, but inspectors believe Syrian supporters engineered the murder. A car bomb in Beirut also nearly killed veteran television interviewer May Chidiac (think a Lebanese Diane Sawyer) last fall. She lost a leg and an arm and has endured 26 operations to date. "I'm sure I'll be threatened again," she says. "But I have a mission to be a spokeswoman for all the people who have died or been attacked. They want to silence the journalists who are working toward change. I won't let them." Now, with the help of a cane, she wears high heels with her prosthetic leg. "I live in a Mediterranean country, where women are very elegant," she explains. She started with two-inch heels and is working toward four inches. "I'm taking my first steps, like a child--soon,
I'll be able to walk on my own." Appearance isn't just a personal thing--as with American TV, jobs on the small screen hinge on being young and gorgeous. When Al-Jazeera canceled its hard-hitting show For Women Only, one staffer quipped it was because the female guests were too ugly. "I've been working with Future Television for 13 years. It's not only your experience in journalism that counts, but how beautiful you are," says Charaf Eddine, pointing out that men usually own the channels. "More than half of Arab television presenters are women, but we don't have the power. We aren't the decision makers."
The most surprising outcome of Arab women's television is the way it's shaping the attitudes of men as well as women. Many of the call-ins to talk shows come from men, and a poll found that 52 percent of Kalam Nawaem's viewers are male. Inspired by this finding, producers have launched a truly revolutionary show: four Muslim men sitting around in coffee-klatch mode, baring their emotions to millions on a new, all-male version of The View. In the old days, of course, they would have been chatting in the privacy of a men's club. Now, anyone with a satellite dish can tune in to discussions on transsexual sex, prostate cancer, and the pros and cons of democracy. Will the on-air pluralism mean concrete changes in regimes and mind-sets? It's too early to tell, though revolution by pop culture is perhaps the hardest to stem--silence one show, and an entire network rises in its place. Add in the internet, cell phones, and other methods of modern technology, and it's clear the weapons for the cultural revolution of the 21st century have been chosen.