11 Shows to Look Forward to If You Love 'Big Little Lies'
There's plenty more drama where that came from.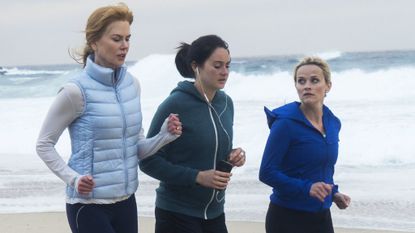 (Image credit: Getty Images)
'Twin Peaks' (reboot)'I Love Dick''The Deuce''The Immortal Life of Henrietta Lacks''Sharp Objects''Mary Kills People''The Handmaid's Tale''Casting JonBenet''Stranger Things' (Season 2)'Claws'

On Monday night, the HBO hit series Big Little Lies came to a shocking end. And even though the show's story wrapped, the BLL finale left people wanting more. While the prospect of another season remains a mystery, here's a list of upcoming dramas to look out for if you need to fill that "big little" void.
'Twin Peaks' (reboot)
The '90s cult classic about the murder of a small-town prom queen makes its official return on Showtime this spring. With Kyle McLachlan reprising his role as FBI Agent Cooper and several other familiar faces, the reboot will pick up 25 years after the mysterious death of 17-year-old Laura Palmer. The two-hour episode of Twin Peaks will premiere on May 21.
'I Love Dick'
The 1997 novel by Chris Kraus is adapted for the screen in this story about an academic couple, Chris and Sylvere, played by Griffin Dunne and Kathryn Hahn. Their marriage is put to the test when both develop a fixation with another professor named Dick, played by Kevin Bacon. Directed by Jill Solloway, known for her work on HBO's classic Six Feet Under and Amazon's Transparent, the dramedy premieres May 12 on Amazon.
'The Deuce'
James Franco and Maggie Gyllenhaal are set to star in the upcoming HBO series that centers around the porn industry and prostitution in Manhattan in the 1970s and 1980s. The vintage-inspired series from David Simon and George Pelecanos, known for their work on The Wire and Treme, follows Vincent (Franco), a scrappy bartender, and the daily woes of prostitute Eileen "Candy" Merrell (Gyllenhaal). But the best part of the new series? Double the Franco. The actor also plays Vincent's twin brother, Frankie. With the show's production going back to October 2015, The Deuce is set to premiere this summer.
'The Immortal Life of Henrietta Lacks'

If you were moved by the strong female bonds and women's empowerment in Big Little Lies, then the HBO adaption of the remarkable book The Immortal Life of Henrietta Lacks will be sure to get you. Written by science reporter Rebecca Skloot, played by Rose Byrne in the film, the story follows her journey interviewing the family members of Henrietta Lacks, an African-American woman whose cancerous cells were used to form a groundbreaking human cell line in 1951. And though Henrietta's cells helped contribute to medical breakthroughs, changing others' lives, her family reclaims their mother's story of how her cells were taken against her will for science. Oprah Winfrey shows off her acting chops once again, playing Deborah Lacks, Henrietta's daughter, who is the main subject of Skloot's story. The TV movie airs on HBO on April 22.
'Sharp Objects'
If you're in the mood for another dark HBO drama, the adaptation of Gillian Flynn's Sharp Objects will be just what you're looking for. Directed by Big Little Lies's Jean-Marc Valle, the show stars Amy Adams as Camille Preaker, a reporter newly released from a psychiatric hospital who is forced to return to her small hometown to cover the murders of two teenage girls. While reporting, Preaker begins to identify with the young victims, forcing her to relive dark times from her past.
'Mary Kills People'
The series that originally premiered on Canada's Global TV Network in January will now make its U.S. debut on Lifetime this April. Mary Kills People focuses on Dr. Mary Harris, played by Caroline Dhavernas, who is an ER doctor by day, but illegally working at night, assisting patients who no longer have the will to live and want to die on their own terms. The show follows "Bloody Mary" as her day job and her evening work of assisted suicide become more intertwined. The series premieres on LifetimeSunday, April 23 at 10pm ET/PT.
'The Handmaid's Tale'
Another powerful show about women and women's rights will be the highly anticipated adaptation of Margret Atwood's 1985 novel, The Handmaid's Tale. Hulu's series follows the tale of a dystopian society where women's rights are completely revoked and those who are fertile are reduced to birthing machines for those women who cannot bear children. While the plot, which is eerily relevant to today's women's movements, is strong enough on its own, the best thing about the adapted series is by far the phenomenal cast. Starring Elisabeth Moss as Offred, Samira Wiley as Moira, and Alexis Bledel as Ofglen, the series is sure to deliver.
'Casting JonBenet'
Twenty years later, the death of JonBenet Ramsey remains a mystery, and a topic of fascination. Over the course of 15 months, documentary filmmaker Kitty Green and her crew traveled to the Ramsey family hometown in Colorado, where they audition local actors as the Ramsey family. They also uncover how each person remembered and related to the infamous Ramsey family crime. The haunting series will examine how the murder of this 6-year-old girl still heavily impacts people today; it is set to stream on Netflix on April 28.
'Stranger Things' (Season 2)

Tagging along with the kids in BLL and Casting JonBenet is Eleven and her Stranger Things crew. Millie Bobbie Brown will be reprising her now iconic role and Winona Ryder will be back as concerned mother Joyce Byers. And, in addition to Ghostbusters costumes and "leggo my Eggo" commercials, The Goonies and Lord of the Rings star Sean Astin will join the cast as Bob Newby, a nerdy classmate from Joyce's high school. With a lot more sci-fi thrills to expect in the new season, the award-winning series returns to Netflix on Halloween.
'Claws'

The beauty salon sometimes serves as a place of relaxation and a safe place for women. But the standard beauty salon is getting a makeover in Niecy Nash's new TNT dark comedy, Claws. In the series, Nash plays Desna, a-not-so-typical South Florida hair salon owner, who claims her "money laundering days are over" in the series trailer. But from the quick montage of money, bodies on boats, and prescription pads in the show's teaser, it would seem that Desna and her salon squad are involved in way more than just manis and pedis. TNT's new show debuts in June.
Follow Marie Claire on Facebook for the latest celeb news, beauty tips, fascinating reads, livestream video, and more.
Celebrity news, beauty, fashion advice, and fascinating features, delivered straight to your inbox!