Inside the Disaster That Was Supposed to Be the Fyre Music Festival
It was marketed as a luxurious getaway for jet-set millennials. Now it's postponed and customers are crying scam.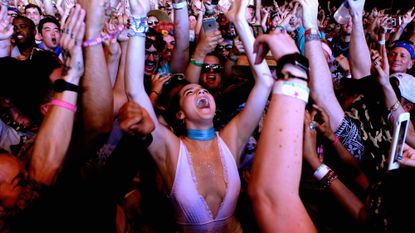 (Image credit: getty image)
The Fyre Festival scheduled for this weekend and next was anything but lit. Marketed as an exclusive event for jet-set millennials and hosted by Ja Rule, the festival was heralded as located on an island once owned by drug kingpin Pablo Escobar. Bella Hadid, Emily Ratajkowski, and Alessandra Ambrosio promoted the event, posting Instagrams of themselves in bikinis draped over beach chairs and boat decks. Pusha T, Tyga, Disclosure, Blink-182, Migos, and Lil Yachty were just some of the scheduled musical acts. The event was covered by Elle (opens in new tab) and Vogue (opens in new tab), who called it the new Coachella. Ticket holders were promised VIP treatment, private planes, luxury accommodations, food, and all access passes. The Wall Street Journal (opens in new tab)reported (opens in new tab) that tickets cost between $1,500 and $250,000 per person and that between 6,000 and 7,000 people were anticipated to attend over both weekends.
But the IRL version didn't live up to the hype. This morning organizers announced they were officially postponing the festival.
Due to unforeseen and extenuating circumstances, Fyre Festival has been fully postponed (con't)April 28, 2017
See more
After assessing the situation this morning and looking at best options for our guests, we cannot move forward as we hoped we could (con't)April 28, 2017
See more
At this time, we are working tirelessly to get flights scheduled and get all travelers home safelyApril 28, 2017
See more
According to an email sent to attendees, "the physical infrastructure was not put in place on-time and we are unable to fulfill on that vision safely and enjoyably for our guests." Fyre Festival organizers did not respond to multiple requests for comment.
This comes as no surprise to many who had planned to attend. Ticket holders began to get worried about a month before the scheduled start date, after event organizers failed to share pictures of the accommodations. And the location—which was marketed as Fyre Cay—appears to be just down the beach from a Sandals resort. (opens in new tab) In early April it was reported that organizers had failed to pay (opens in new tab) a series of performers on time. Then Blink 182 backed out of the festival. The band told their fans in a statement on Twitter yesterday, "We're not confident we would have what we need to give you the quality of performances we always give our fans."
A few weeks ago, an anonymous websitepopped up with harsh criticisms (opens in new tab) of the festival:
"I've seen the tents and they are not pretty. Luxury is the exact opposite of what you are getting. Enjoy your lack of sleep in these homemade piles of plastic and PVC pipe on dirt and rocks (seriously) which don't even come close to what they described to you on the previous website."
One festival attendee told MarieClaire.com, "[The Fyre Festival organizers] also put up information about showering and told us there would be shuttles to take us from our tents to the showers between 8:30 a.m. and 10:30 a.m., that there were no private bathrooms, and that the tents would not have locks on them."
A Twitter account @FyreFraud launched on March 29, posting claims that the festival was not what it claimed to be, including photos and video of the concert site littered with trash.
"Honestly, it's basically a refugee camp. Absolute mayhem," said one ticket holder, who arrived on Thursday and didn't wish to be named. She told MarieClaire.com that she arrived to find that her accommodations weren't ready and she couldn't get her luggage from the event organizers.
She stayed Thursday night in the tent, but said that everyone was trying to leave the island. The @FyreFraud twitter account told MarieClaire.com in a direct message that they were getting information from frustrated attendees. They noted in a tweet that (opens in new tab) flights to the island from Miami were being cancelled. A fact that was confirmed by several of the festival goers we spoke with, who have yet to be rebooked. When contacted by MarieClaire.com on Thursday, Helena Boada, a ticket-holder who lives in Zurich, was still excited for the festival despite the dire reports. But her flight from Miami to the island was cancelled and she never made it to the festival. Instead, she stayed in Miami and partied with her friend.
Makena Smith, a student at University of Southern California, made it to the island and described the pandemonium. The private jet, she told MarieClaire.com in an email, was "just literally a shitty commercial plane with Fyre decals on it." There was no one to usher her to her private accommodations, no one to hand her a wristband for which she'd paid $4,000, and the tents weren't ready until late in the evening.
Attendees who made it to the island were, as Smith described, "taken to Coco Plum for complimentary food, booze, and boat tours, basically to distract us from the debacle we were a part of. Once the tents were ready, small jitneys took about 20 people at a time to the grounds and we waited about an hour to get checked in until that finally just said tents were 'first come, first serve' and people literally just ran and laid claims on any tent they wanted, even if they hadn't paid for that particular package."
That evening Smith said that, instead of experiencing the elite party they paid for, she and her friends were "hanging out in our soaked tent without lights or locks on it and eating deli sandwiches."
The @FyreFraud twitter account is filled with outrage about the failed festival, threatening a class action lawsuit (opens in new tab). Part of the reason for the disfunction may have been a lack of appropriate funding for a luxury event. While the WSJ reported exorbitant prices, two ticket holders told MarieClaire.com that they and several of their friends paid only $500 for their ticket, which included airfare, accommodations, and food. They both claimed to have gotten "exclusive deals." William Finley told Billboard that (opens in new tab)he paid $2,500 for an "artist's pass" to the festival. And Smith reported she paid $4,000 for her pass.
Despite the frustrations. One attendee who made it to the Bahamas said that even though the festival sucked, she was happy to be in the islands with her friends.
Truly a triumph over a tragedy.
Follow Marie Claire on F (opens in new tab)acebook (opens in new tab) for the latest celeb news, beauty tips, fascinating reads, livestream video, and more.
Lyz Lenz is the author of Godland and Belabored. Her writing has appeared in The New York Times, Pacific Standard, and Buzzfeed. She lives in Iowa, but you can find her on Twitter @lyzl.