The Biggest Moments from 'Game of Thrones' Season 7 Episode 2
Like that heartbreaking Nymeria scene 😩
While Game of Thrones' Season 7 premiere, "Dragonstone," was a slow burn (not much really happened—it mostly set the scene for where all the characters are this year), episode two, "Stormborn," was anything but.
A lot happened this week.
Daenerys and Tyrion laid out their strategy for conquering Westeros. Olenna Tyrell privately advised Dany not to stick to Tyrion's plan. Jon learned that Dragonstone sits on a pile of very valuable dragonglass (which can kill White Walkers and wights), agreed to take a meeting with Daenerys, and left the North under Sansa's control. On his way out of town, he threatened Littlefinger and warned him not to touch his sister.
Sam started work curing Ser Jorah's Greyscale. Missandei and Grey Worm hooked up! Two of the Sand Snakes died at the hands of Euron Greyjoy, Ellaria and the remaining Sand Snake were taken hostage (presumably as a gift to Cersei). Yara was also taken hostage. Theon *might* have had a Reek meltdown and he definitely jumped off a boat, abandoning his sister while the Greyjoy fleet (aka Dany's navy) was basically destroyed.
Like I said: A LOT happened.
But one storyline stuck out because it was equal parts good and bad, satisfying and heartbreaking, beautiful and tragic.
First, a little backstory. If you'll remember, way back in Season 1, the Stark children all received direwolves, the sigil of their house, as pets. Six wolves, six Starks (well, five Starks and a Snow/Targaryen, but who's counting?). It was perfect. Over the years, we've lost two of the Starks and four of the wolves.
Robb and his direwolf, Grey Wind, were killed at the Red Wedding in Season 3. Rickon and his direwolf, Shaggydog, were both killed in Season 6. Summer, Bran's direwolf, sacrificed herself to save him and Meera in Season 6 when the White Walkers attacked the Three-Eyed Raven's cave. And Sansa's wolf, Lady, was killed by Ned Stark in Season 1, after Cersei sentenced her to death for the crimes of her sister, Nymeria, Arya's wolf.
Here's where things get interesting: When we last saw Nymeria, Arya had just sent her away—Nymeria had bitten Joffrey while defending her Stark and Arya knew Cersei would have her killed for it. It's been a lingering question for fans (myself included): What happened to Nymeria?
Tonight, we found out. Arya was on her way back to King's Landing to kill Cersei, when she happened to stop in Hot Pie's inn for a bite to eat and learned, for the first time, about the Battle of the Bastards and her family's reclaimed power in the North. This news changed everything for Arya, who decided to abandon her revenge plot and about-face for the North to reunite with her family (ironically, she's headed North to see Jon—she doesn't know about Sansa yet—and she will once again just miss her family, since he's setting sail for Dragonstone).
On her way North, she meets an old friend—Nymeria, who is now the leader of a ferocious pack of wolves.
She's also huge—like so big it really reminds you that Jon Snow's direwolf, Ghost, was the runt of the litter. When Arya asks her to come North with her though, Nymeria opts to leave and continue life with her pack.
I've been looking forward to Nymeria's return for six seasons, and I have to say it turned out to be bittersweet. While it's nice that the show finally acknowledged her and let us know that she's doing great, it's heartbreaking to know that this is probably the last we'll see of her.
And it will probably be the last we see of Nymeria. From a practical perspective, the direwolves are notoriously expensive and difficult to include in scenes. And, as much as it pains me to say it, her exit makes sense from a story perspective, too. Arya has been a lone wolf for a very long time, and if she's going to rejoin a pack, it needs to be her own—Sansa and Jon, and maybe even Bran, if he's not too busy finding a magic tree to live in.
Her final words to Nymeria are heartbreaking though. "That's not you." As Vox reports, showrunner D.B. Weiss explained the line in the "Inside the Episode" segment—it's a reference to something Arya said to her father, Ned, in Season 1. He told her she would grow up to be a lady and Arya, even as young as she was, answered confidently, "That's not me."
As much as I get it and even agree with how the scene played out on a lot of levels, I'd be lying if I said Nymeria's all-too-brief return didn't break my heart a little.
Follow Marie Claire on Facebook for the latest celeb news, beauty tips, fascinating reads, livestream video, and more.
Marie Claire email subscribers get intel on fashion and beauty trends, hot-off-the-press celebrity news, and more. Sign up here.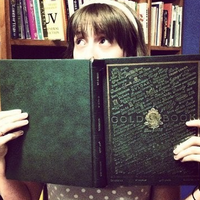 Kayleigh Roberts is a freelance writer and editor with more than 10 years of professional experience. Her byline has appeared in Marie Claire, Cosmopolitan, ELLE, Harper's Bazaar, The Atlantic, Allure, Entertainment Weekly, MTV, Bustle, Refinery29, Girls' Life Magazine, Just Jared, and Tiger Beat, among other publications. She's a graduate of the Medill School of Journalism at Northwestern University.