40 Thoughts I Had During 'It'—a Movie So Scary That It's Currently 3 a.m. and I'm Writing This Instead of Sleeping
ALL CLOWNS ARE EVIL THAT IS A FACT DO NOT @ ME.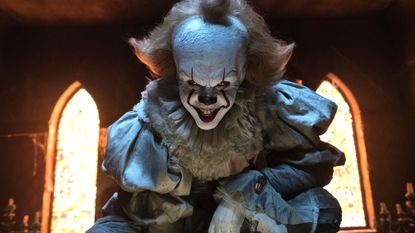 (Image credit: Warner Brothers)
Last night I attended a screening of It. "What's the big deal?" you ask. "It's just Bill Skarsgård dressed as a clown." Well it's a HUGE DEAL because BILL SKARSGARD DOES NOT LOOK LIKE THIS ANYMORE:
Now he looks like this (see below), and his main mission is to literally eat your face and make you rue the day you were born because frankly life would be so much easier if you didn't have to spend the rest of it worried you'll experience Death by Clown at any minute:
Like, truly, WTF. And by the way, now is probably a good time to mention that this article will be full of lots of CAPITAL WORDS because my emotions cannot be restricted to anything resembling a regular font. Nothing is regular anymore. Everything is terrible.
On that note, and before I get into It, I just want to make sure you fully understand that the Clownpocalypse is imminent, and we're all going to meet our clown maker. Kay, cool, here are 40 things that went through my head during this gloriously scary movie. (Yes, spoilers ahead.)
1. How do children still not know they should never go into basements? Basements are clearly evil and/or an entrance to literal hell.
2. OMG there's Pennywise the Clown and he's so friendly and nice.
3. Nevermind he just ate a child's arm off, bye.
4. Oh lookit, a cute flock of sheep!
5. DON'T YOU F*CKING KILL THOSE SHEEP.
6. The sheep are dead.
7. This movie is basically Stranger Things, but scarier and with more dirty jokes.
8. One of the mean kids just said "you're trash" and I feel like they're shadily talking directly to my soul.
9. BREAKING: Exclusive, never-before-seen footage of me during the movie:
10. "Try tickling your prick for the first time" is officially a sentence I never want to hear again, ever.
11. If you come across a teenager with a mullet who licks his hand and rubs it all over your face, he 100 percent WILL try to murder you.
12. New revelation: This movie isn't even about clowns, it's about the abject pain of growing up, and being a child, and having no one understand you, and I'm not crying, you're crying.
13. I just slapped my friend in the face because Pennywise scared me, but whatever she was the one who asked to come to this movie.
14. I am officially more terrified than I was the morning after Trump's election.
15. There's a cute gerbil in this movie and SO HELP ME IF IT DIES.
16. Pro tip: All paintings are haunted and evil, never go near a painting.
17. All libraries are also evil, never enter a library unless you'd like to die there.
18. Balloons. Also very evil.
19. Everyone in the '80s looks straight out of Williamsburg, Brooklyn—which is another great reminder never to go to Williamsburg.
20. If all the kids in your town start to go missing and there is clearly a murderer on the loose, IDK, maybe F*CKING MOVE?
21. New Kids on the Block is the greatest band of all time, and frankly the constant references to them are the real stars of this movie.
22. If your bathroom sink starts talking to you, please don't make casual conversation with it, because turns out it's full of blood and wants to—you guessed it—murder everything.
23. GODDAMMIT WHAT DID I TELL YOU ABOUT NEVER GOING IN A BASEMENT?
24. Breaking: Exclusive photo of my notes during this movie. As you can see, this says "BILL SKARSGARD CANNOT BE TRUSTED."
25. A good way to come down from that one time a clown tried to kill you and your friends is by slaughtering some sheep and listening to folk music, per this movie.
26. I have a lot of thoughts about—OH SHIT THE CLOWN IS IN THE FAMILY PHOTOS HE IS EVERYWHERE WHY.
27. Honestly, how is everyone in this town fine about the fact that it has a straight-up haunted house? Like, has no one seen a movie?
28. Do not go back into that house.
29. DO NOT GO BACK INTO THAT HOUSE.
30. Fine you're in the house but don't fucking go into that well.
31. DO NOT GO INTO THAT WELL.
32. They went in guys. They went in.
33. I literally couldn't have been more clear about them not going in.
34. Oh no what if this movie is secretly like The Ring and I'm going to die—should I warn everyone in the theater y/n?
35. GUYS NONE OF US ARE SAFE BECAUSE CLOWNS.
36. I really have to pee but there is definitely someone waiting to kill me in the bathroom, so that's completely out of the question.
37. Oh good, a massive pile of human remains. Lovely.
38. Oh no they're—no...NO...NO OH MY GOD NO GAHHHHHHDHSAHDJSAKHDJSKAHDJSKAHDJSAKHDJSAKHDJSAKHDSJKADSJADKJDSAJ.
39. Pretty sure that's not how you do a blood pact.
40. Cool the movie is over, as is my ability to sleep. But I loved it. Bye forever.
RELATED STORIES
Follow Marie Claire on F (opens in new tab)acebook (opens in new tab) for the latest celeb news, beauty tips, fascinating reads, livestream video, and more.
Mehera Bonner is a celebrity and entertainment news writer who enjoys Bravo and Antiques Roadshow with equal enthusiasm. She was previously entertainment editor at Marie Claire and has covered pop culture for over a decade.