Occupy Sandy Wedding Registry to the Rescue
On Amazon Wedding registries, it's not uncommon for couples to get creative. But how about a registry for Hurricane Sandy relief?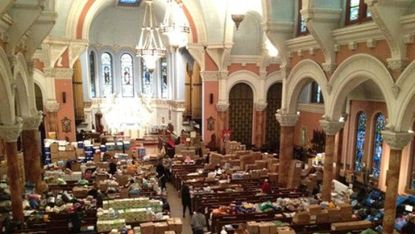 (Image credit: Archives)
It's not uncommon for couples to get creative on Amazon wedding registries: Out with Le Creuset, in with Nintendo 3DS.
One year ago, a particularly surprising registry made waves on social media. The lovebirds requested "no gift wrap" and described their style as "nonperishable."
The couple was actually a trio: Katherine Dolan, Alex Nordenson, and John Heggestuen, and the registry was created to aid Hurricane Sandy relief efforts. Last October, the storm wreacked havoc along the East Coast of the United States, causing more than $68 billion in damages.
The three friends, all 26 years old, lived in Clinton Hill, Brooklyn, and experienced only minor damages from the storm. "Since we were fine, we felt we needed to go out and help in some way," Dolan said.
They went to volunteer their time, but relief centers needed material donations—from nonperishable foods to power tools. Dolan remembered Heggestuen saying, "They know what they need, they just don't have enough supplies."
"What they need is a wedding registry," Nordenson realized.
The friends created an Amazon wedding page, registering for thousands of items requested by Occupy Sandy relief organizers.
Dolan, who had been dating Nordenson since they were sophomores at Boston College, tapped into her marketing background and came up with a provocative way to get the word out. "We sent around an email to our families and friends, probably 80 to 100 people, with the subject line 'Our Wedding Registry,'" Dolan said. "I was getting texts like, 'Are you seriously announcing your engagement by sending out your wedding registry?'"
Their publicity stunt paid off. Not only did their connections check out the registry, but others involved in the relief effort shared the link on Twitter and Facebook. By Monday, it had gone viral, and people had purchased over 10,000 items.
Altogether, said Dolan, "We ended up getting about $750,000 worth of goods donated on the registry. There were over 30,000 individual items purchased."
Those items included hundreds of first aid kits and diapers for families as well as heavy-duty contractor bags and power saws for cleanup crews. Concerned people across the world met almost every one of the registry's requests, like six Mocha laptops so victims could quickly fill out FEMA forms (they received seven) and almost 700 disposable cameras for photographing property damage.
A year later, the friends' interest in the project remains. They found that people who used the registry found knowing "the specific nature of the donation" more rewarding than giving a cash donation. Ninety percent said they would use a registry again. To harness this potential, the team is developing a relief-funding platform called Kind Kart, which would recreate the Sandy model after future natural disasters.
"The registry project was so successful because it got people to use a common behavior that is sometimes thought of as selfish—online shopping—and turned it into something philanthropic."
In May, Dolan and Nordenson sent out another wedding announcement. This time it wasn't a publicity stunt. And, yes, they will be using a gift registry.