Lorelai's 30 Most Insane Outfits on 'Gilmore Girls,' Ranked
"Where you lead, I will follow"—Lorelai's ever-present tiny scarf.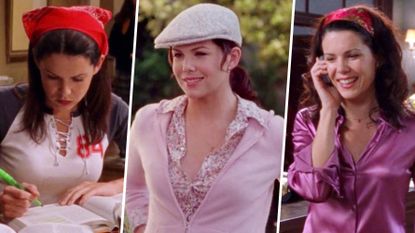 (Image credit: Netflix)
Marie Claire Newsletter
Celebrity news, beauty, fashion advice, and fascinating features, delivered straight to your inbox!
Thank you for signing up to Marie Claire. You will receive a verification email shortly.
There was a problem. Please refresh the page and try again.
The time has come to talk about Lorelai Gilmore, or—more specifically—her adventurous fashion. Because "adventurous" is truly the only way to describe the sartorial journey of this this tiny-scarf-loving hero. In an effort to both pay homage to Lorelai and parse through her fashion journey, we've ranked her 30 most insane outfits on a scale of "Okay, sure, we get it" (AKA outfit #30) to "Is this a fashion crime, y/n?" (AKA outfit #1).
1/30
30
Let's start of with something moderately palatable: this striped wrap dress. Yeah, it's being invaded by a swarm of evil butterflies hell bent on ruining what would be a simple pattern, but whatever. Dealing with it.
2/30
29
At first, Lorelai's obsession with headbands seemed so sweet and innocent. So sweet and innocent, in fact, we barely noticed that this jacket was clearly made for a person with much shorter arms. But then things took a dark turn....
3/30
28
Dark, like the wash of jeans she chose to pair with this tie-dye shirt and bandana.
4/30
27
Also, in case you were stressing about whether or not Lorelai owns a bandana in green, the answer is yes. Yes she does.
5/30
26
Oh good, she also owns one in red. Thank god.
6/30
25
Wait no, make that several. Because one can never have too many red bandanas to pair with their deconstructed American flag shirts.
7/30
24
Hands up if you bought this shirt in 1998 after leafing through a dELiA*s catalog? Same.
8/30
23
Not even pizza (the ultimate accessory) can lend credence to this headband + camo combination.
9/30
22
"Hmmm, what should I wear to work?"
*reaches for blindingly shiny pink blouse*
10/30
21
To paraphrase Cher Horowitz, this shirt is a total Monet.
11/30
20
"Wait, this seems pretty normal," you thought to yourself, failing to notice the giant pattern festooned on Lorelai's pants.
12/30
19
In case you're having doubts about what your eyeballs are seeing, Lorelai's wearing a sparkly kitten t-shirt with a zip-up pink hoodie and blue puffer jacket. That's all.
13/30
18
Behold, the most aughts outfit ever.
14/30
17
Ahhhh, memories of a simpler time when everyone's sweaters had random outcrops of knitted florals on them.
15/30
16
God knows how many innocent sheep were left freezing to make that shearling jacket.
16/30
15
Rory's face = us while trying to understand Lorelai's shirt.
17/30
14
Don't you love the subtle, totally not-at-all loud feel of this shirt?
18/30
13
At a certain point, Lorelai abandoned her bandanas and started experimenting in The Art of Wearing a Bucket Hat. It was a confusing time for all of us.
19/30
12
BRB, over here living that bucket hat life.
20/30
11
Of course, sometimes Lorelai switched things up and wore a newsboy cap. Sorry, make that a news(Gilmore)girl hat. Ha ha ha.
21/30
10
It was the best of times, and in many ways, it was the worst of times.
22/30
9
Please don't mistake this as a scene from Newsies. It is, in fact, a still from Gilmore Girls.
23/30
8
At one point, Lorelai tried to make newsboy knit caps happen. She failed.
24/30
7
PSA: always wear your jauntiest beret while attending a funeral.
25/30
6
This shirt is a reminder of a dark time in fashion: cap sleeves. Their mission? To look unflattering on even the most toned of arms.
26/30
5
Sorry, still not done talking about hats. Here's a particularly glorious one, paired with Lorelai's favorite accessory: the functionless scarf.
27/30
4
Actually, one might argue that as the show went on, the functionless scarves got tinier.
28/30
29/30
2
Until eventually they were so small, they became necklaces.
30/30
1
But sometimes Lorelai skipped the scarf because she was busy wearing cowboy boots with daisy dukes. Which brings us to her most iconic—and most insane—outfit of all time. Fin.
Celebrity news, beauty, fashion advice, and fascinating features, delivered straight to your inbox!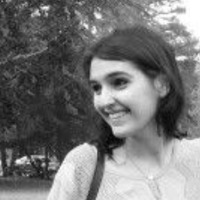 Mehera Bonner is a celebrity and entertainment news writer who enjoys Bravo and Antiques Roadshow with equal enthusiasm. She was previously entertainment editor at Marie Claire and has covered pop culture for over a decade.