Washington Mystics Owner Ted Leonsis and Star Player Elena Delle Donne Are Plotting to Transform the WNBA
It's time for female basketball players to get the visibility they deserve.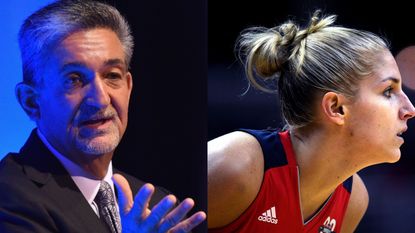 (Image credit: Archives)
Earlier this year, Elena Delle Donne, one of the WNBA's most beloved players, announced she was leaving the Chicago Sky to join the Washington Mystics. Winning over Delle Donne was just one part of Mystics owner Ted Leonsis' big plan for the league—and his dedication to growing his team's popularity both locally and nationally won him the 2017 WISE Champion Award. Ahead of today's ceremony, Marie Claire talked to Leonsis and Delle Donne about their partnership and how they're hoping to transform the WNBA.
Marie Claire: It's no secret that, for nearly two decades, the WNBA has struggled to gain the same traction as the NBA. What are the greatest barriers the league faces today?
Ted Leonsis: As an owner, I couldn't agree with you more. It's surprising to me, but we're not going to give up. The WNBA has just a fantastic product. The quality of the game is as good as the men's quality of the game. The issue stems and starts with the media coverage, in that the game isn't given the respect that its due. That is a battle.
Secondly, because its sports and entertainment, stars really matter. Stars are born not only through their performance on the court, but also through their backstory. And the women athletes haven't been given their due.
The third thing is national TV coverage. I was chairman of the NBA Media Committee and I fought really, really hard to include the WNBA rights with the NBA rights when negotiating with ESPN, and we just did a great deal with Twitter. Over a million people watch WNBA games on Twitter. The WNBA is still a new league, and we're trying to reboot it, if you will, by doing these sorts of deals.
Elena Delle Donne: Like Ted said, it all starts with visibility: getting the stories of players out there, growing the fan base, and getting big brands to get involved. It's kind of hard to be a fan of the WNBA at times because we're not always on TV.
I've had a lot of fans say that it is difficult to jump on board and be a fan because they can't find games to watch, and even have trouble getting their favorite player's jersey. Last season, I had several people tweeting, 'Hey, I am trying to buy your jersey, they're sold out right now online. Where can I get them?' If you want to become a fan of an NBA player, you can easily get whatever gear you want: whatever sized jersey, hats, socks, everything.
I've been lucky enough to get with Nike and Gatorade, and they've put me out there in the public eye and gotten me to get more fans excited about the WNBA. But why should it be only a little handful of players that are being shown when we've got a tremendous league with a ton of great players?
MC: This has been a challenge since the WNBA's creation. What's different now?
TL: I'd say there's probably something generational. I see it in the NBA and the NHL [Leonsis also owns the NBA's Washington Wizards and the NHL's Washington Capitals], that for baby boomers there's a code, if you will, on what's cool, what's acceptable, what's right. Versus millennials, who seem to be a lot broader in their thinking and more progressive in their viewpoints. I remember a friend of mine wasn't a great athlete and people would say, 'He throws like a girl.' Now, the best free throw shooter in all of basketball isn't Steph Curry, it's Elena. Elena, what's your lifetime average from the foul line?
EDD: I believe it's like 92%.
TL: Yeah, and this year it's like 95%?
EDD: Yeah.
TL: And its interesting watching our young players. John Wall is the Wizards all-NBA player. John knew all about Elena. He was one of the first people that met Elena when she joined the Mystics. And there was a level of respect—ballplayer to ballplayer, without any regard for gender.
Today, if you listen to sports talk radio, they are not talking the right way about most women's sports. Those people will retire, or frankly a lot of them are getting fired or laid off—and we'll get younger people into key media positions who are more egalitarian, more open minded, more respectful.
It's also really good business. I try to explain this to people all the time: There are more women than men, so why would you want to program for less than half of the population?
MC: Speaking of good business: In 2018, the Mystics will move from playing at the Verizon Center, which can seat over 18,000 fans, to a brand new stadium in Southeast D.C., which holds about 5,000 people. But I've read that the average attendance at the Mystics in 2016 was close to 7,500 per game. So what was the thinking behind the move?
TL: We know our numbers, as you would expect, very well. Two or three times a year, we have what are called Camp Days. During those days, we get some sponsors and we, as owners, subsidize tickets we give to schools and camps and handicapped children. And for those two or three games, we'll have 18,000 to 20,000 people in the building.
But there are 20 games a year with playoffs, and for 17 of those games we have about 3,000 people in the building. When you have 3,000 or 4,000 people in a 20,000 seat building, you look unsuccessful. On Sunday, we had a good crowd of about 5,000. The entire upper deck of Verizon Center was empty. And I mean, not a soul!
So I said, 'Let's work with the city to build the first optimized arena for the WNBA.' If you have 3,000 or 4,000 people in 5,000 seats, it will be loud and rocking. If you sell it out and you start to get a waiting list, you start to look like a more successful team—and the energy level is palpable. And those three time a year where there's Camp Days, the Mystics will still play at the Verizon Center! But those other games will still be in a place that will just be home court advantage. And, and so I view it as a really, really positive thing for the WNBA, and the team, we're spending a lot of money on it, and I, I believe in it, and the people that critique it—they've never been to a WNBA game, and have never been to Ward 8.
MC: What's Ward 8?
TL: It's a community that's two or three miles from Verizon Center. The neighborhood is not developed and it is underserved. When I went to Georgetown [Leonsis graduated from Georgetown University in 1977], we were told, "Don't go past 15th Street and the White House." Because this neighborhood—where the Verizon Center is now located—was drug dealers and crime and prostitution. Across the street, there is now a Shakespeare Theater; if memory serves me correctly, it used to be adult bookstores. And at first there were critics! They said, 'Oh, you shouldn't go there, you're destroying the fan base, you're inconveniencing the fan base.' And now, we sell out every game, the community is thriving, we employ 3,000 people.
So with Ward 8, short term people are going to feel, 'Boy, this is different. Why should I be going there? Why aren't they playing at the Verizon Center?' But this is the right thing for us, it's the right thing for the Mystics, it's the right thing for the WNBA, and it's certainly the right thing for this community.
This is the biggest, most important thing that we can bring to Ward 8. Our players can become a part of that community. As pioneers, we'll have a couple of rough moments, I'm sure. There's no place to eat there—you will have to eat in the kitchens in the arenas. But you walk around the Verizon Center now, and there's 143 restaurants within the area. When we broke ground in 1997, there were a couple of Chinese restaurants but that's it. When you look at things over a twenty year horizon, instead of next week, people will look back and say, 'Boy did those guys have vision to be able to have a small arena and a big arena help transform two neighborhoods—and to really bet on the WNBA and women's sports.'
MC: Elena, how did the smaller stadium impact your decision to move from Chicago to the Mystics?
EDD: People can say all they want about us being in a different arena. But I'm sorry, it is an advantage. As a competitor, you want to be in an atmosphere with a sold-out crowd that feels on top of you—loud and crazy. It's something all of us W players talk about: it's such a different vibe going from college basketball, where you've got sold-out crowds, just crazy fans all over you, and then you come to the WNBA and you're playing in these huge arenas that in no way are we coming close to filling. It just kind of feels empty.
There is nothing more exciting than playing in a building with that college vibe. It's something that I wanted to be a part of. This doesn't exist anywhere else in the league. It's a great tool to help us keep great players and bring in incredible players. In the end, we all want to win a championship—that's my biggest professional goal, to win an WNBA title—so I felt like coming to the Mystics, I had a great chance to do that.
MC: This all sounds like positive news for D.C.—both the Mystics and the Ward 8 community—but what will help the rest of the teams in the WNBA?
TL: We need more NBA owners to own WNBA teams. The ideal set up would be to own an NBA team, a D-League team, and a WNBA team. Then there's year-round basketball for your fans and community, and you're using your sales and sponsorship and media and web and mobile and security to leverage scale to make everything successful. Today, some NBA teams own their WNBA teams and there are a few independent owners. But it is very, very difficult for an independent to make it work. That's number one.
Number two: I'd like to see more female ownership. In my group today, I have two very successful women entrepreneurs, Sheila Johnson and Michelle Freeman, who are my partners. They wrote big checks to be my partners. Sheila is very, very active with the Mystics and we need more of that. So, the more women we can bring in as owners or limited partners.
The most successful women executives and women entrepreneurs should be the owners and the operators and the investors in WNBA teams. For some, a sign of your success starts with, 'I'm going to buy a big house.' Then, 'I'm going to start buying art.' And 'Oh, I want a sports team.' We need the WNBA to be that aspirational—you make it as a big time female entrepreneur or executive and you say, 'You know, my dream has always been to own a WNBA team.'
MC: Elena, what felt different about joining the Mystics than what you had experienced before?
EDD: I mean Ted is by far the greatest owner in the league. I'm not going hold back on that one. His vision for the W and to be at the forefront of doing certain things like this new stadium is super exciting. To be a part of it and hopefully transform the league and transcend it is something so special.
MC: When you joined the Mystics, you said they met all your personal and professional goals. We've talked about the professional ones. What about the personal ones?
EDD: Family always comes first, and I've felt that way my entire life. Amanda [Clifton, Delle Donne's fiancé] and I are going to be getting married soon and hopefully starting a family. I knew the East Coast is where my heart is and where I want to raise children, and also around this great culture that the Mystics has created on the road: Tayler Hill brings her son and Tiana Hawkins brings her son, as well.
Also, obviously proximity to my family in Delaware: My sister can't travel very much [Lizzie, Delle Donne's older sister, has autism and cerebral palsy]. I have to be a close drive to her to be able to see her often, so that was huge.
And then, just growing the league. It's about being around people who are willing to invest. Maybe they're not going to see a return on that investment immediately, but to have a vision like Ted has for 20 years down the road—who knows how long it will take, but to have that vision and to back it. If we have more people like Ted behind this league, it's not going to fail. It's only going to get better.
Follow Marie Claire on Facebook for the latest celeb news, beauty tips, fascinating reads, livestream video, and more.
Celebrity news, beauty, fashion advice, and fascinating features, delivered straight to your inbox!