Are Chelsea and Kwame Still Together After 'Love Is Blind'?
Did these two emerge unscathed from one of the season's biggest love triangles?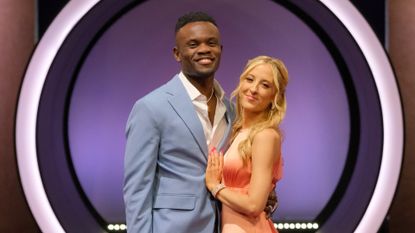 (Image credit: Netflix)
Every season of Love Is Blind has at least one dramatic love triangle. (Crossover tends to happen when 30 people are dating each other.) In Love Is Blind season 4, the couple that has to work through temptation from other pod members is Kwame and Chelsea. The 33-year-old sales development manager and the 31-year-old pediatric speech language pathologist quickly form a connection in the pods, but Kwame is also interested in Micah, a 27-year-old marketing manager. Kwame's connection with Micah affects his relationship with Chelsea once they leave the pods for the Mexico getaway, and it seems like the love triangle will continue into the rest of the season.
What happens between Chelsea and Kwame on 'Love is Blind' season 4?
Chelsea and Kwame instantly get along once they meet in the pods, with the extroverted dog mom and former soccer player having an easy time together. However, Kwame's connection with Micah seems stronger, with him even telling her at one point that he would like to propose to her early. Though at first Micah doesn't want Kwame to form other connections (leading to some awkwardness between her and Chelsea in the women's living quarters), Micah decides to go all in on Paul and breaks things off with Kwame. Although the breakup hurts him, Kwame decides to focus on Chelsea, and, like Micah and Paul, they later get engaged. They also have a great reveal and quickly get close in Mexico.
A snag comes up once they meet all of the other cast members in person at a pool party. Kwame and Micah spend most of the party (at least what's shown on camera) chatting separately and looking close. There's a rough moment between the two, where Micah and Irina gather people to take shots and Micah tries to toast to "a failed proposal." Kwame is understandably hurt by the comment, but he and Micah have another side conversation and come to a resolution. However, by that point most of the cast can tell that they've been chatting for a while, and Chelsea gets frustrated and leaves the party early.
In private, Chelsea lets Kwame know that she didn't like how close he seemed with Micah. She also asks Kwame whether he's gotten closure in his relationship with Micah, and he admits that he hasn't. Though Chelsea's frustrated, Kwame assures that he's done with Micah in a romantic sense, and they come to an understanding over the rest of the honeymoon.
Following Mexico, Chelsea and Kwame arrive back in Seattle to real life conversations, from smaller concerns (cleaning habits) to larger ones (where to live). It turns out that Kwame's based in Portland and works remotely, meaning he would have to move to Seattle, where Chelsea's work is based, if they get married. As Kwame's considering the move, he notes that he feels he'd be "compromising" quite a bit if he did marry her. Kwame is also troubled because his mother is not in support of his relationship and doesn't want to meet Chelsea.
In episode 8, all of the couples and some pod alums get together at Chelsea's birthday party. At one point, Kwame and Micah have another quite flirty private conversation (again, at Chelsea's birthday party) where they both ask the other if they think they're questioning their decision. Micah also tells Kwame, "I think about you. I worry about you. I'm hoping that you're happy."
Even though the second Micah conversation doesn't bring up an argument, Chelsea and Kwame still struggle to reconcile their future goals in the lead up to the wedding day. Kwame continues to feel hesitant about leaving his home in Portland, saying during an episode 9 confessional that it can feel "suffocating" living in her space all the time, before going on an inebriated rant against Seattle during the bachelor party. He also has not received his mother's blessing for the wedding, and he tells Chelsea that she cannot take his last name until his mom gives her blessing. Despite all of these conflicts, Chelsea remains convinced and positive about marrying Kwame throughout the final batch of episodes, as the couple meets her super-accepting, super-blonde family and the couple taking part in an awkward-to-watch boudoir photo shoot.
Do Kwame and Chelsea get married?
Their wedding is the first we see at the end of episode 11, with the final scenes showing Kwame's siblings Jerry and Barbara arriving to support him. Apparently the rest of Kwame's family besides his mom is okay with the marriage, and his sister Barbara tells him she'll kick his ass if he says no at the altar, before she gifts Chelsea a clutch decorated with Kente cloth. (Give Barbara her own show!!!!) Once they make it to the altar, the couple shares emotional vows, with Kwame saying, "I just cannot believe that I am fortunate enough to stand across from somebody who is as captivating as you," The cliffhanger shows Chelsea saying yes at the altar, cutting off before Kwame gives his answer.
The finale gets straight to the point, revealing that Kwame says...Yes! The couple exchange their first kiss as a married couple as their family and friends cheer, and after the ceremony, they both say how happy they are to be husband and wife and toast to "forever."
What happened at the reunion?
Chelsea and Kwame are still happily married, and living together in a Seattle apartment with floor-to-ceiling windows and a special pink corner for Chelsea. They said during the reunion that they have become even stronger together over the past year, explaining that what they saw on camera was a small part of their journey together. (Ahead of the reunion, Kwame had shared several pics documenting their engagement "when the big cameras were off" on Instagram.) Chelsea also confirmed that she has met Kwame's mother, and spent Thanksgiving bonding with his family (including his sister Barbara, who is not an actress.)
The reunion also addressed the Kwame-Micah-Chelsea relationship, and presented a never-before-seen clip of the women completing their conversation about Kwame and Micah's inappropriate poolside conversation. Kwame explained that he also had plans to end thing with Micah around the same time in the pods, and then apologized to Chelsea for his behavior, saying that he let his ego get the best of him in that moment and that he'll never do anything like that again.
Marie Claire email subscribers get intel on fashion and beauty trends, hot-off-the-press celebrity news, and more. Sign up here.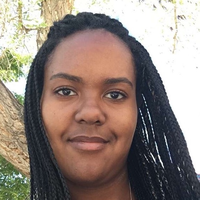 Contributing Culture Editor
Quinci LeGardye is a Contributing Culture Editor who covers TV, movies, Korean entertainment, books, and pop culture. When she isn't writing or checking Twitter, she's probably watching the latest K-drama or giving a concert performance in her car.