Are Micah and Paul Still Together After 'Love Is Blind'?
Let's dive in, shall we?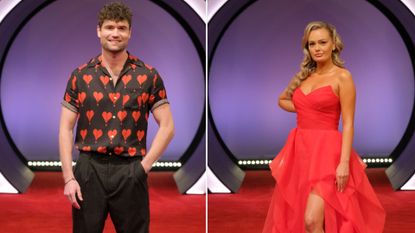 (Image credit: Netflix)
Half the fun of Love Is Blind is guessing which couples will make it to the altar and whether they'll say "I do" or "I don't." Season 4 of Love Is Blind kicked off with a five-episode drop last month, and as of now, one of those couples whose fate is still up in the air are Micah Lussier and Paul Peden. The 27-year-old marketing manager and the 29-year-old environmental scientist face several snags in their relationship throughout their time in the pods and the Mexico getaway, but there's still a chance that they'll make it all the way.
What happens between Micah and Paul on 'Love is Blind' season 4?
Paul and Micah have what Micah would call a "slow burn" over the course of their time in the pods. Both of them are also interested in other people at the start, with Micah exploring a connection with sales development manager Kwame and Paul doing the same with fight attendant Amber. In the pods, Paul and Micah have several sweet moments, including Micah telling Paul he has the same name as her father, and the pair bonding over their shared love of Italy, with Paul joking that they will go to Positano for their honeymoon. (Sounds like a match made in pasta heaven to me!) Micah also shares that she likes to romanticize her life, and Paul responds that they are "literally on the same page" and that he is "so attracted to that."
Eventually, Micah and Paul decided to focus on their relationship, which leads to some emotional moments when they broke things off with their other dates, as well as some unfortunate mean-girl moments with the other female cast members in the women's living quarters. Once Paul and Micah go all-in on each other, they get engaged and seem to have a comfortable chemistry once they meet face to face.
During the first few days in Mexico, the pair get even closer during their dates and first nights sleeping in the same room. But they hit another snag when they meet all of the other cast members in Mexico, as Micah and Kwame get pretty flirty during a pool party. (What is it with Love Is Blind pool parties and drama?) Micah and Kwame end up having a prolonged, close conversation to the side of the party, which rightfully upsets Kwame's fiancée, Chelsea. Afterward, Micah asks Kwame for tequila shots and toasts "a shot for a failed proposal," which understandably hurts Kwame. (Before they broke up in the pods, he had told her that he liked her so much he would propose early.)
While all this is happening, Paul also seems to be getting close to Irina, who is clearly interested in him. Paul also wonders to Zack if he made a mistake choosing Micah over Amber (like how Zach made a mistake choosing Irina over Bliss). Paul and Micah's time in Mexico ends with an ATV outing that feels awkward to watch (though that may just be residual uncomfy-ness from the pool party, as Micah and Paul do kiss during the date).
Once they arrive back in the real world and move in together, Micah and Paul have both good and bad moments. They get fairly positive receptions from each other's parents, as Paul's mom is very similar to Micah, and Micah's dad seems to trust Paul instantly because they have the same name (though Micah's mom has more hesitancy). Their relationship seems to be progressing to a pretty sweet place. But there are three issues that viewers can see affect the couple: Micah's choice of friends; Arizona; and the Kwame thing.
First there's the friend issue, which starts with Micah mentioning that Irina has admitted (off-camera, I guess) that she's attracted to Paul. Micah gets angry at her, and they have a stormy meet-up where Micah brings up Irina's inappropriate actions and comments about Paul. They don't resolve anything during the conversation, and Irina doesn't show up again as of Episode 8, but Micah did tell Entertainment Weekly in a recent interview she and Irina are still friends, saying of the business owner, "she's just a person and we just have to grow up from our mistakes."
The Irina drama is relatively pushed aside by the time we meet Shelby, Micah's best friend who has apparently broken up Micah's relationships in the past. Paul and Micah attend her birthday party, where Micah is nervous to make sure Paul gets her friend group's approval (though it seems like that was never going to happen). When (admittedly, a probably inebriated) Shelby starts making jabs at Paul, he says that he doesn't care, which makes Micah mad because *check's notes* he should be mad that he can't make her friends like him? The night ends with Shelby subtly bashing Paul and telling Micah she deserves more.
While the friend drama has different weight depending on who the person is, an overall serious concern is where Micah and Paul will live. Micah is partly based in Arizona, and she tells Paul that she wants to split time between her apartment there and Seattle. Paul does not seem down, but this is an issue that will likely (hopefully) be given more discussion in episodes 9-11. After all, Love Is Blind needs to fit in Chelsea's birthday party, an event that throws back together all the couples and pod participants, including Micah's ex Kwame and Paul's ex Amber.
In a show of maturity for both of them, Amber and Paul don't have any sort of drama at the party. However, Micah and Kwame continue to be Micah and Kwame, meaning they go off into a corner to have a semi-flirty private conversation (again, at Chelsea's birthday party). During this convo, they both ask the other if they think they're questioning their decision, and Micah answers that she's unsure, but hopeful. She also tells Kwame, "I think about you. I worry about you. I'm hoping that you're happy."
The Kwame conversation doesn't rattle Paul, and the final batch of episodes shows Paul and Micah moving forward in the engagement, and even hand-forging their own wedding rings. However, the question of where they will live is still a concern, as Paul admits that he doesn't want to leave his current apartment and Micah needs more closet space. (Apparently she has more than double her current amount of clothes back in Arizona.) Paul's clear that he wants to stay in Seattle, but they still move forward heading to the wedding.
Do Micah and Paul get married?
Both Paul and Micah are clearly nervous on the wedding day. While Micah explains that she's afraid of losing him, Paul is asking each of his friends whether they would say yes or no. They're all positive about the match, but it's clear that analytical Paul hasn't fully wrapped his head around all the uncertainties regarding his and Micah's future. (Also, just noting that Shelby is part of the wedding party and is still anti-Paul.)
When they arrive at the altar, both Micah and Paul share vows about their relationship so far. When the question of "I do's" comes up and Micah is addressed first, she surprisingly says, "I think that in this moment, the best thing that I can do for us is to give you the opportunity to answer first." After a moment of thought, Paul eventually answers by saying, "I love you, but I don't think that we can choose each other right now. I think that we're not there."
Micah walks out of the ceremony in tears, with Paul following her and comforting her, even though she says she doesn't want to talk to him. In her post-wedding confessional, Micah says that she wanted to say yes to him, but that she wanted reassurance that he wanted to marry her. In a wise observation, Paul says that there was love between the couple, but that "it didn't seem to always be reciprocated," adding that maybe Micah held back because she was afraid he wouldn't show more affection, which led him to hold back, with the two forming "a negative feedback loop." So Micah and Paul don't get married, with Shelby noting that everything went down just as she hoped.
Did Micah and Paul date after the wedding?
The pair confirmed during the reunion that the did try to date for a little while after the wedding, with Paul at one point saying that they haven't been in a relationship for a year at this point. Paul also explained that the dating period was pretty brief because Micah had to go back to Arizona while he remained in Seattle, adding that he visited her briefly in Arizona and they ended things pretty quickly after that.
What happened at the reunion?
Paul and Micah discussed their decisions at the altar during the special, including Micah giving Paul the opportunity to answer first. She explained that she didn't want to spend the rest of her life wondering whether he only said yes because she did first. When asked whether he would've said yes if she said yes first, Paul said his knee-jerk response is that he would've still said no, but he also isn't one-hundred percent certain what he would have done.
The pair also discussed a comment Paul made in his post-wedding confessional, where he said that he couldn't imagine Micah as a mother. Micah was understandably hurt by the comment, and emphasized that she felt blindsided after hearing it for the first time when the finale premiered last Friday. "It's something I've talked about since the pods, how important having a family was to me," she said, adding that she wanted a large family after being an only child.
On his end, Paul admitted that he phrased the comment "really unfairly towards her," and explained that he instead felt that he couldn't see the two of them as parents, and that he couldn't see himself as a father just as much as he couldn't see that nurturing aspect in her. He continued, "I think it's very possible that the reason why I couldn't see that in her was that I wasn't inspiring that in her. She didn't feel comfortable with showing that side of her."
The reunion also touched on the social media chatter about this season, including a slowed down clip where Paul appeared to touch a bridesmaid's rear while leaving the bridal suite after the ceremony. Paul clarified that it was a gesture he made while squeezing by the woman, saying, "To imply that that was anything more than me just gesturing, acknowledging that I was squeezing past her and kind of bumped into her shoulder, is literally absurd."
In one surprising moment, Zack spoke up in defense of Paul. He revealed that he and Paul were on the phone for hours on the night before the wedding, and that Paul did not have that certainty to say "I do" at the time. Later, after the Lacheys noticed that he's been whispering to Paul, Zack let it all out, telling Micah, "Paul has tried to make peace with you this entire time and I see you over there, and I understand this is hard...It makes me really angry because it looks like you're here for blood."
He continued, "What I whispered to Paul was, what was happening behind cameras is not what you're seeing. What she was saying about Paul, what people have told me about the conversations that she had, it sounds like she never was talking about getting married to Paul." He went on to explain that he has allegedly heard from the women there that Micah very rarely mentioned actually getting married to Paul in their conversations. (None of the other women spoke up to confirm.)
Another mention of doubt also surfaced ahead of the reunion from LIB season 2's own Natalie Lee. During a recent episode of her and Deepti Vempati's new podcast, Out of the Pods, Natalie said that she had some "production sources" who claimed that Micah was "not genuine," per Entertainment Tonight.
"This is just now my own assumptions, but also based on what I've heard about them through my sources, I think they've decided to stay in a friendship and continue on just for screen time," Natalie continued, going on to speculate, "It just feels like she's trying to 'win' and move on in the process for probably more screen time."
Micah responded to the comments during a press day, per Entertainment Tonight. "I think that she should have taken the time to talk to me or Paul before saying something like that," she said of Natalie. "She went through this experience. She knows how things can be portrayed or feel. I'm sure she went through the same thing with [Natalie's ex] Shayne [Jansen], so I think that maybe she should have given me a little grace, especially in something that's so incredibly untrue."
Contributing Culture Editor
Quinci LeGardye is a Contributing Culture Editor who covers TV, movies, Korean entertainment, books, and pop culture. When she isn't writing or checking Twitter, she's probably watching the latest K-drama or giving a concert performance in her car.