Everything We Know About 'One Piece' Season 2
What will Luffy and the Straw Hats face as they set sail for the Grand Line?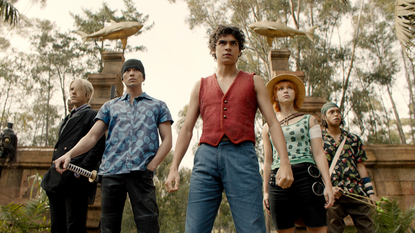 (Image credit: Courtesy of Netflix)
Marie Claire Newsletter
Celebrity news, beauty, fashion advice, and fascinating features, delivered straight to your inbox!
Thank you for signing up to Marie Claire. You will receive a verification email shortly.
There was a problem. Please refresh the page and try again.
Netflix's live-action adaptation of One Piece has arrived, and the inventive series is delighting both fans of Eiichiro Oda's long-running series and new viewers discovering the world of the Straw Hat Pirates. The first season follows Monkey D. Luffy (Iñaki Godoy) as he sets out to find the famed One Piece treasure and become King of the Pirates, while making new friends including thief Nami (Emily Rudd), swordsman Roronora Zoro (Mackenyu), marksman Usopp (Jacob Romero Gibson), and cook Sanji (Taz Skylar). Unlike the streaming giant's previous attempts at bringing manga and anime worlds to life (*cough* Cowboy Bebop and Death Note *cough*), the new adaptation honors the spirit of the manga and anime while bringing iconic characters and sequences from the source material to life.
While the first installment covers a good amount of material in just eight episodes, One Piece still has many more adventures to cover in future seasons—the manga and the anime have both already clocked 1000+ chapters and episodes. So when could new episodes of the live-action show arrive on the streamer? Read on for everything we could find about the future of One Piece.
Has 'One Piece' been renewed for season 2?
Netflix has yet to announce any news of a renewal, but the streamer has become notorious for taking a while to renew even its biggest hits. One Piece just made its debut over a busy holiday weekend, and though it took the No. 1 spot in its first week with 18.5 million hours viewed, Netflix often waits for several weeks of viewing numbers to see if a show is a success. Also, the Hollywood writers' and actors' strikes are still ongoing, so any production on season 2 won't begin until after the unions and the AMPTP reach a fair deal.
When would season 2 come out?
It took a lot of time and a lot of money to finally bring this live-action One Piece to the small screen. Netflix picked up the series in January 2020, with filming eventually taking place throughout 2022, primarily in Cape Town, South Africa. The show's budget reportedly ended up totaling $17.27 million per episode. (For comparison, this would be more than Game of Thrones season 8, which had a per-episode price tag of $15 million, but less than Stranger Things season 4's $30 million.)
As always, the bigger a show's production, the longer it will take for a new season to hit streamers. Since season 1 took about nine months for filming and then around another year for post-production, it will likely take over two years for new episodes to arrive following the end of the strikes.
Who would be in the cast of season 2?
The cast members who are most likely to return include all of the Straw Hats—Godoy as Luffy, Mackenyu as Zoro, Rudd as Nami, Jacob Romero Gibson as Usopp, and Taz Skylar as Sanji—as well as Vincent Regan as Garp, Morgan Davies as Koby, Aidan Scott as Helmeppo, Peter Gadiot as Shanks, and Steven Ward as Mihawk. It's also highly likely that Jeff Ward and Ilia Isorelýs Paulino back will reprise the roles of Buggy and Alvida, respectively, after their appearance in episode 8.
There will also be plenty of new faces joining the cast, as Luffy and the crew meet more new pirates, including the mysterious figure we see in the season's post-credits scene. Speaking of him...
Who is the Smoker in the post-credits scene?
The One Piece finale ends with each of the Straw Hats' new enemies from throughout the season seeing Luffy's first wanted poster, as the show teases returns from several characters (including a possible team up between Buggy the Clown and Alvira). Shanks and Mihawak are also seen together, as Shanks' crew celebrates young Luffy finally becoming a real pirate. Meanwhile, Garp tells both Koby and Helmeppo that it's their time to step up as Marines. The episode ends with the Straw Hats setting out for the Grand Line as a true crew, with Nami noticing a strange marking on the map.
That's before a surprise post-credits scene appears following the One Piece logo. The clip shows a mysterious figure with white hair and a white coat holding two cigars. He picks up a lit cigar and uses it to burn through a copy of Luffy's wanted poster, hinting at a dangerous new villain with something against the future King of the Pirates. As for who this Smoker is, our spoiler-free answer is that the season 2 will likely start off by covering the Loguetown Arc, as the show's sticking to the timeline of the manga and anime.
Do we know anything about what might happen in season 2?
Spoilers for the One Piece manga/anime ahead. Ok, for anyone wondering why the post-credits scene is a big deal, Smoker is the next villain the Straw Hats face in the manga/anime timeline. He's the Marine captain in Loguetown who has a big vendetta against pirates, though he does sometimes work with them on special occasions where there's a bigger Bad they need to go after. He has also consumed a Devil Fruit called the Moku Moku no Mi Fruit, which allows him to control and transform his body into smoke. As viewers may have noticed, many of the show's antagonists return for later arcs throughout the series, and Smoker's one of these recurring characters.
As for what comes after Smoker, it depends on how many chapters of the manga season 2 will cover. Season 1 got through roughly 100 chapters of the epically-long series—episode 8 ends around chapter 96 and Smoker shows up in 97. The Loguetown Arc would wrap up what's known as the East Blue Saga in the manga, and season 2 could continue on into the Arabasta Saga.
Though these are informed guesses, the post-credits scene is the only hint from the show's creative team on where season 2 could go. In an interview with Variety, co-showrunner Steven Maeda stayed tight-lipped about the show's future, and wouldn't even go on record saying that the post-credits scene included Smoker.
"It's a worthwhile ask — and answers will be forthcoming," Maeda said of the show's future plot. "I don't want to speak on the continuation of 'One Piece' at this point in time, just because this first season was such a bear. It was a wonderful challenge, but it took years out of our lives and I want to really let the focus be on that for the launch."
Celebrity news, beauty, fashion advice, and fascinating features, delivered straight to your inbox!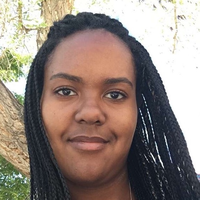 Contributing Culture Editor
Quinci LeGardye is a Contributing Culture Editor who covers TV, movies, Korean entertainment, books, and pop culture. When she isn't writing or checking Twitter, she's probably watching the latest K-drama or giving a concert performance in her car.