Netflix's 'The Ultimatum' Cast: Your Guide
Meet the six couples deciding whether to marry or move on.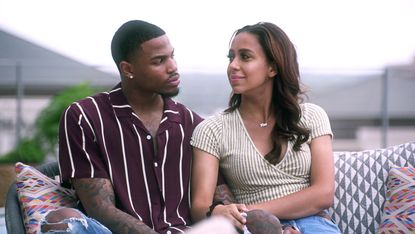 (Image credit: Netflix)
Can an ultimatum only end a relationship, or can it save it? Less than two months after the surprise trailer drop during the Love Is Blind finale, Netflix's latest fever dream/nightmare of a dating show, The Ultimatum: Marry or Move On, has arrived, with eight episodes dropping April 6 and the finale coming April 13.
For anyone who missed the buzz around this show (or is still confused about the process), the show follows six longtime couples who are at an impasse: one member wants to get married, and the other doesn't. The show tests each of their relationships by having them split up, couple up with another cast member for a few weeks, and then come back and live together for the same amount of time. The show ends with each person deciding whether to get married, break up and leave alone, and maybe even couple up with the new partner they've met.
The producers behind Love is Blind found six Austin-based couples willing to put their relationships on the line. Here's everything we know about the people whose love lives we'll be obsessed with for the next few weeks. Spoilers ahead.
April and Jake
Tech recruiter and influencer April, 23, wants to marry her boyfriend as soon as possible, but Marine Corps veteran Jake, 26, wants to travel and become financially stable before he proposes. "I just want a ring and I want a baby with you, now," April tells Jake on the show.
The couple ends up breaking up in the finale after Jake doesn't propose, with the veteran deciding to pursue a relationship with his trial-marriage partner Rae. After the reunion, April told POPSUGAR that she and Jake continued to see each other "for months on and off," before breaking things off when nothing changed in their relationship. April met someone new and is living with her boyfriend, who "talks about marriage just as much as [she does]."
Though he left the show with Rae, they didn't pursue a relationship, and Jake was single as of the reunion. "I was doing myself for a while . . . trying to find out what I really want, what makes me happy," he says on the show.
Madlyn and Colby
College sweethearts Madlyn, 24, and Jake, 25, have been dating for a year and a half, but something's keeping them from moving forward. Jake gave the ultimatum, and says he's "100 percent in." While project manager Madlyn loves sales director Colby, she also says, "I don't believe in there only being one person for everybody. Do I believe there's a possibility I could be happy with someone else? Yes."
After a tumultuous time on the show, where Madlyn forms a connection with her trial-marriage partner Randall and Colby starts talking to a woman outside of the show, the couple gets married on the finale after Madlyn accepts Colby's proposal. In the reunion, they reveal that Madlyn's pregnant. Per a post-show Vulture interview, the baby's due in the last week of April. "I'm loving every second," Madlyn says of her pregnancy.
Rae and Zay
HBCU grad Rae's ready to continue on her life plan and get married now that she's graduated college, but her boyfriend of two years, club promoter and influencer Zay, isn't ready to take the leap. In her intro, Zay points out her case, "We have dated through college and I have graduated and I have everything planned out in my life. Zay has the full package with me because I stay in the gym, I have a degree, I cook, I clean, and I know how to f**k."
After Rae makes an emotional connection with Jake during their time living together, Rae and Zay end up breaking up after having a huge fight in episode 8. While Zay doesn't participate in the finale, Rae meets Jake that day, with the two deciding to date and receiving with plane tickets to travel anywhere in the world together. In the reunion, the pair revealed that they didn't go on the trip or pursue the relationship.
Though Rae and Zay did try to rekindle their relationship after the finale, it didn't work out, with Rae sharing that she still feels hurt by Zay during the reunion. Since they broke up, Zay has remained single, while Rae has been with one woman. She says during the finale, "I'm kinda exploring myself and my sexuality because I was very uncomfortable with being [bisexual] for a very long time."
Shanique and Randall
Fashion brand owner Shanique, 24, and tech analyst Randall, 26, have been dating for a year and a half, and Shanique is ready for a big wedding and a big family. However, Randall explains on the show, "I think it'd be best to just get rid of some debt I have in my past, in order to have a great life for her. That's ultimately my reason but she doesn't understand that."
Both Shanique and Randall end up forming connections with their partners Zay and Madlyn, respectively. After discussing the issues in their relationship while living together, the couple gets engaged in the finale. During the reunion, they share that they split up after the show to work on themselves, with Shanique calling the six-month period "the hardest time of my life." As of the reunion, they're back together, though they don't have plans to get married. "We're taking it a step at a time and I'm just really happy that we're not in that place that we were on the show," Shanique says.
Alexis and Hunter
Fashion influencer Alexis, 25, is ready to marry her boyfriend of two years, tech executive Hunter, 28, but he's only willing to move in together. "I initiated the conversation with Hunter about an ultimatum," Alexis says on the show. "I'm ready to take the next step and I basically told Hunter than we either get engaged or we break up...I want what I want. And that's a ring."
During the reunion, the couple share that their wedding is set for this June, and that they're "very heavy into the planning phase," with Hunter's mother serving as their wedding planner. They've also moved in together for the first time. "Living together has been great for us. We get to take care of our dog together. We're close to family. So, it's been really nice," Alexis says.
Lauren and Nate
Real estate exec Nate, 30, and cocktail mixologist Lauren, 26, have been dating for two and a half years, but they disagree on one important point: Nate wants kids while Lauren doesn't. He issued the ultimatum to see if they can move on. (Lauren doesn't allow her Instagrams to be shared, but here's a link to check it out yourself.)
During the reunion, the pair shared that they have started therapy since the show ended, with Lauren saying they "sought out expert advice" while deciding whether or not to have children. While Nate said that they're "not yet" ready for a baby, Lauren added, "we have agreed to have one for now."
Contributing Culture Editor
Quinci LeGardye is a Contributing Culture Editor who covers TV, movies, Korean entertainment, books, and pop culture. When she isn't writing or checking Twitter, she's probably watching the latest K-drama or giving a concert performance in her car.