'Virgin River' Season 5: Everything We Know
The new season will hit Netflix this September—followed by a batch of holiday episodes this winter.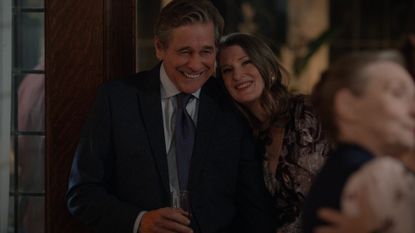 (Image credit: Netflix)
Marie Claire Newsletter
Celebrity news, beauty, fashion advice, and fascinating features, delivered straight to your inbox!
Thank you for signing up to Marie Claire. You will receive a verification email shortly.
There was a problem. Please refresh the page and try again.
Taking inspiration from classic small-town series like Friday Night Lights and Dawson's Creek, Netflix hit Virgin River has an old-school feel. The pace is leisurely, the relationships are slow burners, and the electronics are few and far between—but Netflix has moved fast to capitalize on its unexpected success, quickly renewing Virgin River for seasons four and five in the wake of the release of season three. After fans raced through season 4 of Virgin River, they were itching to find out when they can expect season 5—and what that season might look like.
We've got good and bad news on that front: Filming for the fifth season was unexpectedly pushed back four months, from March 2022 to July 2022, which led to a later release date. The good news: What's on Netflix confirmed in July 2023 that season 5 of Virgin River had begun filming in British Columbia. Filming formally wrapped in late November of 2023, with the official Virgin River Instagram sharing, "That's a WRAP on Season 5!" But although fans were hoping for a July release date, as with past seasons, Netflix confirmed via Tudum that the fifth season wouldn't be dropping until "this fall." The premiere date for season 5 turned out to be September 7, 2023, with Netflix surprising fans with news that a batch of holiday episodes would also follow in November 2023.
Trailer
On August 9, Netflix dropped the first trailer for the fifth season of Virgin River. The accompanying summary read: "Mel adjusts to a different pace of life, Jack works to grow his business, and the town faces new threats as secrets begin to surface in Virgin River." The trailer also shows the town fighting a wildfire.
Episodes
Season 5 of Virgin River will follow in season 4's footsteps and boast 12 episodes, rather than the 10 episodes of seasons one through three. Per What's on Netflix, each episode of season 5 cost between $3 and $5 million to make.
Potential Release Date
Seasons three and four of Virgin River were released a year apart, in July 2021 and July 2022 respectively—signaling that Netflix is aiming to release one new season of the show per year. But season 5 broke from tradition and will premiere on Netflix on September 7, 2023.
"Better yet… There will be a part two," noted the official Virgin River Instagram. "Our HOLIDAY episodes will be released on November 30th." This suggests that the season will be split into two parts, Part 1 and Part 2, an increasingly common technique for Netflix.
As for future seasons? Expect a bunch of them. For one thing, Netflix announced in May that the show had already been renewed for a sixth season. For another, there are 24 (yes, 24) Virgin River books in the Robyn Carr book series the show is based on. For another, Howe told Deadline: "We're paying very close attention, understanding that this is a really rich universe of characters and that people can't seem to get enough, myself included. So I think as long as that continues to be the case—which we're very hopeful for—you can rest assured that there will be more Virgin River."
Plot
The official logline for the season reads: "Season Five of Virgin River features surprising new relationships, a shocking break-up, a difficult court trial, a heartbreaking goodbye, and a wildfire that threatens the town, bringing some people of Virgin River together while tearing others apart. Issues of motherhood push Mel to make a big decision about her future at the clinic while her pregnancy unexpectedly sparks an emotional connection to her past. To further prove himself to Mel, Jack squares off with some long-overdue confrontations—with his own demons, and of course, Charmaine. And as Doc and Hope's respective impairments throw their identities into question, the doctor and the mayor must find solace in their community, in their young new family, and in each other."
Martin Henderson, a.k.a. Jack, had just finished filming the beginning of the fifth season when he spoke to Glamour about what was in store. "The baby stuff gets really interesting...A lot of stuff gets wrapped up and then there's a whole bunch of new beginnings, new storylines," he said. "I can't give too much away. I know someone might move away. Someone might leave."
Breckenridge, for her part, noted to New Beauty that she thought season five will include some of the best episodes yet. "I think this season has started out well, and we're getting into a few episodes soon that are pretty heavy. They're really intense and I think that they're some of the best episodes we've ever done," she said.
At the end of the fourth season, we learned that Doc's grandson, Denny, has Huntington's disease. Tim Matheson, who plays Doc, noted in an interview with Entertainment Weekly that this news will, of course, affect his own character: "Most doctors feel like, 'I could fix this.' There's that conflict."
We also saw Brie confront her abusive ex, Don. "Without giving anything away, I can at least tell you that Brie is somebody who follows through on her promises. Where that takes her, I cannot reveal," Zibby Allen told TODAY. She also said to People about her relationship with Brady: "I think they're so different, right? They come from such different walks of life. So the big question mark is, 'Can they make it last and have a real day-to-day relationship?'"
Meanwhile, we learned at the end of season 5 that Preacher may or may not have killed Vince. "I can't tell you [if Preacher killed Vince]," showrunner Patrick Sean Smith told EW. "It is something that we pick up immediately. We pick up right after that incident in season 5."
Not to mention the arguably biggest reveal of season 5: Charmaine revealing to Jack that the twins actually aren't his—not long after Mel revealed that her baby is Jack's. Is one of them bluffing? Does Jack have one biological child on the way, or three? Or zero? (For his part, Henderson said during interviews for season 5: "We'll give him Mel's baby, but Charmaine's babies are not his." Asked about why Charmaine has been lying, he said: "You're going to find out in season five.")
Still, season 5 will likely not see wedding bells for Jack and Mel. Speaking to TV Line, Smith noted: "Mel and Jack are such an epic couple that you really want to savor things as much as you can...So we're moving at that pace with all of the things they have ahead of them, anticipating [a wedding] down the road."
Finally, there's Jack's ex-wife, Mandy, who we've heard about but never met...until now? Speaking to Glamour, showrunner Sean Smith said mysteriously: "I would say, check out season five and see if Mandy makes an appearance." And in a 2021 interview, Henderson noted: "Mandy showing up in Virgin River would complicate things even more. It's possible with this show."
Cast
All of the major players are expected to return to season 5 of Virgin River, with a few intriguing new additions: What's on Netflix reports that four new actors are joining the cast of Virgin River season 5: Susan Hogan, Elise Gatien, Kandyse McClure, and Paolo Maiolo. In late May, Netflix also confirmed to What's on Netflix that other a handful of other actors would be joining, presumably in smaller roles than the initial four: Gabrielle Rose, John Allen Nelson, Deb Podowski, Ava Anton, Melanie Merkosky, Brent Fidler, Brad Harder, Serge Houde, Helenna Santos, Gabrielle Jacinto, and Audré Alleya Stephenson.
Netflix has confirmed that season 5 will feature more diversity than previous seasons, with Netflix's head of drama Jinny Howe telling Deadline: "I think it's fair to say that [diversity] is going to continue to be a focus and something the audience will get to experience more in season five."
Celebrity news, beauty, fashion advice, and fascinating features, delivered straight to your inbox!