Your Guide to the Cast of 'One Piece'
Time to meet the impressive roster of people bringing the world of pirates and Marines to life.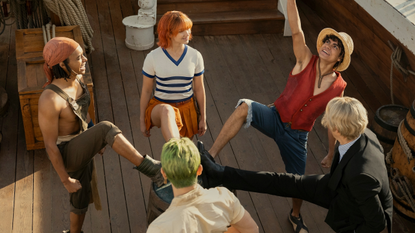 (Image credit: Casey Crafford/Netflix)
Marie Claire Newsletter
Celebrity news, beauty, fashion advice, and fascinating features, delivered straight to your inbox!
Thank you for signing up to Marie Claire. You will receive a verification email shortly.
There was a problem. Please refresh the page and try again.
The long-awaited live-action adaptation of One Piece introduces Netflix viewers to an exciting, irreverent, action-packed world (that is, for those who aren't already fans of the world-famous manga and anime). The series is a joy to watch. And lucky for fans, the show has gathered an international cast of acclaimed and rising stars to fill the screen, but that means a lot of new faces to keep track of, even before considering their impressive skills and supernatural powers. To help, here's a who's who of everyone on the show.
Iñaki Godoy as Monkey D. Luffy
When we meet the ambitious, kind-hearted aspiring pirate Luffy, he's at the very beginning of his epic quest to find the One Piece and become King of the Pirates. However, he plans to be a different kind of pirate, one who prizes loyalty, adventure, and helping the defenseless above all else. He also ate a Devil Fruit known as the Gum-Gum Fruit, which granted him the ability to stretch his body like rubber, though seawater takes away his strength.
Godoy, a 20-year-old Mexican actor who previously starred in the Netflix shows Who Killed Sara? and The Imperfects, plays Luffy. He's also appeared in the films Go Youth!, MexZombies, and No Abras La Puerta, as well as the telenovela La Querida del Centauro.
Instagram: @inakigo
Emily Rudd as Nami
Nami is a mysterious, skilled thief and expert navigator who dreams of drawing a map of the entire world. She's brave and not afraid to go after what she wants, though she tends to keep people at arm's length.
Playing Nami is Rudd, a 30-year-old American actress, is best known for playing Cindy Berman in Netflix's Fear Street film trilogy. Other recent credits include the Prime Video series Hunters, the 2022 rom-com Moonshot, and the CW series Dynasty. Fun fact: She also starred in the 2016 music video for "Let Me Love You" by DJ Snake featuring Justin Bieber.
Instagram: @emilysteaparty
Mackenyu as Roronoa Zoro
Zoro makes his living as a pirate hunter, collecting the biggest bounties in the East Blue and racking up several enemies. However, he truly dreams of becoming the world's greatest swordsman with his three blades. After he gets to know Luffy, he becomes his fiercely-loyal right-hand man.
Japanese-American actor Mackenyu Aratu, 26, got his start as a child actor and has appeared in dozens of Japanese productions. Before playing Zoro in One Piece, he appeared in other live-action manga adaptations including the Fullmetal Alchemist film series, Rurouni Kenshin: The Final, and Knights of the Zodiac.
Instagram: @mackenyu
Jacob Romero as Usopp
Usopp is a talented sharpshooter and storyteller, though most of his tales of pirate adventures are entirely made up. Still, the warm-hearted man dreams of becoming a great warrior of the sea, and becomes an indispensable part of the Straw Hat crew. He's also the most relatable among the show's characters, as he'll admit that he's scared in the face of danger.
Playing Usopp is Romero's first starring television role. The 27-year-old Jamaica-born actor previously appeared on Greenleaf in a recurring role, as well as guest spots on Grey's Anatomy, All Rise, and The Resident. He's next set to join the cast of the second season of Issa Rae's Max series Rap Sh!t.
Instagram: @bookofjacob
Taz Skylar as Sanji
When we meet Sanji, he's a charming and flirtatious employee working at the restaurant Baratie under Chef Zeff. The chef believes that everyone in need should be provided with a meal, and he has a unique kick-fighting style, primarily using his feet to protect his hands for cooking. His dream is to find the All Blue, the only place in the world where fish from all four seas can be found.
Bringing Sanji to life is Skylar, 27, a stage and screen actor and writer who was nominated for a Laurence Olivier award for his play Warheads. He has appeared in several shows and movies including The Lazarus Project, Boiling Point, and Villain. He's next set to appear in the Prime Video film Gassed Up, which he also co-wrote.
Instagram: @taz_skylar
Morgan Davies as Koby
Koby is a an overlooked member Alvida's crew when he comes across Luffy, who helps him escape. Once he's free, he goes after his lifelong dream to become a Marine, one of the law enforcers who patrol the seas. Though his and Luffy's paths means that the boys will eventually become enemies, they encourage each other to go after what they want.
Davies is a 21-year-old British actor who made his debut as a child actor at age seven before taking on the role of Koby. His previous projects include season 2 of the Starz drama The Girlfriend Experience, and the Fox action series Terra Nova, as well as the 2023 horror flick Evil Dead Rise.
Instagram: @morganlogoff
Aidan Scott as Helmeppo
Helmeppo is the spoiled, bratty son of Marine Captain "Axe Hand" Morgan, who eventually sets off to train under the organization alongside Koby.
Scott, 27, who plays Helmeppo, is a familiar face to fans of the Netflix movie franchise The Kissing Booth, after playing one of Noah's Harvard friends in the second film. The South African actor has also appeared in the Prime Video series The Power and the film Action Point.
Instagram: @aidanscott96
Vincent Regan as Vice Admiral Garp
Vice Admiral Garp is a high-ranking and well-respected Marine, thanks to his feat of capturing the former King of the Pirates (and owner of the One Piece) Gold Roger. He takes a special interest in stopping Luffy from becoming a pirate, and sets off after the Straw Hats with Koby and Helmeppo in tow as his new cadets.
Playing Vice Admiral Garp is Regan, a prolific actor who has appeared in many iconic action films throughout his decades-long career, including 300, Troy, and Clash of the Titans. He also recently starred alongside Idris Elba in the Netflix film Luther: The Fallen Sun.
Ilia Isorelýs Paulino as Alvida
Playing Alvida, a ruthless pirate we meet early in the series, is Massachusetts native Paulino. The 28-year-old Yale School of Drama alum is best known for her breakout role as Lila Flores in Mindy Kaling's Max series Sex Lives of College Girls, and has also starred in the films Me Time and Queenpins. She's next set to appear in the Netflix comedy film Family Switch.
Instagram: @iliaisorelyspaulino
Jeff Ward as Buggy
Buggy the Clown, leader of the Buggy Pirates, is a sinister showman known for his distinctive red nose and attention-seeking demeanor. He will do anything to get his hands on the map to the Grand Line. The pirate is also a user of the Chop-Chop Fruit, which allows him to separate and put himself back together with ease.
Ward, 36, is a prolific television actor who previously played Deke Shaw on Marvel's Agents of S.H.I.E.L.D. and Roy Hardaway on the Netflix miniseries Brand New Cherry Flavor. He has also appeared in the acclaimed comedy series Hacks and PEN15.
Instagram: @jjward12
Peter Gadiot as Shanks
Shanks, the beloved leader of the Red Haired crew of pirates, was a mentor to Luffy when the aspiring pirate was a young boy. Though he didn't let Luffy join his crew, he taught Luffy that being a pirate is more than just violence and pillaging. He also has a special connection to Luffy's signature straw hat.
Gadiot is a British actor who is best known for playing artist Adam Martin in the first season of Yellowjackets. He has also appeared in the series Queen of the South, Silo, Supergirl, and Once Upon a Time in Wonderland.
Instagram: @petergadiot
Steven John Ward as Dracule Mihawk
Mihwak is one of the Seven Warlords of the Sea who works with Marines in exchange for freedom from prosecution. He is known for his ruthless tactics and considered the greatest swordsman alive right now, with Zoro hoping to surpass him
Ward is a South African actor who previously appeared in the Netflix series Queen Sono. Other credits include The Day We Didn't Meet, Inconceivable, Vagrant Queen, and House on Willow Street.
Instagram: @stevenjohnward
McKinley Belcher III as Arlong
Arlong, who is a half-human, half-sawfish shark is one of the most feared pirates of the East Blue. He hates humans for their history of persecution against his species, and will do whatever it takes to find the One Piece so the Fish-Men can rule the world once more.
Atlanta native Belcher is a renowned stage and screen actor, who previously played FBI agent Trevor Evans on Netflix's Ozark. He has also appeared in the series We Own this City, The Good Lord Bird, The Passage, and Power, as well as the Oscar-nominated film Marriage Story. The Drama Desk Award winner also recently starred in Arthur Miller's Death of a Salesman on Broadway.
Instagram: @mckinleybcubed
Celebrity news, beauty, fashion advice, and fascinating features, delivered straight to your inbox!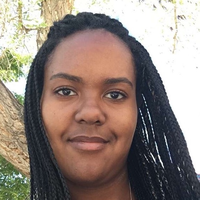 Contributing Culture Editor
Quinci LeGardye is a Contributing Culture Editor who covers TV, movies, Korean entertainment, books, and pop culture. When she isn't writing or checking Twitter, she's probably watching the latest K-drama or giving a concert performance in her car.