Weekending 101: The Slacker's Guide to Packing
In the days of Airbnb and Zipcar-take-me-away freedom, it's never been easier to escape your city's summer swelter. Our handy guide breaks down how to pack accordingly.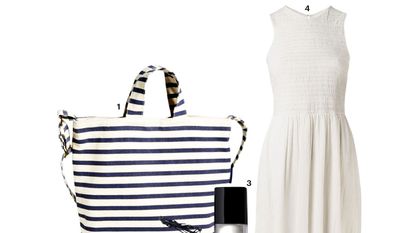 (Image credit: Courtesy of Company)
Credits: 1. Tote, $26, Baggu; baggu.com. 2. Sandals, $270, Ancient Greek Sandals; modaoperandi.com. 3. Serum, $115, Chanel Le Weekend De Chanel; chanel. com. 4. Dress, $242, Ulla Johnson; shopbop.com.
We're the kind of girls who travel constantly—but we never check a bag, ever—especially when it comes to a last-minute getaway. Here, our quick tips:
Pregame Plan:
Sketch out an itinerary and plan an outfit for each day/night/ event. Knowing exactly what you need will help you edit and recognize opportunities for multitasking pieces (say, the sheer minidress that can be a cover-up or worn to dinner with a slip). Packing chronologically— last day's outfit on bottom— saves you the trouble of unpacking when you arrive.
Roll 'Em:
To double the room inside your bag, fold your clothes as usual; then roll each folded item into a tube shape. (This also prevents wrinkling.) Align shoes toe to heel, the way they come new in the box, and then place in protective shoe bags. Tip: Tuck all chargers for your electronics inside the shoes to save space.
Toiletries:
Keep a clear (for airport security) 5-by-7-inch makeup bag at the ready to throw in your carry-on whenever. It should contain: mini hairbrush; travel-size face wash, moisturizer, sunscreen, and dry shampoo; ointment (Smith's Rosebud Salve lip balm doubles as an eye cream); toothpaste; and toothbrush. That's all. There will be soap at your destination, and it's not like you're going to give yourself a manicure, full shampoo, or facial while you're traveling. High-maintenance? Get a blowout and gel manicure before you go. Bye!
Related:
How to Drink Like a French Girl (opens in new tab)

14 Easy Summer Beauty Makeup Tricks