Five Instant Skin Pick-Me-Ups
Elizabeth Dehn's choice skincare products will help you get your glow on.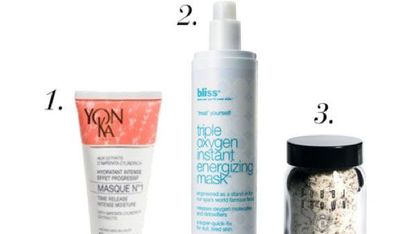 (Image credit: Archives)
Spring might be just around the corner, but your lackluster skin hasn't necessarily gotten the memo. Removing the dead, dry skin cells that have taken up residence requires a few advanced moves, but it's nothing you can't do at home. Work one of these glow-getters into your regimen two to three times per week, and you're golden.
1. Yonka Paris Mask No. 1 (opens in new tab) ($58) — You can't fake this kind of dewiness, which seems to sink especially deep with this moisture mask. Leave it on overnight and you won't recognize your skin in the morning.
2. Bliss Instant Energizing Oxygen Mask (opens in new tab) ($54) — A perennial favorite for a reason, this miraculous mask undoes all of the harm you did the night before, and it does it in five minutes flat.
3. Bobbi Brown Buffing Grains (opens in new tab) ($42) — There's something so satisfying about a good, old-fashioned scrub, especially when you can add it to any facial cleanser for a truly customized treatment.
4. Kate Somerville Exfolikate (opens in new tab) ($65) — The potent one-two punch of microdermabrasion and pumpkin enzyme peel is literally what the aesthetician-to-the-stars ordered. There's even a version for sensitive skin.
5. Fresh Black Tea Perfecting Mask (opens in new tab) ($88) — You can have oily skin and be dehydrated. Use this refreshing treatment to replenish skin while gently clarifying pores.
Elizabeth Dehn is the editor-in-chief of Beauty Bets (opens in new tab), an award-winning blog chock-full of product reviews, wellness tips, and DIY ideas.