How Do You Maintain Your Eyebrows?
Dara Adeeyo's tried waxing tweezing, going to professionals, and taking care of things at home. Finally, she's found a brow-care routine she likes.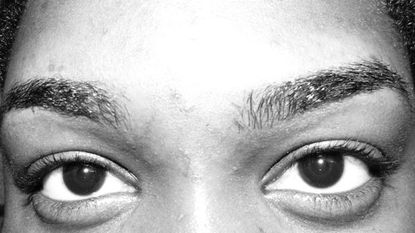 (Image credit: Archives)
Marie Claire Newsletter
Celebrity news, beauty, fashion advice, and fascinating features, delivered straight to your inbox!
Thank you for signing up to Marie Claire. You will receive a verification email shortly.
There was a problem. Please refresh the page and try again.
When it comes to your brows, choosing the right shape is vital. I believe that eyebrows define the face, and for mine, I prefer a thick pair with a distinct arch. In my tween years, I tweezed them myself, only to quickly become a fan of waxing. From age 13 to now (I'm 23, so that's ten years), I've been a regular at the local nail salon, where a professional waxes and plucks my brows.
However, last summer, I had a horrific incident at said salon — the lady I regularly visit waxed off too much hair, and burned my skin with the wax. I was mortified, and resorted to doing my eyebrows myself for a while. But, I have very bushy eyebrows and am super-lazy when it comes to taking the time to clean them up, so I decided to let these guys grow out. Given the damage, I needed something to work with before I could reshape them.
To keep my eyebrows neat as they grew, I occasionally tweezed, and when I did, I used Beauty Fixation Pre-Tweeze Treatment ($5) to numb the surrounding skin. This treatment includes double-sided q-tips, each filled with a topical pain-reliever and antiseptic. Breaking one side of the swab releases the numbing formula into the other cotton swab's head. You then apply it to the skin before tweezing. I did this for several months, and then decided to make my way to a brow specialist. (Yes, those exist)!
I chose the Benefit Brow Bar, which I mentioned in a previous post, to get my eyebrows into tip-top shape—literally. This place is amazing, and I'm so glad I found it. Its technicians know what they're doing, and I've yet to have an unfortunate experience of any sort. I told my brow specialist what I wanted, and she did a phenomenal job. It's slightly expensive, but in my opinion, totally worth it.
How do you take care of your brows?
Dara Adeeyo is a nail polish junkie who blogs her beauty diary on Dark Berry Beauty.
Celebrity news, beauty, fashion advice, and fascinating features, delivered straight to your inbox!