The Five Beauty Products that Saved My Vacation
Lindsay Leff was at a loss when it came to narrowing down her beauty essentials for a trip. Ultimately, these five kept her looking and feeling good.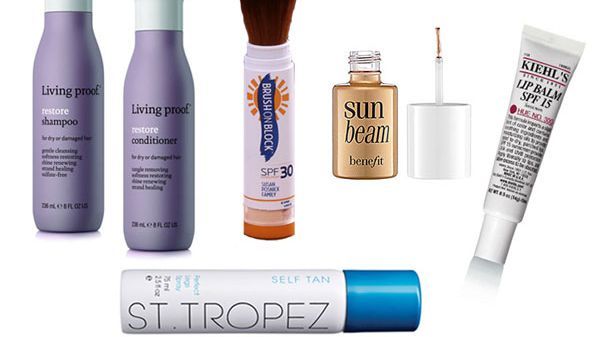 (Image credit: Archives)
I am a beauty product hoarder, so when it came time to narrow it down to the essentials for a recent trip to Miami, I was in trouble. Choosing my must-haves for a week of fun in the sun meant pawing through more lotions, creams, serums, and sprays than could fill Sephora. Ultimately, these five products kept me looking and feeling vacation-ready.
While my hair isn't that difficult to manage, the change in weather and water always affects my strands. Living Proof Restore Shampoo & Conditioner ($28 each) washed away any worries I had of dryness, frizz, and sudden attacks of humidity. With moisture-controlling molecules and ingredients that smooth, enhance, and nourish, my hair never looked better. Take that, Miami heat!
The easiest way to stay protected under the sun is hands-down Brush On Block ($25), a mineral sunscreen with SPF 30 that kept my skin safe from UVA and UVB rays. Formulated with zinc oxide and titanium dioxide for maximum broad-spectrum protection, Brush On Block also contains green tea leaf extract and flower oils that won't clog pores or cause breakouts like most facial sunscreens do.
My vacation wardrobe consisted of shorts, skirts, and dresses, which meant tons of leg-exposure. St. Tropez Self Tan Perfect Legs Spray ($18) gave my gams a flawless finish of believable, bronzed color. Worried about the unfavorable scent most self-tanners leave behind? Perfect Legs contains Aromaguard technology, which reduces DHA scent by 70 percent, making it subtle enough to spray on other parts of the body, too.
If I were stranded on an island with only one beauty product, I'd choose highlighter. My new favorite is Benefit Cosmetics Sun Beam ($26). Billed as "liquid sunshine in a bottle," it leaves skin looking naturally sunkissed. Just dab and blend along cheekbones, brow bone, and on the bridge of the nose for an all-over glow.
People often forget to protect the smallest part of their faces — their lips — from the rays, a big mistake since the pucker is highly susceptible to sun-damage. Kiehl's Lip Balm SPF 15 in Hue 30G ($9.50) combines the brand's cult-favorite formula with SPF 15 for a multipurpose product that protects, tints and restores chapped lips.
Lindsay Leff is a beauty industry veteran who created Kiss and Wear to showcase her favorite products, dissect celebrity beauty looks, and teach others how to live with style.